Download the definitive plan for online success!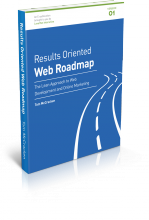 Modern websites have become sophisticated pieces of software. Online marketing continually gets more complex. To be successful on today's web you need a war chest of strategies, tactics and tools - but most of all you need a plan to bring it all together.
The Results Oriented Roadmap is that plan. It reveals a lean, pragmatic approach to web development and online marketing that scales in stages. Whether you are a small organization just getting started, are ready to take the next step, or looking to really blow it out, the Roadmap can show you the way.
What's inside:
The secrets to get an effective website on a tight budget
Methods for driving more traffic using content marketing, search engine optimization and social media
How to get more customers without high pressure sales tactics
Maximize your ROI by learning what to spend time and money on and what not to
Understand how to get things done better, sooner and with less risk
Master innovation by learning to build a web presence that can't be matched