Download the Agile Web Strategy ebook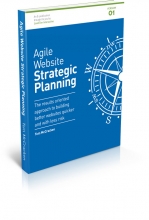 ©LevelTen Publishing Dallas, TX
The world's leading web teams use agile project management to deliver more innovative websites, quicker and with less risk. The secret to unlocking the power of this new style of website development is starting with a lean web strategy compatible with Scrum, eXtreme Programming, and other popular agile methodologies.
While agile enables teams to churn out more features faster, there is a tendency to lose the forest through the trees. It is critical for web development teams to build a solid web strategy, and maintain focus on that vision, while still adhering to the principles of minimal planning.
The Agile Web Strategic Planning ebook lays out a lightweight process for website project planning. The process is designed to keep teams focused on what matters: users and return on investment.
The ebook reveals how to develop a strategic website vision in a few short participatory design workshops. The methodology is designed to quickly gather lightweight requirements while building concensus among stakeholders.
What is included:
How to build smart goals, objectives and measurable events
How to identify, prioritize and target the most valuable customers
How to create requirements that delight users and produce results