Landing Pages
Increase Your Conversion Rates
In 3 Easy Steps.
Companies with 30+ landing pages generate 7x more leads than those fewer than 10. Open Enterprise™ Landing Page module allows you to easily create, manage and test landing pages to generate more leads through your website.
Let us show you how Open Enterprise will revolutionize your online marketing.
15 Template Layouts
No coding required! As a marketer, you no longer have to rely on a Developer or Designer to generate custom coded layouts.
Quick page layouts
Maximum impact and effectiveness
No coding required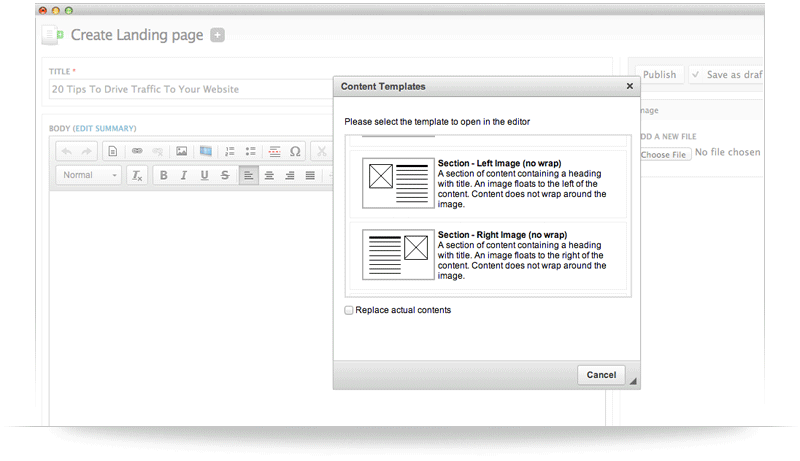 Quick Landing page Creation
Create and manage landing pages in one location. Leveraging the power of Drupal's content types and content management system, you can quickly create landing pages, add images, format content, link to thank you pages, or completely customize the type of information displayed with no coding.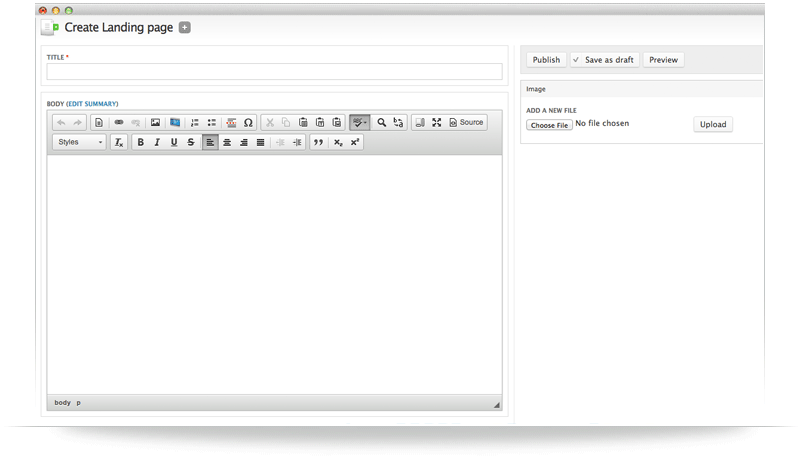 Smart Linking
CTAs go hand-in-hand with Landing Pages. We've built our modules to intuitively interact with with each other. What does this mean? When you create a new landing page, it automatically displays as an option from which you can link your CTA. Additional advanced settings provide more control and customization.
Save time with intuitive linking and auto-configuration
Customize URLS and other settings for ultimate control
Easy Form Creation
Drupal's Web Form Module makes creating custom forms super easy. Its drag-and-drop interface allows you to quickly add and arrange the fields you need to create your form.
Drag-and-drop fields to create and organize forms
Easily define redirects and submittal rules
Create as many forms as you would like and measure their results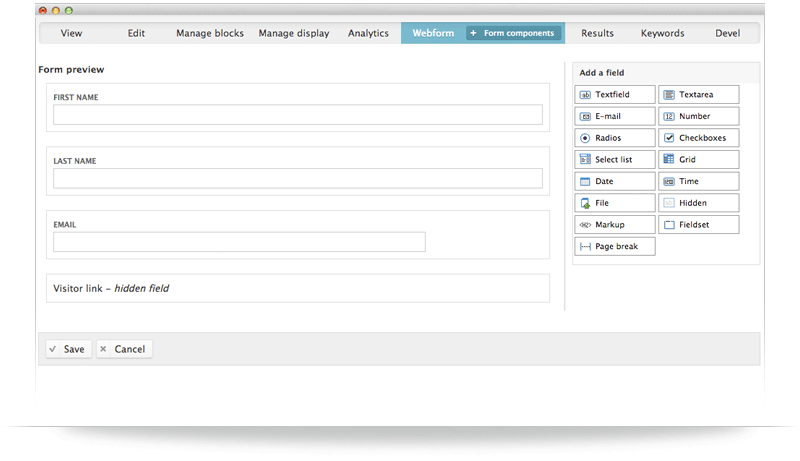 Convert More From Every Device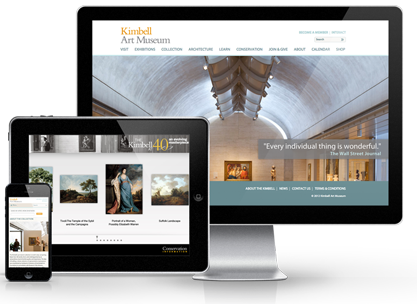 No coding required. No need for developers to code mobile-specific site domains or responsive HTML. The landing page you create for desktop is automatically optimized across devices.
Flexibility. Choose from over 15 layouts of customizable responsive landing page templates, or drag-and-drop and mix and match to design your own.
Drive more conversions. Landing pages are optimized for the best mobile user experience possible, so you never miss a chance to engage and convert a lead.
Future-proofed. No matter what the next device or screen size is, your landing pages will always be optimized.