Drupal Web Development and Design Services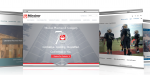 Our award-winning Drupal web development and design agency doesn't just create pretty websites and write code. We provide strategically crafted solutions that power the success of your online marketing and sales. Our distinguished team of hipsters and geeks immerse themselves in strategy, design, and technology to create highly integrated, easy-to-use, flexible web solutions that give you a clear strategic advantage.
We develop award-winning custom Drupal websites that help your business:
Increase traffic and leads
Engage potential prospects
Reduce development & maintenance costs
Improve your marketing efforts
We will work with you to refine the look and feel of your new website. We strive to present our clients with highly professional custom themes for their website based on their companies branding and identity initiatives. 
We explore different design directions through iterative visual deliverables such as:
Mood Boards and Revisions. The creative team will determine color schemes, textures, images, page elements, and typography. 
Website Design Comps and Revisions. The creative team works with the final approved mood boards to begin a concept design based on approved wireframes ( Information Architecture).
Website Style Guide. Our team of developers and creatives create style guides with a collection a pre-designed elements, graphics, and rules for any designer, developer, or content manager of the client's team. Our style guides ensure that separate website pieces will be consistent and will create a cohesive experience when adding new content to your new website. 
This team approach doesn't only apply to design. Our team also works closely with you to determine infrastructure and site requirements. By using Drupal, an open source content management system, we can quickly and easily add existing or create custom modules to make each website specialized and unique. We will work with your team to determine your organization's needs, including themes, content types, search features, interactive features, administrative features and more.