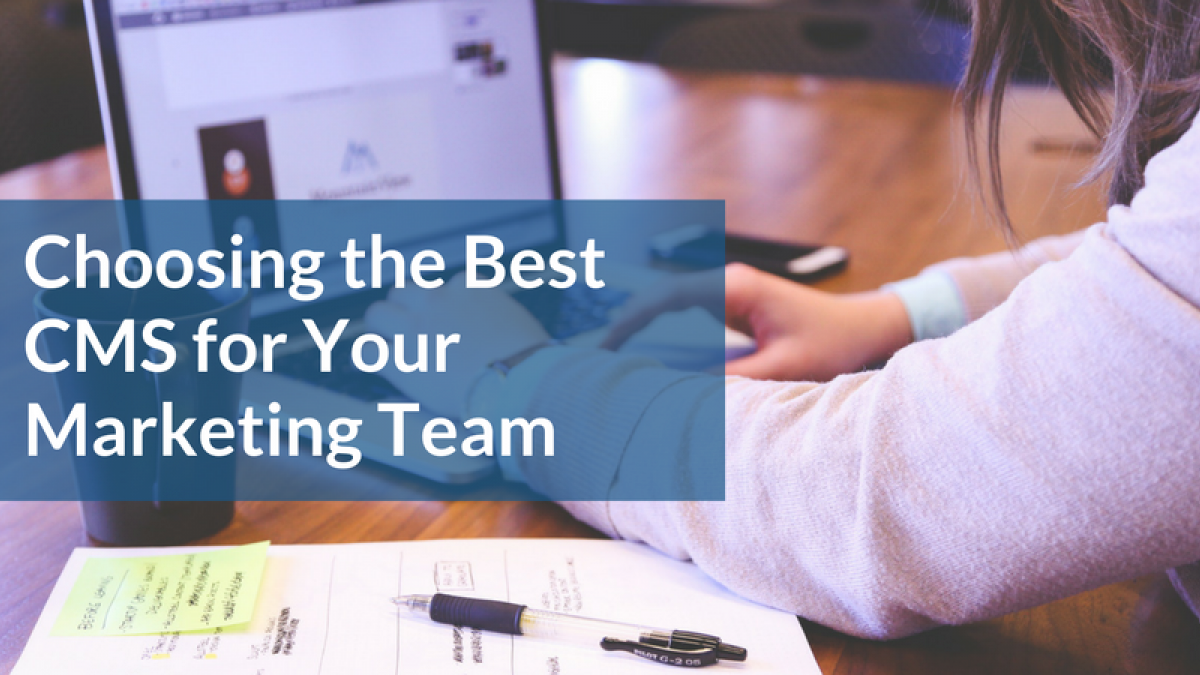 Choosing the Best CMS for Your Marketing Team
Oftentimes, when we receive inbound leads from companies looking for a new website or new website redesign, we get a list of wants and needs and how fast and how much it will cost, but the potential client and we forget the people that will be using the platform the most.
WHO REALLY  USES THE WEBSITE?
It is no surprise that marketing teams own the site once it is completed. As I sit here and write this blog, I can assure you that I am the main user of the website. I write blogs and do a lot of the content changes that occur throughout the website. 
Before CMS (Content Management Systems), most websites were static and never changing brochure sites that when a change was required, more than likely changes had to be made through the IT Department/Developer.
In recent years, a website has become the storefront for most business, including ours, which serves as a guide to how we work, what services we provide, and educational material as in white papers or blog posts. Marketing and Sales teams now have more changes than ever in order to bring in potential customers, and that involves changing or adding to a once brochure website. 
What to look for in Content Management Systems
As mentioned before, websites used to always have to be updated, regarding content, by a developer. Today's popular CMS allow digital marketers take control of the website without having go through another person for changes, especially when some content is timely.
In today's ever growing sales and marketing integration of teams, CMS and Marketing Automation services have had to learn to work together.
Handle Content Easily
If you have to still go through developers to get any kind of content change for your website, then the platform has got to go! Empowering marketing and sales team to do their own work on the site should be high in priority. Think of the workflows and time spent if they could do their work efficiently.
Integrations for a Holistic Website
Marketing Automation has grown exponentially in the last couple of years because of their ability to allow marketers know who their target audience is, retain them, and market exactly what they're searching for and eventually make them paying customers. Having a CMS that allows integration with marketing technology is where website builds are trending towards.
Platforms like HubSpot, Marketo, and Pardot, to name a few, are known to integrate with Drupal CMS and WordPress CMS almost seamlessly. Now, not only will marketers have access to the CMS but also to the Marketing Automation software to build forms and landing pages without the help of developers. 
Analytics Dashboards Built Right Into the CMS
Marketers, digital marketers, to be specific, are very aware of analytic metrics that make or break the success of a website. Knowing the traffic to content and the RTC (rate-through-clicks) on CTAs (calls-to-actions) is necessary in order to know when it needs to be changed or left alone.
It's very convenient when a CMS has a plugin or module that integrates that allows for a quick and accessible with website metrics without ever having to leave the website because it is built in. One such integration is IntelligenceWP, the WordPress plugin allows for easy Google Analytics setup as well as a built-in dashboard to display you marketing metric success.    
SEO Friendly
Nothing is worse than having a website that is beautifully designed but has no traffic or optimized pages for it to rank in the search engines. Drupal and WordPress CMS are both terrific at search engine optimization. Either through modules or plugins, both CMS's allow for marketers to customize individual pages for optimization based on the content of the page.
When choosing a platform for your new website, it will benefit the content and digital marketers significantly if they can add meta descriptions, titles, keywords, and redirects by themselves without the help of someone in IT.
Scalability
As most websites these days serve as more than a brochure, most often than not, marketing teams have content calendars full of potential blog posts, additional pages, content changes, and adding landing pages. Why would you have a website designed without the ability to grow?
Choosing a CMS platform should also address the ability that it will withstand 5+ years of content growth without running into problems. Avoid running into the issue of a few years down the road and having to choose a different platform because it was not able to handle the content growth.
What now?
Now, you have 5 key components to look for in a CMS when looking for a new platform to use when you decide to build a new website, redesign, or even migrate. Need some more details? We're good at Drupal . We have a blog post on Why You Should Be Using Drupal for Your Website, take a read and then give us a call when you're ready for a new site!