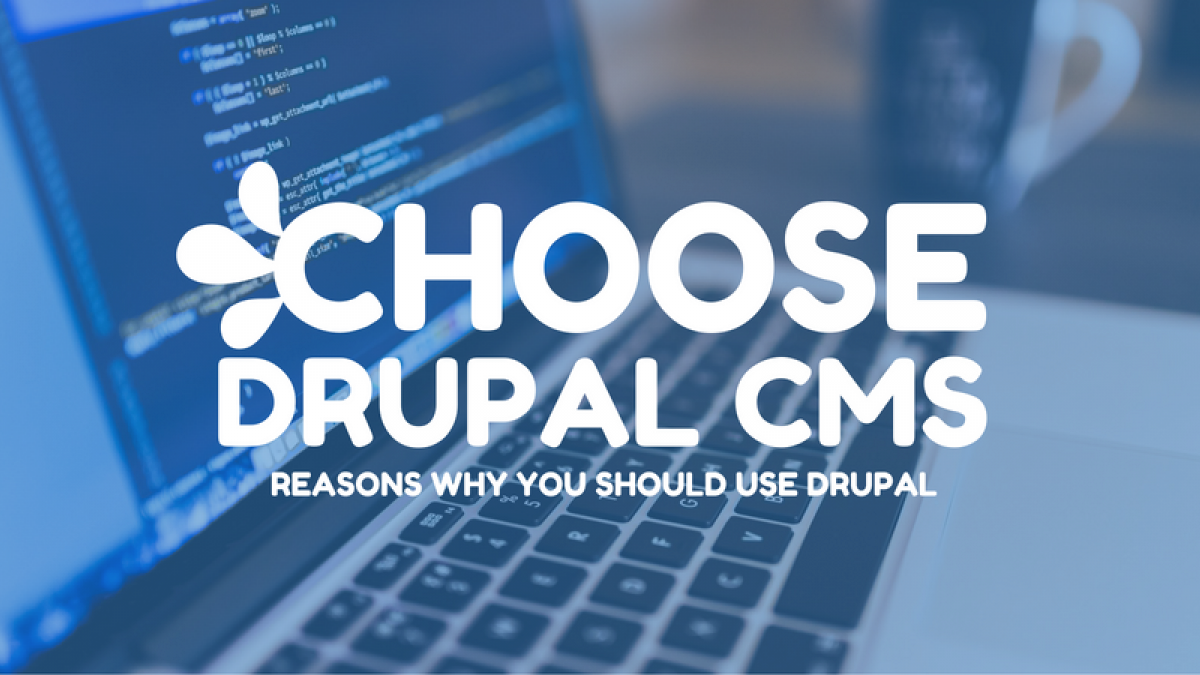 Why You Should Be Using Drupal for Your Website
If you've recently been looking into a website redesign, I am sure you have done your fair share of research on which content management system (CMS) is right for you. Perhaps you might have even come across Drupal. Drupal is an open source CMS that has the features that can go beyond just content management, but also be flexible enough for ecommerce, blogs, have the scalability to handle multiple users, and just about everything else you've ever seen online.

The Big Boys Use Drupal
Many people recognize WordPress, but not many know Drupal. Even though WordPress dominates the market for websites on the web, 2.2% of all websites on the web are currently using Drupal. That not might seem like much relative to how many websites there are, but what matters is WHO is using Drupal. Also, most websites that are on Drupal, usually yield high-traffic.
Some industries that have websites built on Drupal are corporate, political, and government sites, most notably The White House. Besides the White House, other government agencies that made the move to Drupal are the Department of Energy, U.S. Department of Education, the FCC, the Department of Commerce, the United States Patent and Trademark Office, the Department of Justice,  and the Department of Transportation, just to name a few. There's a Drupal GovCon to meet the need of websites built for government.
Great Read: Read this great article in Government Technology Magazine,  about why big sites run on Drupal specifically government's sites.
Other sites you have probably seen and never thought were built on Drupal are the Grammy's, The Weather Channel, Dallas Cowboys, Verizon, NBA, and many university websites. Want to see more websites built on Drupal? You can check them out here. 

Drupal is Sustainable
I'm not going to lie; Drupal development is significantly more expensive than developing on WordPress. However, a website should never be treated as a one and done deal. A website is an investment of both time and money and when you have a CMS such as Drupal, investing in it is sustainable.
The Drupal community is not going anywhere. At LevelTen, we've embedded ourselves in Drupal by attending DrupalCon for years, putting on annual Drupal Camps in North Texas, and contributing a vast number of modules back to the community. You can read all about our experience from this year's DrupalCon here.
The community works hard at improving the core code base and releasing updates on a standard schedule. There is an active contrib community, so when bugs are reported in modules, the issue queues become an invaluable resource in documenting and collecting patches from developers. This leads us to Drupal security.

Drupal has Great Security
Not to totally bash on WordPress, but their websites are notoriously known for getting hacked. It's not to say they don't take security seriously, but it's because it's the most popular CMS, so it makes it venerable to hackers. Drupal, however, is known for excellent security. When there is a security update, Drupal is quick to announce when it is made available for web development agencies (actually anybody developing on Drupal) to apply the update. With a dedicated security team, it is very rare for websites built on Drupal to get hacked.
If you are still wondering about your website's security, or if that a platform that is not as a popular as WordPress is secure enough for you, then I'd like to point out that more and more government agency websites are being built on Drupal.

Mobile ready Websites
Yes, Drupal is powerful on the back-end, but seriously, having a mobile-ready and responsive website is also cool too - and necessary if you plan to rank higher than your competitors on Google. Check out your Google Analytics and see how many people come to your website through via smartphones. We start most of our client projects using Bootstrap as a baseline for our custom themes that keeps mobile first in mind.

SEO and Drupal Together is Heaven
When building pages and any other content in Drupal, you have the ability to control everything you need to optimize your site. You can create custom page titles, add meta descriptions, and URLs that fit your keywords. It also comes with a built-in taxonomy system. What does that mean? You can tag your content with relevant keyword-rich tags. Hello, organic search rankings!

Who Should Use Drupal
Scalable websites for exponential content growth.
You have a large group of editors or need a sophisticated editorial workflow (Workbench).
You need many content types - blog, landing pages, basic pages, events, press releases, files, images, etc.
You need a robust user management and permissions system.
E-commerce with content management.
Multilingual as a core requirement for your website.
Your site receives very high visitor traffic.
You need to manage ticketing, events, cart management, check-out, like museum websites.

Why We Believe in Drupal
We have been developing on Drupal for more than half of the time we have been in business. As Drupal experts, we deploy custom implementations and integration for many of our clients giving them the tools to grow their business digitally. We regularly give back to the community and maintain several Drupal modules. Drupal is the foundation in which we start all of our websites and continually add the "bricks" to make a sound and holistic website that can be scalable when it is time to grow. When you're ready to make your decision to choose Drupal or not, let us guide you in making the best decision for your website.