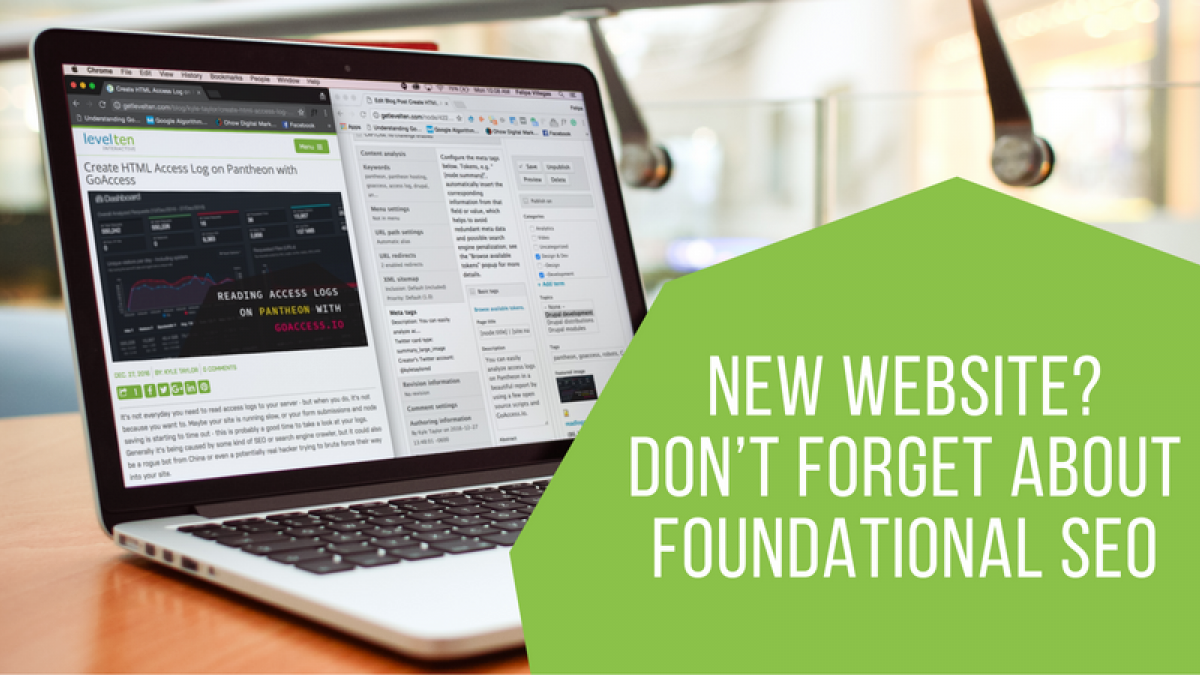 Don't Forget About Foundational SEO
A new year is upon us, and many companies seek to redesign their websites, especially for those that have kept the same design for longer than three years. However, most forget that foundational SEO should be tackled concurrently with the new design, if not first. In our first post of the year, I will give some advice on what to do with existing content and why you should optimize it, especially if you plan on moving it to a new website.
What is Foundational SEO?
Foundational SEO consists of the following four elements:
Advanced Keyword Research
Implementation of 301 Redirects
Optimized Title Tags and Meta Descriptions
XML Site Maps
Advanced Keyword Research 
As Google makes it more difficult every year with how your website can rank organically, focusing on keywords will have to be your main priority, however, know that keywords stuffing is not what you should aim for. Make your existing content keyword-centric, but don't use the exact keywords over and over again. The "advanced" part of "Advanced Keyword Research" means to go after similar phrases to the top targeted keywords relating to your content. Google Keyword Planner and Keyword.io are excellent tools to use.
Implementation of 301 Redirects
Everyone knows that one of the factors in deciding for a website redesign is to 1) make the website look modern and "beautiful" and 2) to make it easier for users to navigate the site. It is often forgotten that URLs change or even that some menu items are structured completely different from its original state. So, let's say we were to change our domain from www.getlevelten.com to a getlevelten.com, not done correctly, Google can see these as two different sites, one being a root domain (getlevelten.com) and the other being a subdomain (the www.).
The solution? Ask or rather make sure that your web agency adds a 301 redirect from the subdomain or root domain, whichever you decide is the right URL is for you. Don't let the "link juice" be split between what is technically "2" websites.
Optimized Title Tags and Meta Descriptions
Optimized Title Tags and Meta Descriptions is critical, especially if you plan on redoing your website's content or eliminate content when you decide on a website redesign. Having page titles reflect an accurate description of the overall content and a call-to-action summary [meta] description of a page's content is critical to both user experience and search engine optimization. If you never knew how important optimizing the title tags are well, it affects search engine ranking and page results.
XML SiteMaps
Finally, a sometimes forgotten element of foundational SEO is creating and submitting an XML sitemap to Google. An XML sitemap is essentially the blueprint of your website. An XML sitemap is a list of pages of your website that is accessible to search engine crawlers or users. Most importantly, the sitemap is what eventually becomes the reason your website is indexed and crawled by Google. Additionally, it can also help correct or mitigate any of the redirect errors that might come up while migrating your old site to the new one [301 redirects, 302 redirects, 404 errors, etc.].
The above is intended to give redesign websites a strong start, but it is always an ongoing process, even when new content is being created. Want to learn or would like us to help you with your website's foundation SEO? Don't hesitate to contact us!