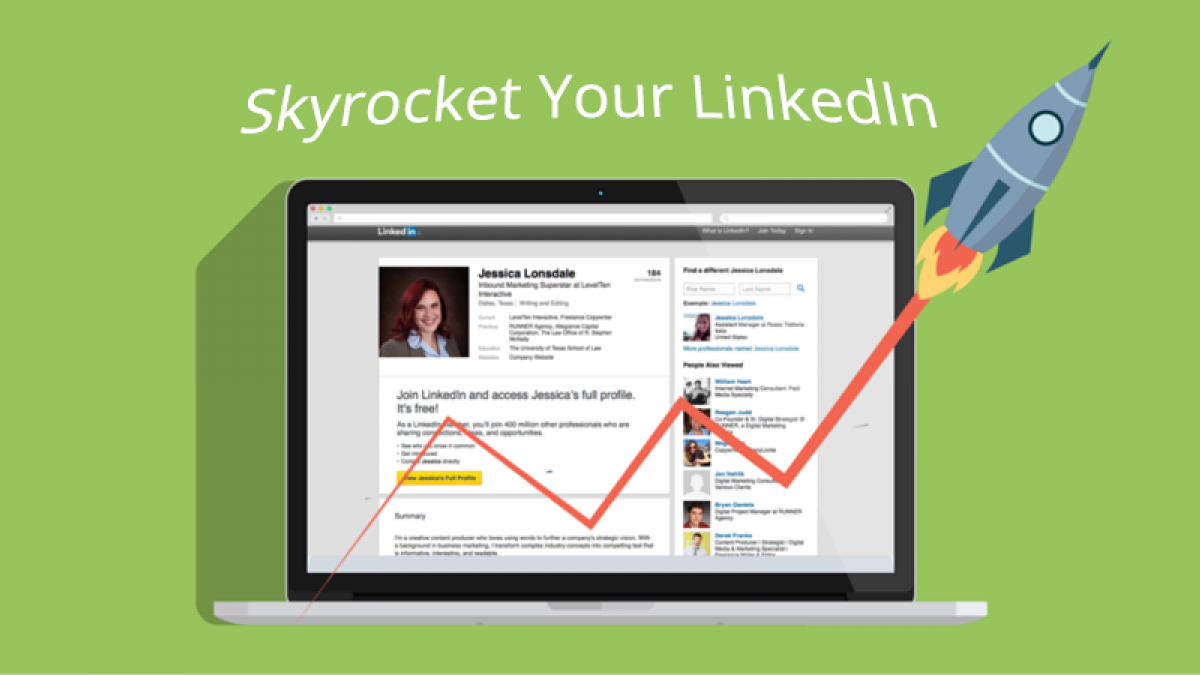 How to Skyrocket Your LinkedIn Profile Views
Ah, LinkedIn, "the Facebook for business." Professionals who can't see the point of a Facebook stream (full of pictures of babies and what that guy you met that one time had for lunch) love how LinkedIn connects them with the people and articles they actually care about. 
When you have a LinkedIn page, whether it's for your company or for you personally, you want to get as many page views as possible. Those views can translate to increased awareness, more customers, and a better bottom line for your business. It's essentially a business networking tool, with all the benefits and pitfalls that entails.
Unfortunately, though, you can't just put a page up on LinkedIn and hope for the best. Your chances of getting "discovered" that way are pretty slim, and you aren't going to see the success you're hoping for. Instead, you want to get your LinkedIn page views to skyrocket, so you can see your customer base and profits grow.
Take Stock of Your Surroundings
Who's already looking at your page?
The first thing you need to know is where you currently stand. Until you've discovered where you are, you can't really figure out where you're going to go (and how you're going to get there). Fortunately, LinkedIn makes it easy to find out where you are and how you're doing.
From your home page, click on your name, and then click on "Who's viewed your profile." This will take you to a nice analytics page, where you can see how many views you're getting (both for your profile and for your posts), and who the viewers are.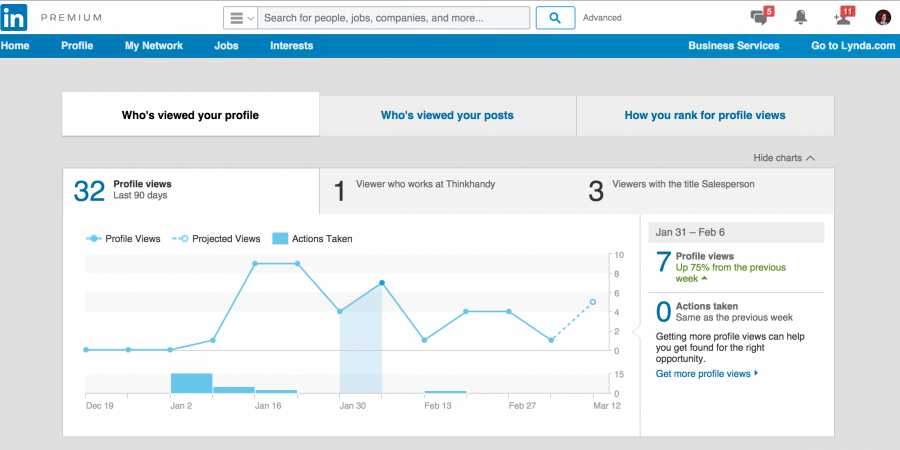 If the viewers are potential customers or potential hires, you can reach out to them directly to connect on LinkedIn and begin a conversation. And if certain kinds of posts are consistently getting more viewers, you can revise your content strategy to produce more of them. 
Take the First Simple Steps
Starting to optimize your page is actually pretty easy.
LinkedIn wants its users to have completed profiles and lots of connections, so they make it simple to enhance your profile with all the information anyone could possibly want. Just by clicking on my profile name, LinkedIn tells me what my profile is still missing. Here, you can see that I'm being prompted to add a background photo and upload content to my profile, and the "Profile Strength" icon shows that my data is already pretty close to complete.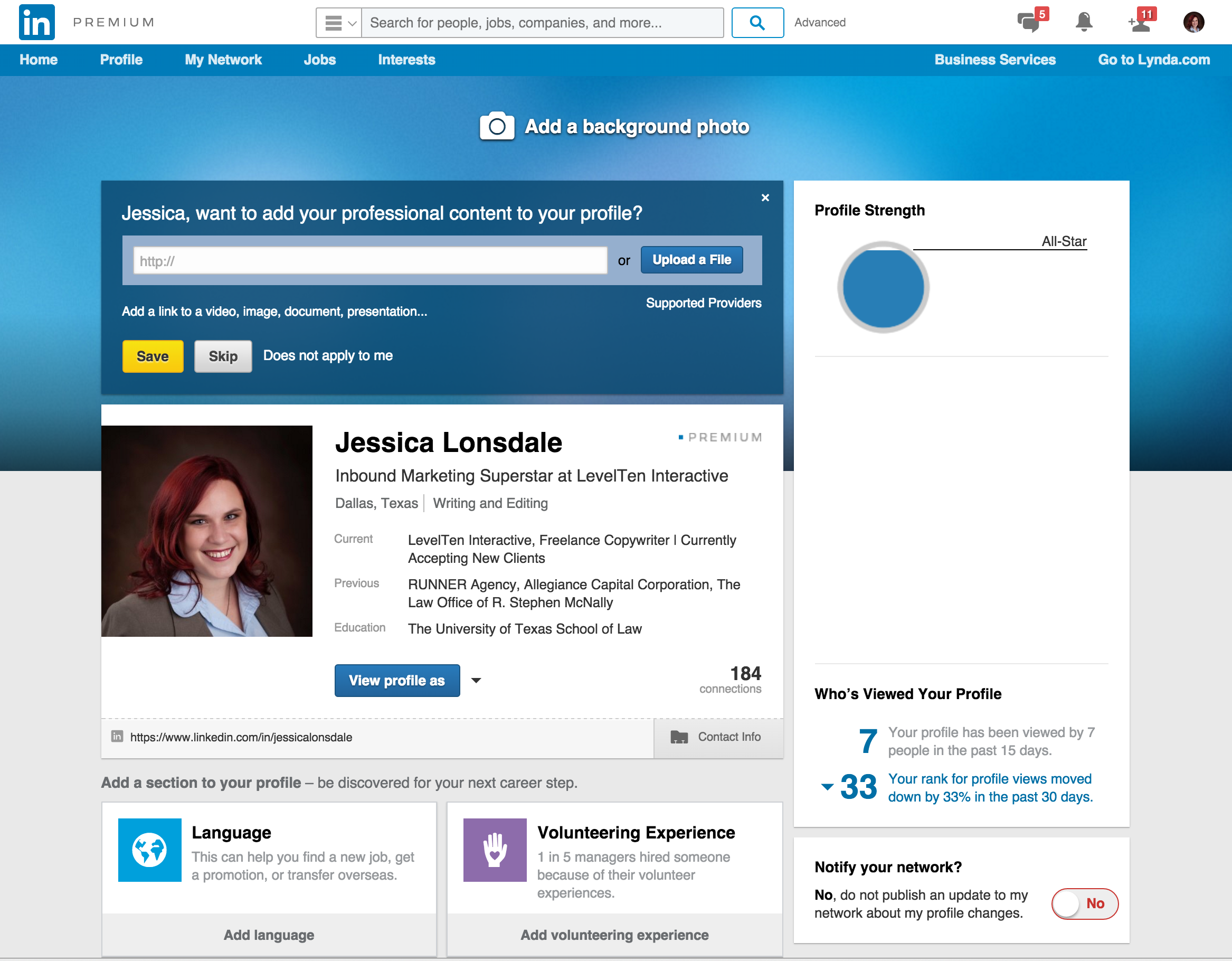 Titles: Make sure the title you're using on your page is one that's common for people (and pages, and companies) like you. You want to stand out and get noticed, but you also have to be similar enough to your competition that you're found in the same types of searches they're found in. Otherwise, you're going to get overlooked, and that won't translate to higher numbers of customers and better profits. 
Titles are heavily weighted, so keep them as common and widely used as possible. That will ensure that your page is found faster and easier. I use the title "Inbound Marketing Superstar," which plants me firmly in the digital marketing world, while adding just a touch of creative personality.
Keywords: Keywords should be in your professional headline. Consider the types of things you did at your past companies, or as a volunteer. Instead of listing the companies or organizations, focus on the skills and the value you brought to others, and use keywords surrounding those activities in your professional headline. 
I'm in luck, because the key phrase I want associated with me and my career -- "Inbound Marketing" -- is right there in my job title. If yours isn't, feel free to expand on your actual title in the headline. Try "Wills, Estates, and Probate Attorney" rather than just "Attorney," or "Senior Financial Services Project Manager" instead of just "Manager" -- anything that will help place you in the right place in your viewers' minds.
Summary: Next, consider your summary. You want to optimize it the same way you optimized your professional headline. It should be a narrative, and it should be keyword-dense. That doesn't mean engaging in keyword stuffing, though. You can put plenty of keywords in your summary without hurting the readability of it.
My summary has a dual audience: it needs to resonate with people who want to connect with me in my day job, as Inbound Marketing Strategist for an agency, as well as with people who are looking for a freelance writer. Notice how I've created a narrative around the value I provide ("transforming complex industry concepts into compelling text") before going into the specifics of what kind of writing I do. I've also made sure to mention not only "inbound marketing," but also "digital marketing," since non-marketers won't necessarily know what inbound is.
Just like in math class, you need to show your work. LinkedIn gives you five spaces to upload media right below your summary, so take advantage of them! If your job results in any kind of content, make sure to upload it, whether it's writing, graphic design, videos, or even a stellar powerpoint deck you created. Letting viewers see your work instantly builds trust and credibility.
Skills: There's a 50 skill limit on LinkedIn, so make sure you list 50 skills. Take up all those available spaces. When you have plenty of skills listed, more people will find you when they search for those skills. It also gives your network the opportunity to endorse you for those skills, which is an instant credibility boost.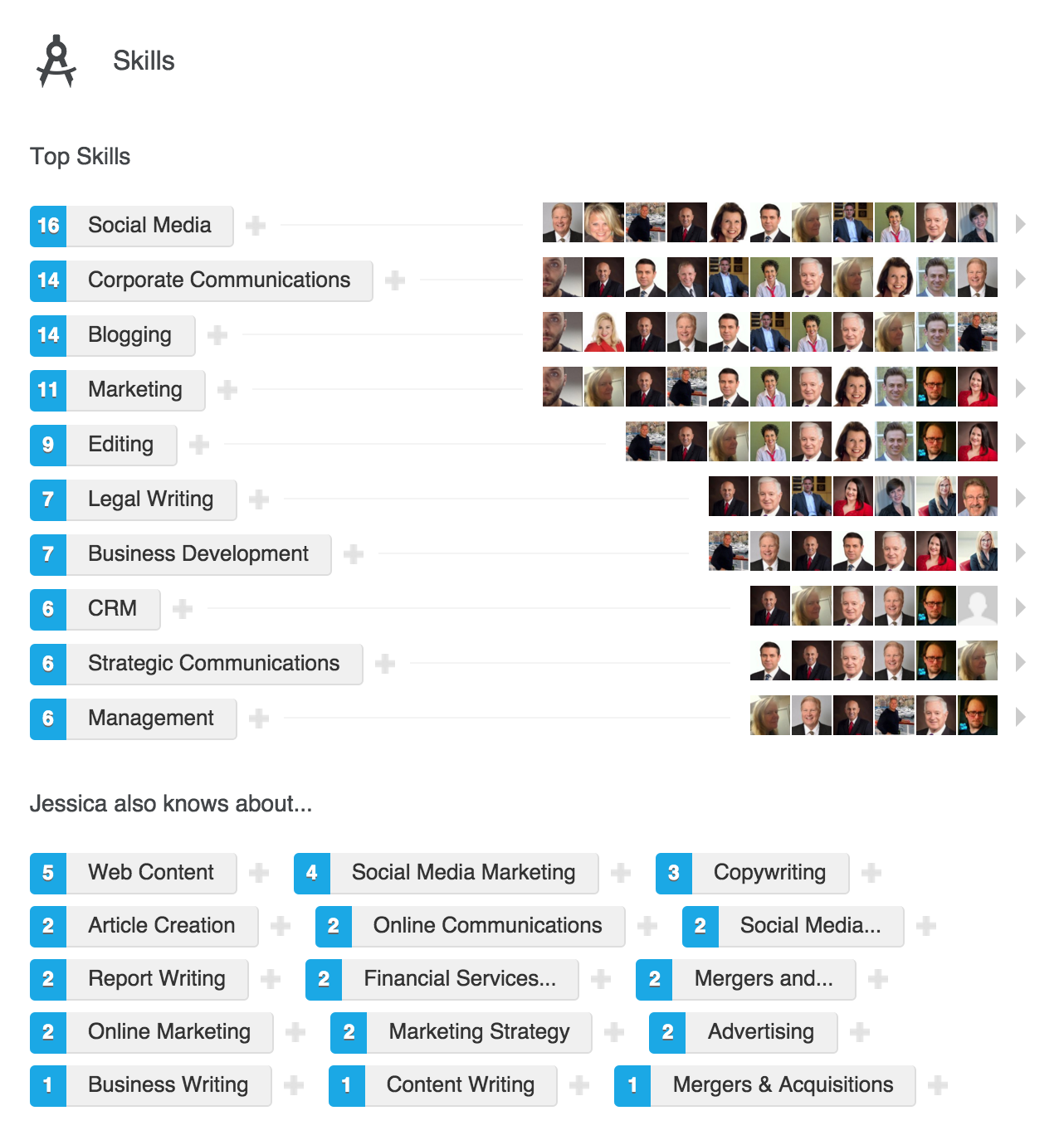 I don't have all 50 skill slots filled, so that's something I'll add to my to-do list. But you can still see how great it is for my credibility that so many of my colleagues agree that I know about, for example, "Corporate Communications." The more populated your profile is, the better off you'll be when it comes to getting found, so don't skimp on filling things out.
Take Initiative 
Get active, and stay that way.
LinkedIn isn't a "set it and forget it" kind of system. You have to do more than that, and one of the ways in which you can do that is to be active. 
Status Updates: Regular updates are vital to getting people interested in your page and what you have to say. You don't want to post every little thought, but you should post compelling content at least once a week to keep people's interest. This can be a great blog your company recently posted, an article you found useful, or an industry report with all the latest data you and your colleagues need. This idea is actually a core Inbound Marketing concept: by sharing information that is useful to your audience, you begin to establish a trust-based relationship with them.
Groups: Groups are another excellent way to see your page views head into the stratosphere. Join the groups that interest you, and that pertain to what you do for a living. Once you've joined those groups, get involved and make yourself known.

You can see that I'm part of groups that are connected to my industry and/or local. Of course, just joining a group isn't going to help you, but becoming part of a group will. Remember, at its core, this is just digital networking.
As people get to know you, they'll check out your page. They may want to hire you, consult with you, or otherwise work with you in some way. When you work toward helping others in the groups you've joined, you'll be inspiring to them, and they will want to learn more about you. Seeing those page views go up will be affirming, and the extra page views -- with the associated increased brand awareness and trust building -- could easily translate into a better bottom line for your company. 
While you're getting involved in groups and staying active in the LinkedIn community, take the time to view the profiles and pages of others. People like to be noticed, and when they see you're checking out their profiles, they will generally check out yours as well. Make your profile visible, instead of having it set to anonymous, so people can see that you've viewed their profiles and reciprocate.
Take a Compliment 
Recommendations and endorsements are important.
Of course you want people to recommend and endorse you, but that's not what this is about. Instead, you need to recommend and endorse others. The recommendations you provide about others have a ripple effect. Those recommendations spread through the other person's LinkedIn community, and anyone who sees their page will see that you recommended them.
That can make people curious about you and what you do, as well as how you know the other person and what you've recommended him or her for. Endorsements work the same way, but those endorsements have to be genuine and sincere. If you just make something up, it can come out cheesy and fake. That won't win you any followers for your page.
Rather than try too hard to make things up, just endorse people you actually know, and who you can say something good about. Those endorsements will portray you as a person who pays attention to interactions with others, and who cares about the people and companies that he or she works with.
Finally, don't forget to use your vanity URL and expand your network aggressively. The more people you're linked with, the more likely it is that other people will see you and be interested in what you have to offer. Also, don't be afraid to self-promote. You shouldn't make every status update a plea to buy something, but there's no reason you can't be proud of what you do. So get out there and make your LinkedIn pages shine!
Looking for a deeper dive? Check out HubSpot's e-book, An Introduction to LinkedIn For Business, which goes through every element of your company's LinkedIn page and shows how to best optimize it.