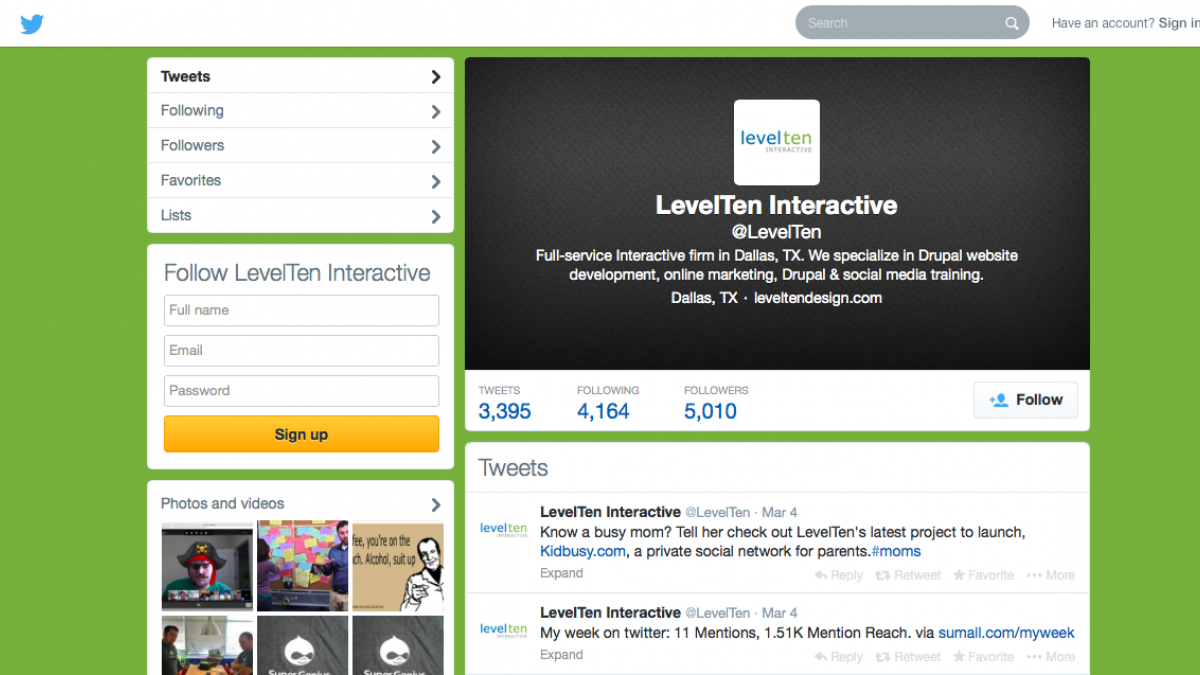 How to Perfect your Twitter Profile in 4 Easy Steps
So you have or want to create a Twitter account, but now you want to get more attention to your profile/bio. Your profile should reflect the identity of your brand as well as project it to your target audience. It begins with your Twitter Handle (@username), profile photo, personality, and links.
Your @username: T

he first and most important thing to start with is the choosing of your Twitter handle (username). You want it to reflect your brand, because it will aso serve it's purpose as your Twitter URL. For example, 

@LevelTen

 is 

http://www.twitter.com/LevelTen

. This is in essence the beginning of identifying who you are.

A Picture is worth a thousand words: Selecting a photo for your Twitter establishes your brand, being a company logo, a CEO's headshot, or just your personal photo. Your profile and background image should reflect your company in a creative and visually appealing to your audience. A suggestion would be to use the colors you prefer (if you have a personal account) or the colors of the company you are representing.
Your Personality/Brand in 140 characters or less: The more concise you can describe your company or personality, the better. Use keywords that would reflect the main purpose or mission of your company. It is also wise to add your location (city, state) to narrow searches on the web in terms of location.
Links: To help drive traffic to your site via Twitter, you can include a track-able link to your main website or to a specific landing page.
A few examples of major companies that use the 4 steps that perfect their Twitter identity to their target audience are:
Whole Food Market's Twitter Profile: The company implements their green theme which correlates with their logo and is also in display as their profile photo. And alludes to their food being delicious with the description in the bio along with the city in which the company is located.
McDonald's Twitter Profile: Along with displaying the iconic McDonald's arches as it's logo, it also displays their food which is visually appealing to their targeted audience. It goes ahead and states their famous greeting and describes who is tweeting on behalf of their account.
Pepsi's Twitter Profile: Although Pepsi's Twitter page looks simple, it serves it's purpose by displaying their latest product that is being advertised. It gets to the point and uses it's newest slogan along with it's hompage link.
TOMS' Twitter Profile: They use their company's blue as it's header backgrounds and logo profile photo. They also utilize their main background to advertise their newest compaign, as well as their mission statement "one for one".