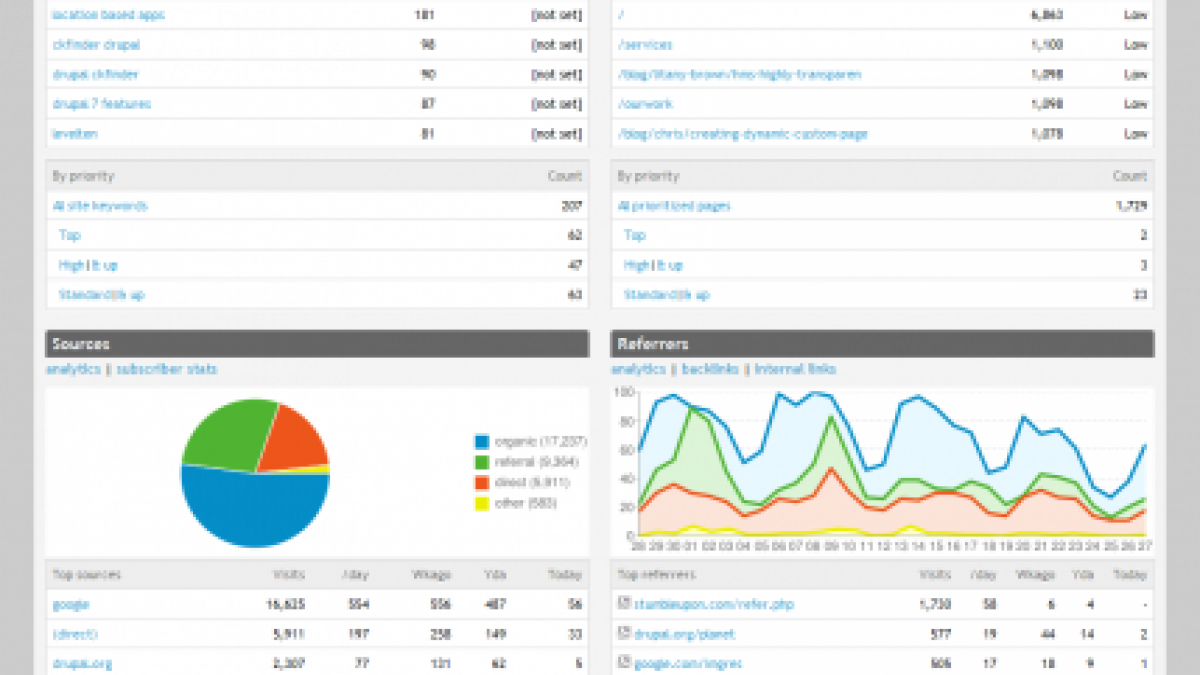 Introducing Drupal SEO Tools (finally)
Over the last two years we have spent a lot of time working on a series of content-focused Drupal SEO modules. Just before DrupalCon Chicago, we released the final module that integrated the whole system together: Drupal SEO Tools. The module provides a presets system to streamline configuration of vital Drupal SEO modules and a dashboard (screenshot) that integrates charts from Google Analytics with shortcut links to popular SEO functions.
They system was set up to solve two problems. First, not just knowing which modules to install, which is covered in several good articles and the SEO Checklist, but also to auto-configure the optimal settings for their dozens of options, which can be fairly overwhelming if your are new to Drupal SEO and is rather tedious even for experienced experts.
The second problem it is trying to solve is to facilitate a workflow for doing SEO in a Drupal site. The SEO Tools module provides a dashboard which provides categories of links to various vital tools for doing search engine optimization. Some are to internal modules and some to external tools such as Google Webmaster Tools. It also integrates Google Analytics data to maximize the transparency of the results of your efforts.
In the rush to DrupalCon, we didn't get a chance to formally do a release announcement. Shortly after DrupalCon, one of the required modules, Google Analytics API was abandoned and superseded by another module, Google Analytics Reports. In the crunch of client work we have had to do in the four months since DrupalCon, SEO Tools sat without the required move to use the newer Reports module.
Last week I finally got a chance to change out the data interface. So without further ado, I give you Drupal SEO Tools.
Watch video
[permalink]
Learn more about the full Drupal SEO Tools Suite