Breaking the Rules: Twitter As A Broadcast Platform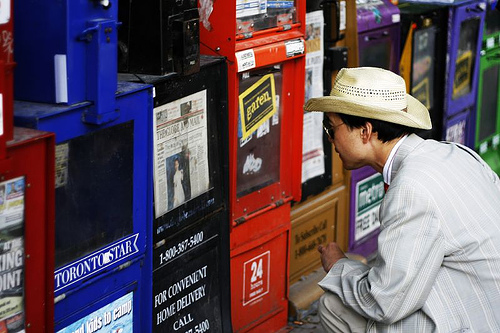 Today may prove to be a game changer for Twitter. Why? Because of lists. Today marked the
major release push for Twitter Lists
, a new feature that's been rolling out slowly to users over the last week or so. Twitter Lists will allow you to create lists of other Twitter users, which you can share across your network. Why does this matter? For several reasons. First of all, Lists will undoubtedly help new Twitter users filter out spam and noise to find what were previously hidden gems of solid content. In many ways, I expect Twitter Lists to act much like the blogrolls of old - an editorialized collection of the best Twitter users. In fact, it's not too hard to imagine lists being used in some formula that calculates Twitter reach, influence, and ranking - much like
backlinks for SEO
. Secondly, it
may change the way you view Twitter as a publishing platform.
In his
Posterous
blog, Robert Scoble wrote today that he
no longer uses Google Reader
as much as he used to. He cites many reasons, chief among them being the speed of the reader service (or lack thereof), and the lag time between news, a blog post, and the time it gets into his reader inbox. Now,
Robert Scoble
gets his news and content through Twitter. I get a lot of my content through Twitter, too. But what stopped me from using it as a content delivery service was the massive amounts of noise I would have to filter through to get to the content I wanted to read, when I wanted to read it.
My Google Reader
, on the other hand, is practically noise free. I only subscribe to the blogs I want to read, and I can easily check up on them with ease. But I do spend a lot of time on Twitter. Much more than I do on Google Reader. Plus Twitter is social, and it's where a lot of my friends are. Enter Twitter Lists. Scoble hints on a concept that's interesting in his description of several Twitter lists that he's working on. His Tech News Brands list is comprised of content publishers that discuss Tech News. What Scoble likes about this list is that it's noise free. If there's no noise, this means that the accounts are simply set up as content pushing news feeds. Almost like an RSS feed just in a format that's tailored to social sharing. This is why I'm re-thinking my Twitter content strategy. In the past, the focus was always on interaction, engagement and community building. I would, of course, push company content through my Twitter account, but it wasn't the focus of my activities. In fact, I've stated many times that you should not use your Twitter account for message broadcasting. But if this list thing catches on, why not? Let's say that people begin creating more lists, much like Scoble did, of Twitter accounts that regularly Tweet excellent or relevant content. Even though we produce a lot of great content at LevelTen, no matter how hard I tried, I would not get
my personal account
onto very many of those lists. My account is too noisy for that purpose. But, let's say I create a LevelTen brand account. And all I use that account for is a content push, with zero noise. Would people add that account to a list then? My guess is they would. We may be entering a period where major brands and online personalities start to fragment or split a single Twitter account into many focused, specialized accounts, for the purpose of getting onto as many Twitter lists as possible. What do you think? Have you tried the list feature yet? How do you discover and read new content on the web?
Related Reading
Photo Credit