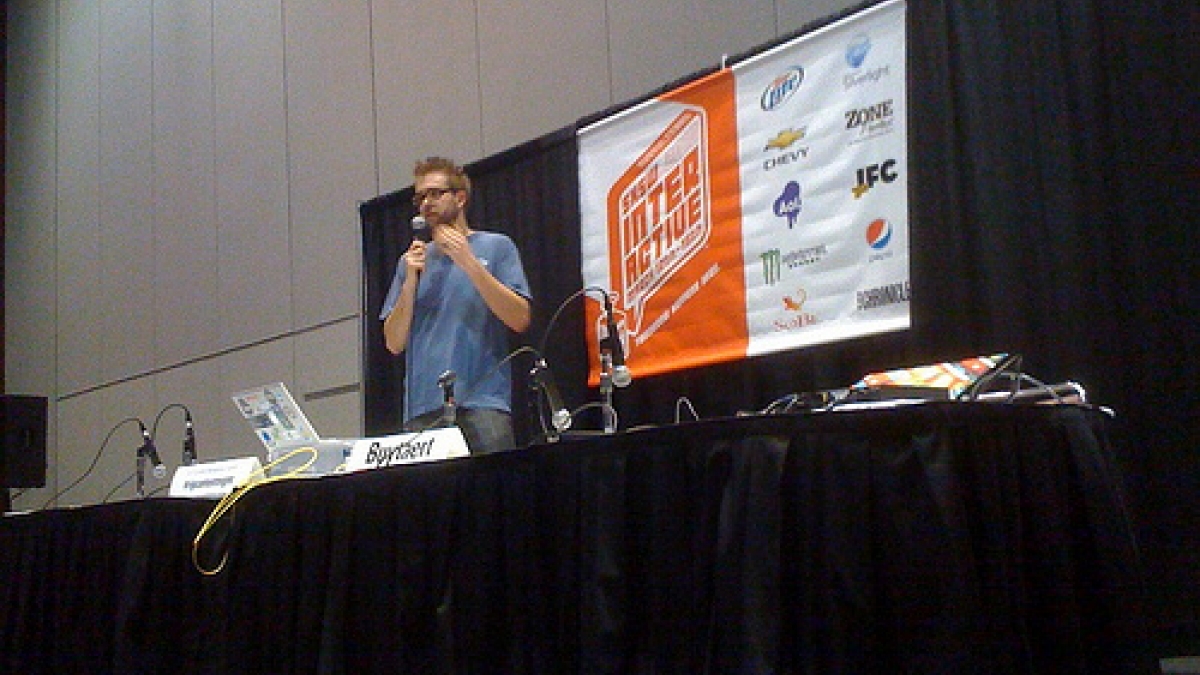 Ten Drupal Centric SXSWi Panels I'm Voting For
The
South by Southwest
(SXSW) conference and Drupal hold a special place in our hearts. After all, it was at SXSW in 2008 that LevelTen first discovered the awesomeness that is Drupal. Since that date, we've never looked back! In support of our favorite content management system, here are all of the Drupal related panel pitches we could find. Hurry up and vote, too, since public voting ends tomorrow!
Scrum Revolution: Embrace the Future of Interactive Development
Tom McCracken, LevelTen Interactive
Interactive development is hard – and it's getting harder daily. But there's hope, and it comes in the form of a radically different approach called SCRUM. Modern websites are more complex then ever, clients are equally as demanding, and budgets are tight. To stay ahead of the competition, you must innovate - continually, and at the speed of web time. When the average web project is 45% over budget, delayed by 63% and missing 1/3 of promised functionality, it's evident the Interactive industry needs a change. SCRUM, and other agile processes will help you improve efficiency, minimize risk and enhance innovation...
Read More
Vote here!
Open Media Project: Giving Community Control of Television
Kevin Reynen, Open Media Project
The Open Media Project (OMP) is a collaborative effort by several public access stations, community media centers, and public media organizations to develop open source, online tools making it easier for members of local communities to have their voice heard online and on TV. channelAustin, a nonprofit operating a state-of-the-art HD digital community media center in East Austin, is one of several groups contributing to the OMP. The OMP empowers and enable communities; allowing people to enroll in classes, reserve production equipment, editing facilities, and studio space, as well as submit video that both airs on local cable channels and is available online...
Read More
Vote here!
Pantheon: Start With Pennies, Scale To Millions
Josh Koenig, Chapter Three
Today's web is motley collection of more than 300+ million sites, the majority held together by the digital equivalent of duct tape and string. Today, content management remains an un-solved problem. However, standardized tools for publishing to the web are beginning to level the playing field. Enter Pantheon: a content management tool with all the trimmings, capable of delivering millions of pageviews for less cost than the average cellphone subscription...
Read More
Vote here!
Knocking Out Application Layer and Open Source Threats
Chris Drake, FireHost
Everything we do online, from business to banking to shopping, has become an attractive honey pot that hackers sniff out to steal what's not theirs. It raises the question – why hasn't web and application security kept up with other online innovation? It's an important question, especially since these cyber-creeps weasel their way into so many of the sites we visit. According to Websense, 70 percent of the top 100 most popular websites have been hacked either by hosting malicious content or contained a masked redirect to lure us from legitimate sites to malicious ones. This presentation will look at why companies must examine their security ecosystem and what responsibility hosting providers must take in order to keep businesses, and consumers, safe from criminals that are becoming more sophisticated by the day...
Read More
Vote here!
Open Medicine - Breaking out of the Straitjacket
Anita Palepu, Open Medicine Publications
Want medical research to tell it like it (really) is? Want to be able to read it yourself? For free? Then we need a new biomedical publishing model. Open Medicine is using your technological innovation (free and open source software) to turn its back on Big Pharma funding and demonstrate that medical research CAN be published in a high quality format and exploit new technology, like wikis, to do it better...
Read More
Vote here!
What the F*** is the Semantic Web?
Juan Sequeda, Semantic Web Austin
You may have heard about it. You may or may not even understand what it is. You may be very skeptical or even call bullsh**. Or you may thing there is a potential. What am I talking about? The Semantic Web. The web that we are all used to is a web of documents where we search for things inside of documents. The Semantic Web enables a web of data, which makes the web appear as a giant global database...
Read More
Vote here!
Building Drupal Sites in the Cloud
Barry Jaspan, Acquia
Cloud computing is all the rage these days but web developers are still faced with many challenges when it comes to scaling dynamic websites in the cloud. Senior Architect for Acquia Barry Jaspan is going to review these challenges and walk you through the steps necessary for building high performance websites on the open source Drupal social publishing platform in the cloud...
Read More
Vote here!
Duplication is Evil: Drupal to the Rescue
Stéphane Corlosquet, Massachusetts General Hospital
Don't repeat yourself! And don't repeat the Web. Instead, reuse content from across the Web with Drupal's Semantic Web tools. Programmers have been following the philosophy of Single Source of Truth in their code for years. Smart (and lazy) programmers know that reusing code is the only way to get the job done right—to do more, write less, and make changes in one place. Even more time consuming than maintaining repetitive code, though, is maintaining repetitive information...
Read More
Vote here!
PHP Performance on a Budget
Tom Boutell, P'unk Avenue
PHP is easy… as programming languages go, that is. You can build sites in a real hurry. With frameworks like Symfony and Drupal, you can build them faster still. Yes, Java has more raw speed, all else being equal (which it never is). But with PHP you can get your project built today with a small team. Still, sooner or later success catches up with you and you want your site to cope with Serious Traffic… or cope with moderate traffic on a cheap virtual machine… or at the very least, not be dog-slow with just a handful of users...
Read More
Vote here!
Free as in Puppy: Planning Successful Drupal Implementations
Crystal Williams, Independent
Drupal is rapidly becoming the top choice for Open Source Content Management Systems for companies ranging from startups to Fortune 500. Completely Free and with a vast and growing set of contributed modules, it offers amazing flexibility and extensibility for a broad range of projects. Unfortunately, many projects fail to run smoothly because of poor planning and misconceptions. Drupal may be free, but implementing it right takes time and money...
Read More
Vote here!
And there you have it! This year's crop of Drupal centric presentations for SXSW! Did I miss any? Leave yours below in the comments!
Photo Credit