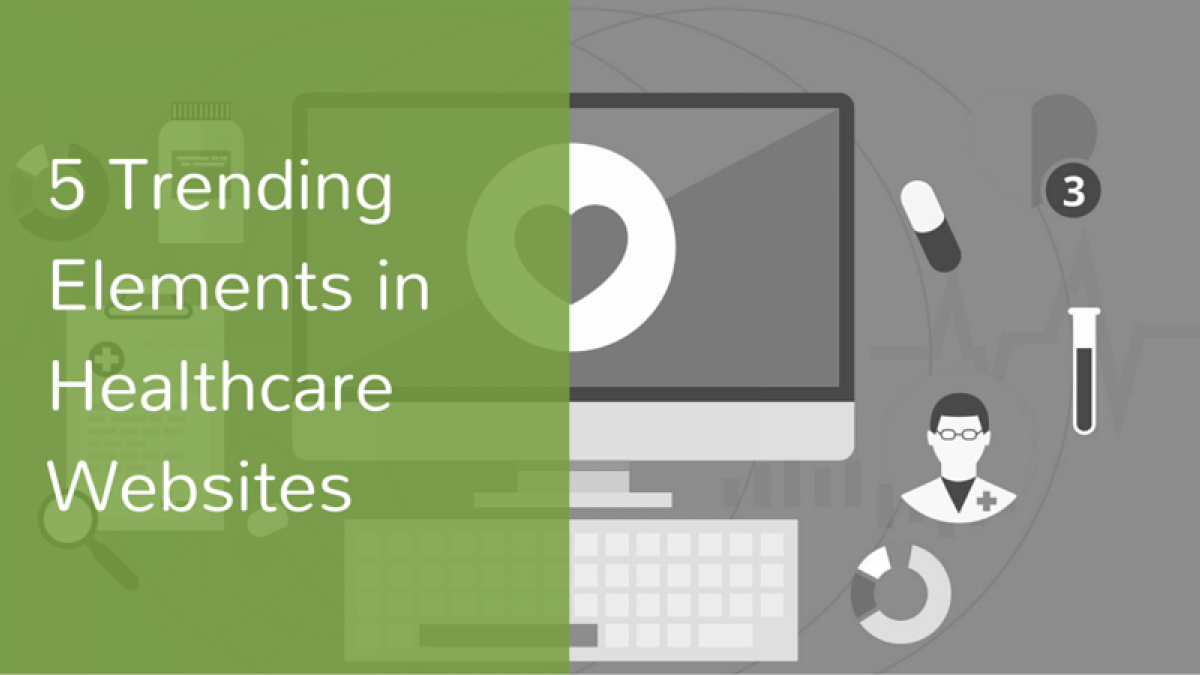 5 Trending Elements in Healthcare Websites
If you work in the healthcare field, you have almost certainly encountered patients who have consulted online resources about healthcare and medical topics.  87 percent of American adults use the internet, and about 72 percent have searched the web for health-related information in the past year.  People explore symptoms to decide if they need to seek medical help, research new diagnoses and treatment options, look for new doctors or other providers, learn about medications, and endless other medical queries.  More and more, the internet is impacting people's healthcare choices.  When a user lands on your website as a result of an internet search, it typically takes 10-20 seconds for them to decide whether to explore further or hit the 'back' button on their browser.  A simple, functional, and attractive site will help draw people in, and keep patients and potential patients coming to you for answers to their healthcare questions.  Apply these current trends in healthcare website design to attract Internet users and connect with your patients. 
Flat, simple design:  Complex layouts, busy backgrounds, and distracting animations interfere with the usability of a website and do not translate well to smaller screens.  Eliminate all non-essential components.  Use flat colors (meaning no gradients or shading) for a clean and simple design.  Particularly important for the medical field, cool colors promote feelings of calmness and peace, qualities desired by people looking for medical support, whereas reds and yellows communicate urgency and panic.  Uncomplicated, geometric logos, well-designed infographics, crisp typography, and appreciation of white space keep a website easy to view, navigate, and understand.  Flat design may also include large photos as background images.  As an example, Northwestern Medicine's website uses flat, simple design with soothing colors and large background photos.
Storytelling: Let your website tell about the people of your practice and what it has to offer.  What is it like to be a patient of your practice?  Consider whether your images communicate hope for an active, healthy lifestyle and whether the providers appear caring, helpful, and friendly.  25% of patients look up doctor reviews to hear other patients' opinions when seeking a new provider.  Let staff, patients, and their families tell your story for you by submitting their testimonials.  Many medical websites are also including narrative-based content through blogging.  In addition to sharing your brand, consistent blog posts improve SEO results and promote more regular patient engagement.  Children's National Health System does an amazing job of visually communicating the specialized care that they provide to their young patients.

Responsive: People are now using smartphones and tablets to access information on the web more often than laptop or desktop computers, and 62 percent of smartphone owners have used their phone in the past year to look up information about a health condition. Therefore, it is important that websites be formatted in a way that is functional and easily digested at any screen size. Especially on mobile devices, users can become frustrated and lost by having to click from page to page looking for information. Websites are becoming longer and utilizing single-page scrolling. With this, fixed navigation header bars become an essential component of responsive design. For a great example of responsive design with a fixed header, take a look at Kaiser Permanente's site on both a computer and a mobile device, and see how little is lost despite the smaller screen.  

Interactive:  When patients and potential patients recognize your website as an information resource, it instills trust and strengthens the relationship, keeping them engaged for longer periods and with more frequent visits.  Components such as symptom checkers and dosage calculators can make your website a useful, bookmark-worthy tool for patients.  Search functions, including finding a doctor within your practice, or searching for information about a condition, helps retain users who might otherwise leave your site to research further.  United Kingdom's NHS offers this embeddable, interactive Body Mass Index calculator, for instance.

Efficient:  The availability of secure registration and health history forms online, as well as the ability for patients to communicate with the office via the website, helps staff work more efficiently, and communicates respect for the patient's time as well.  Consider the possibility of requesting an appointment online.  If a patient requests an appointment via the web, the office staff can contact the patient to schedule the appointment when their call volume is low, and the patient does not get placed on hold.  Likewise, having pre-appointment forms available online prevents patients from having to arrive early to fill-out paperwork, only to then wait for the office staff to input the data into the computer. Take a look at Legacy Health's myHealth section, where patients can request appointments, email their providers, receive messages, and renew prescriptions, as well as view their own health records.
By working with pharmaceutical companies, LevelTen has worked with the constraints of FDA guidelines in order to make their websites compliant with public safety standards. If you are currently looking for a new redesign, LevelTen has experience in implementing all of the current trends using Open Enterprise Pro in Drupal. Have questions about healthcare design or trends? Let us know in the comments below.