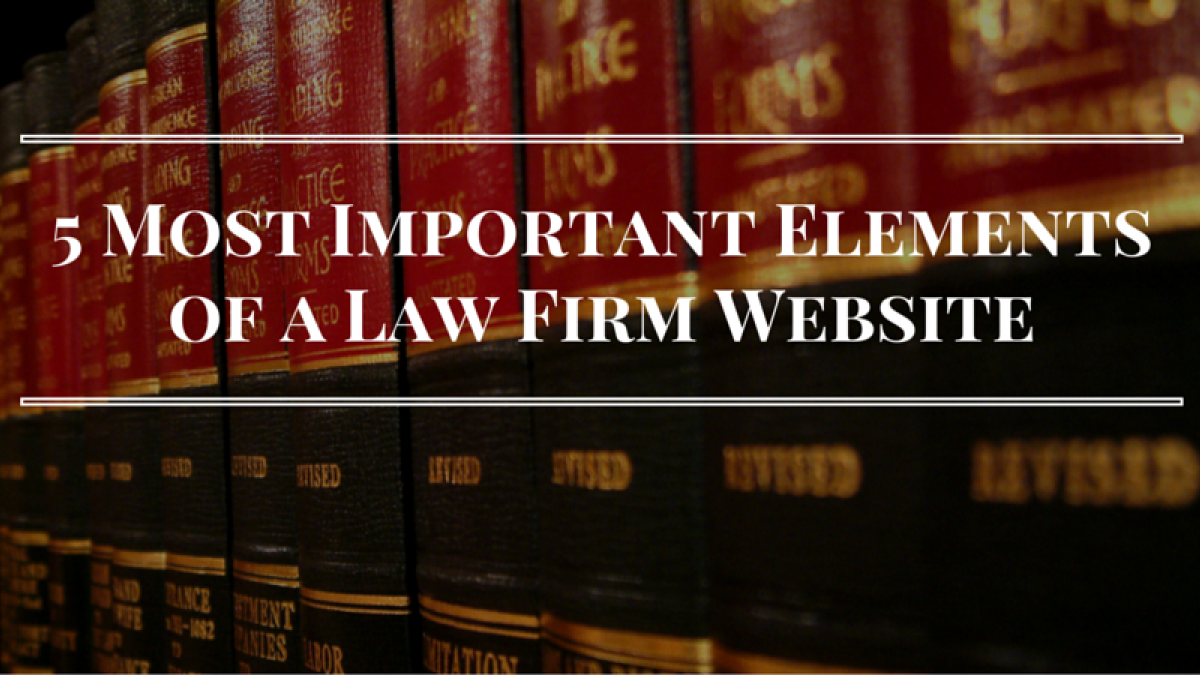 5 Most Important Elements of a Law Firm Website
Building and marketing a successful law practice is a 24/7 job. Successful attorneys know that they have to promote their services, maintain a consistent brand, and continue to build their practice through referrals. Most lawyers, whether they're solo practicioners or in a firm, know that a complete and professional website is a key part of their marketing efforts, but not everyone knows what that looks like. Here are the most important must-haves for your law practice website: the tools and strategies that will keep new clients coming in the door.
1. Maintain a Professional Design.
Almost everyone has at least a rudimentary website these days, but it's not always sending the right message. Whether your site was put together in a rush, or just looks outdated by now, it's crucial to do some redesigning to ensure that the first impression you make online conveys that you are professional, competent and trustworthy. According to the Stanford Persuasive Technology Lab, 75% of web users make credibility judgments about a company based on their website's design. Make sure those judgments are positive with a clear, crisp and professional web design.
2. Highlight your expertise and affiliations.
Because law firms have only their expertise to sell, it is critical to demonstrate that you know what you're doing. Take steps to actively earn the trust of your potential clients by being clear about exactly what you do and why you're so good at it. Make your service offerings clear and back them up with any information about your accreditations and affiliations. The first thing your clients want to know is whether you can help them with their problem, so don't be shy: state right up front that you practice tax law and probate law (for example) and support that by showing you're a member of the appropriate organizations and have the right certifications.
3. Provide resources to gain credibility and establish trust.
While it's important to be clear about what you do, the rest of the content on your law firm website should be all about meeting the needs of your potential clients. This concept is at the core of content marketing: if you provide useful and relevant information to the people who visit your website, you're well on your way to establishing yourself as a trusted advisor rather than just another attorney. This is important no matter what industry you're in, but it's particularly pertinent in the legal field, where your clients understand very little of the details of what you do. Content establishes value, so presenting yourself as a knowledgeable expert will give your potential clients confidence in what you can for for them.
Fortunately, creating a solid content marketing plan for your law firm should be a slam-dunk. As an attorney, you have a wealth of specialized information that your potential clients are actively searching for. Consider adding a simple blog to your website where you can share short posts on topics your clients need, such as "Five Things to Know Before Filing for Divorce," or "How the new ABC Tax Regulation Affects Small Businesses." You can even combine several related blog posts into a free e-book or white paper and ask visitors to register with their e-mail address to download it, thus giving you the beginnings of an e-mail list to reach out to potential customers regularly. It should go without saying that these resources should be written in an informal and accessible style, free of legalese or other jargon.
4. Focus on your people.
This is yet another way to use your website to begin to build trust between your firm and your potential clients. Whether they're dealing with a messy child custody dispute or how to incorporate their new business, your clients are coming to you with problems that they care deeply about, and they need to know they can trust you to guide them through the process.
Don't be afraid to focus on the people in your practice and their background with open and welcoming headshots, engaging bios, and clear contact information. The more transparency you can provide about who you are, the more comfortable your potential clients will feel about contacting you. Plus, attorney bio pages are a great place to let your corporate culture shine, whether that's through a more relaxed tone, information about your volunteer work, or quirky quotations from each of your attorneys.
5. Make it Mobile-Responsive.
According to a FindLaw study, nearly one-third of traffic to law firm websites comes from mobile searches. That means your website must still look professional whether your clients access it from a laptop, a tablet or a smartphone. Many website themes come with mobile responsive layouts built in, but if yours doesn't, you'd better invest the resources necessary to make sure your website looks good across all platforms and devices.
Your firm's website has a big role to play: it's the hub of your digital presence and the foundation of your online marketing efforts. All the elements of your website should work together to make a case for why a potential client should choose you. And because the legal world has a higher trust barrier to overcome than, for example, a company that sells body lotion, your website is best considered as a tool to help your team establish credibility and gain trust. Combining transparency about your firm's people and specialties with valuable content will make your firm stand out as knowledgeable experts who can be trusted, and your business will only continue to grow.