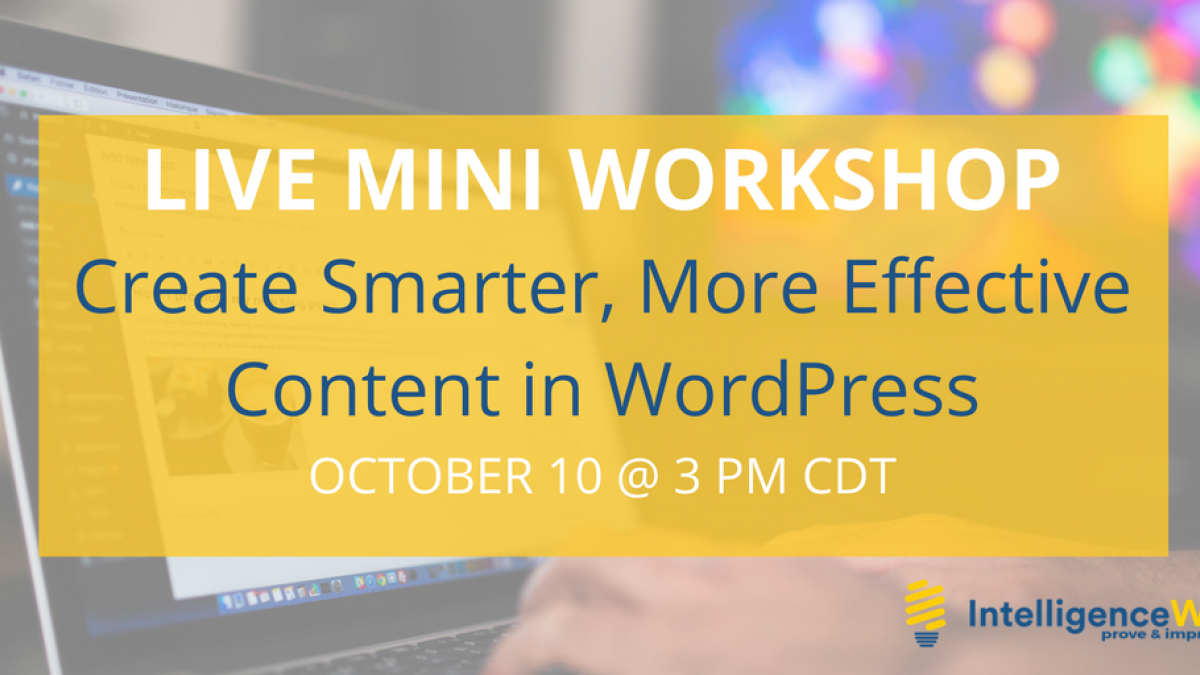 Create Smarter, More Effective Content in WordPress (Mini Workshop)
We've ventured into the WordPress world! We took our Intelligence tool and ported it over to a WordPress plugin! Want to see it in action? Well, Tom McCracken is hosting a Live Mini Workshop next Tuesday, October 10, 2017!
What you will get out of it:
You will learn the true impact you need to move beyond standard Google Analytics page views to measure what really matters. It's not about what pages are being hit but what are people actually reading.
You will learn how to Integrated results-oriented reports compare the scores of your content to make it easy to uncover what is most effective.
Agenda
Overview (10 minutes): We will start the basics of how Google Analytics works and its pitfalls. Then we'll look at how Intelligence extends GA and fixes inaccuracies. Then we will review how to analyze the effectiveness of your content marketing.
Installation (10 minutes): Intelligence has a lot of moving parts. But never fear, we will take you step by step how to get it all setup and running on your site.
Customization (10 minutes): Intelligence does a lot right out of the box. But every website is different. We will walk through the essentials of how to customize Intelligence to track what is truly meaningful to you.
Troubleshooting and Q&A (30 minutes): It would be awesome if all plugins just installed with a few clicks. But there are a lot of creative WordPress configurations and hosting that may cause problems. If you do encounter a problem, here is the opportunity for some free troubleshooting and guidance.
Create Smarter, More Effective Content in WordPress (Mini Workshop)
Date: October 10, 2017  1 pm PDT | 3 pm CDT | 4 pm ET 
Speaker: Tom McCracken, Founder of IntelligenceWP

Limited Seating. Be 1 of the 15!