Do's and Don'ts for the Office Holiday Party
It's December, so that usually means the office holiday party season is in full swing. That also means coworkers will be particularly merrier than any other office function. Here at LevelTen Interactive, we have the traditional annual holiday office party at a Dallas-Fort Worth area restaurant.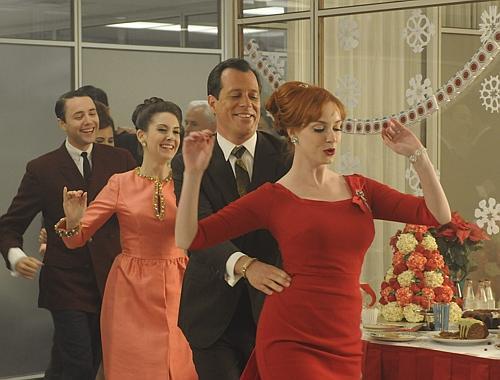 If you have ever seen Mad Men, you might have seen the episode titled Christmas Comes But Once a Year, where they have the office party and some of the characters are drunk in the office. What employees need to know about attending their office party, is to have some decorum. Yes, it might be your company's party and only co-workers will be there, but let's face it, you still want to have some professionalism while having fun.  You never want to be THAT employee that everyone talks about after the party.
Here are the Do's and Don'ts to survive you holiday party this year.
Do loosen up and enjoy a cocktail with co-workers.
Don't drink too much, even though your company is having an open bar. Yes, it's free, but don't be THAT person that over does it and becomes belligerent. Worse for the company, if said person drives, the company is the one that could get into leagal troubles for serving the employee too much alcohol.
Do inquire about office policies on providing car or cab service for employees attending the holiday party.
Don't drink and drive. (Especially in Texas.)
Do follow the attire for the party, be it formal or casual. (LevelTen is having an Ugly Sweater Party theme this year).
Don't wear clothes that you would use to go to nightclub. 
Do make introductions. If you are bringing a guest make sure to introduce them to facilitate the conversation.
Don't bring a date that you are just getting to know. 
Do take photo's for the company's twitter and to document company events. (Usually the marketer's duty.)
Lastly, don't post any embarrassing photo's of coworkers on social media sites. Remember, everything you put on the web will stay there forever. 
Bonus tip courtesy of Some Ecards: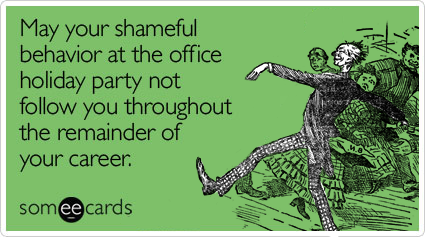 Have some tips to share? Write them in the comments below!
Stay tuned for a recap of LevelTen's holiday party!