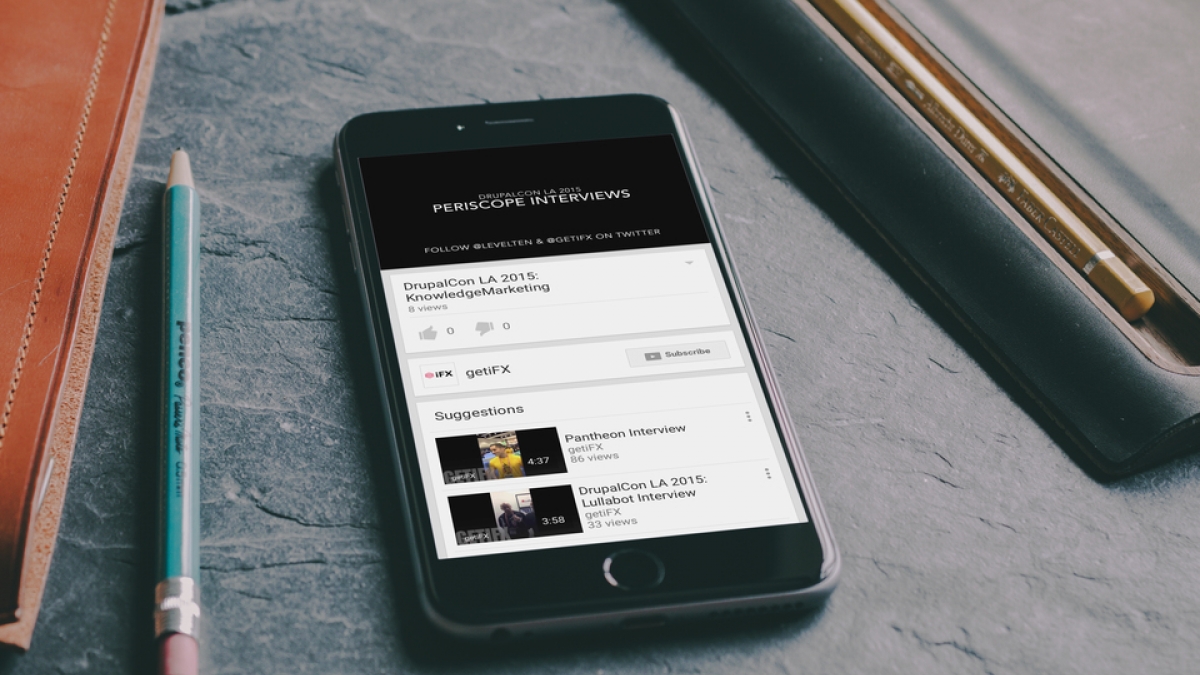 DrupalCon LA 2015 Video: Knowledge Marketing Interview
Last week's DrupalCon interview featured NuCivic's Andrew Hoppin, the co-founder and president of NüCivic.  If you missed the interview with the NuCivic, Percona, Drupal Association, Lullabot, Pantheon, or even our first Roundtable Interview, you can catch the interviews by clicking on the links. The interviews first appeared during our week long live broadcast with Periscope and Twitter.
In our latest video interview, Kyle Taylor, our Drupal Developer, caught up with Bret Keirstead, the Vice President of Marketing and Sales for Knowledge Marketing.
Knowledge Marketing INTERVIEW
Note: The Video is available in 1080p HD format.​
WOULD YOU RATHER READ THE INTERVIEW? READ IT HERE:
Kyle Taylor: Hey Guys, this is Kyle with LevelTen in Dallas, TX, and we're here at DrupalCon talking with
Knowledge Marketing
, is that correct? So, I am going to flip this camera around and we are going to talk with Bret here. Go ahead and introduce yourself, who you work for, where you're from.
Brett Keirstead: I am
Bret Keirstead
I am Vice President of Marketing and Sales for Knowledge Marketing, and we are based in Plymouth, Minnesota. 
Kyle Taylor: So what do you guys do?
Brett Keirstead: We are a data management platform and email marketing provider and provide services to organizations that are looking to better organize all of their online and offline content data profiles into one profile. So, and then use that information for website personalization for custom content, for custom ad placement, for advanced data collection services.
Kyle Taylor: So, I see that [you advertise] talking about Big Data and Drupal, so why Drupal and how are you going to do it? 
Brett Keirstead: So, a lot of Drupal users that build sites are looking to provide a more customized content experience for the end user. So, if I come to a Drupal site I am looking for a piece of content, and we know who that person is, it's not sufficient anymore to offer them a generic site experience. Big Data is the acronym or the word for the collection of a whole bunch of attributes about an individual. You know, their title, their information, their topical interests, how they consume content online, what they open in emails, their profile data that they may have collected from different areas, our system takes all of that data combines it into one profile and then allows Drupal to personalize the site experience based on that data profile. So, that movement in a lot of the sessions here that are around personalization or capturing user taxonomy and personalizing the content is really the why we are here, to promote that capability--through using the data we have on the back end. 
Kyle Taylor: So, we got a live question someone asked, What can I do to use this piece of software right now?
Brett Keirstead: Well the module, there are two things that you need: The plug-ins, the modules are available on Drupal under KM Suite, so they're published both on GitHub as well as on Drupal.org the parameters to plug it in. On the Knowledge Marketing side, you do need to contact us to set up the data framework because we have to have an account and private data environment setup to structure that. So, again we're capturing all that site data, we're capturing all that information and storing on a customer's behalf. So, it's a two-part process. Same thing if you want to use email distribution, a lot of customers are looking for tying in content distribution from Drupal into email, that is a separate module that's available as well we just have to set up an email account in order to do that.
Kyle Taylor: So, where can we find more information about it?
Brett Keirstead: Knowledgemarketing.com is the best source for it if you look under the solutions area there is a drop down called Drupal Integration it talks a little bit about the way that's structured, but it also gives general information on the site about our data management platform as well the email services as well.
Kyle Taylor: Awesome, that's it thanks, Bret.
Brett Keirstead: Yeah, Thanks.