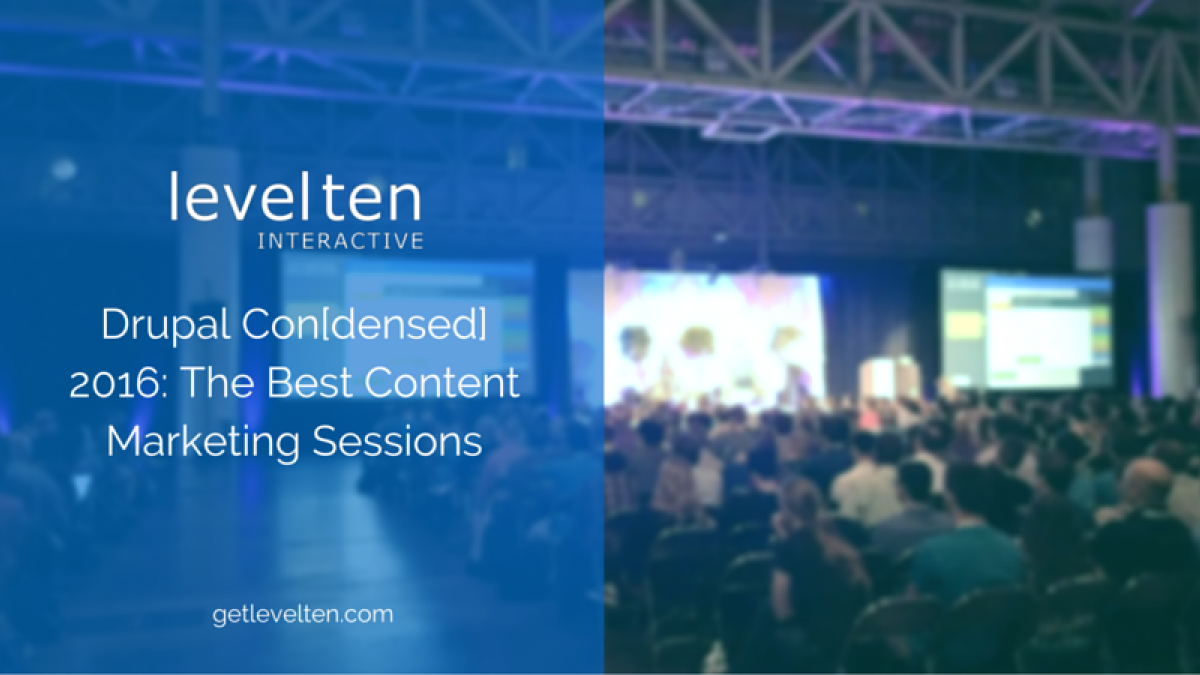 DrupalCon[densed] 2016: The Best Content Marketing Sessions
As a marketer, a Drupal newbie, and the newest LevelTen employee, I was super excited for DrupalCon.
Historically, there has not been a lot of overlap between the Drupal world and the marketing world. On one level that makes some sense: companies who need a Drupal web solution are often large enterprise-level organizations who have the resources for an in-house marketing team.
But it's clear after my week at DrupalCon 2016 that more and more agencies and web developers are recognizing that they need to offer some kind of content or content strategy services to their clients. Every session that touched on content was packed, with people sitting on the floor or leaning against a wall. It's clear that the Drupal community is starting to embrace content as a marketing tool, not just a static website component.
What I Learned at DrupalCon as a Marketer
Here are the most important things I learned at DrupalCon New Orleans:
My "comfortable shoes" are not actually comfortable.
If I go to an "advanced" session, I will understand each and every word that is said, but I will not be able to understand any single sentence.
I will always and eternally be excited by the prospect of a free t-shirt.
Whoops, sorry, those were the most unimportant things I learned. Valuable to me, yes, but slightly less valuable to you.
The truth is that I learned a ton at a bunch of different sessions. I'm going to touch on my three favorite sessions, and then dive into the Tuesday keynote, which I thought was really powerful.
My Three Favorite Sessions
Content-Driven UX, by June Parent, Senior Digital Strategist at ImageX, and Bjorn Thomson, Senior Solutions Architect at ImageX
This was a really great talk on how and why content should come first and then shape everything about your website. The presenters went into a lot of detail and step-by-step instruction on how to do a content audit. They actually presented a "Content-Driven Framework" that I hadn't seen before – Audience, Messaging, Interaction, Optimization, Distribution, Measurement – that I'm going to use in my next Marketing Strategy Plan. They also claimed that there is really no practical difference between content and UX any more, and by the end of the presentation, I agreed with them.
Content Strategy in Popular Culture, by Brett Meyer, Chief Strategy Officer at ThinkShout
This was hands-down the most entertaining session I attended, and the rest of the LevelTen team agreed. Brett Meyer gave us a look at content strategy through the lens of nerd culture: for example, why is Captain America: Civil War so successful, while Batman V. Superman failed by comparison? Because Marvel has tapped into what its users really want, and is delivering more of it – and that's what we have to do for our clients as well. Similarly, is it okay to repackage and reuse content? Sure, if that's what your audience wants – just look at The Force Awakens.
The Ultimate Super Duper Guide to Content Quality, by Courtney Clark, Senior User Experience Designer at Forum One, and Kristina Bjoran, Project Manager & UX Designer at Forum One
The session delivered on its promise. The presenters worked step-by-step through the components of quality content: Structure, Presentation, Clarity, Keywords, Voice, and Organization. Each section iterated on the same example of content to take it from "meh" to "marvelous". It was a little surface-level for me, as a full-time content strategist, but a great introduction to the elements of content quality for those who have just started in the field or are just beginning to learn about it.
The Life-Changing Tuesday Keynote
DrupalCon New Orleans 2016: Tuesday Keynote: Sara Wachter-Boettcher
Everybody Hurts: Design for Kindness
Guys, I was more than a little bit blown away by this keynote. As a female marketer in a place like DrupalCon, which is heavily male and heavily developer-focused, there's always going to be a little voice in the back of my head assessing how I fit in with the group overall. Am I too girly? Am I talking about emotions too much? Am I just plain talking too much? Do I need to make more effort to be "one of the guys"? Don't get me wrong: I LOVE hanging out with Drupal developers and the Drupal community. But I find that I'm often watching myself to make sure I don't rock the boat.
This presentation blew all that thinking away. Sara Wachter-Boettcher is a speaker, content strategist, and feminist, and she took the stage and started talking unapologetically about feelings.
Specifically, Sara talked about how the UX we create makes our users feel. When, for example, we ask our users to self-select into pre-determined categories at the beginning of using an app, what does that do to the people who don't fit into any of the categories we've decided on for them? When Facebook rolls out "Year In Review" and grabs your most-liked photo and puts it in the middle of celebrating cartoon characters, what does that do to a person whose most-liked photo was a picture of his six-year-old daughter who died that year?
Sara explained that so many times, as we sit in a conference room making UX decisions, we dismiss these situations as "edge cases." Sara said that there's no such thing as an "edge case" – we should look at these situations as "stress cases," and do our best to ensure compassion in our digital design for every single user.
Thoughtless UX is everywhere, and we simply do not know what any given person has gone through or is going through. Every single field in a form could be a potential trigger connecting people to their loss, their grief, their trauma, their anger.
That was groundbreaking enough, but what really struck me was the examples Sara used. She talked about how the question "Have you ever been sexually assaulted?" on a doctor's admittance form opened up emotional turmoil for her. She talked about how period-tracking apps disenfranchise women who don't fit into the app's strictly-defined demographics. She stood up in front of 3,000 mostly-male mostly-developers and talked honestly and openly about the need for more empathy in what we do every day.
I would not have had the courage to give that talk in front of that audience. If I was in Sara's position, I would have been sure that talking about the failings of a period-tracking app would be unprofessional, and that making a plea for more compassion would have been dismissed as too girly. By giving that talk, Sara also spoke to me personally: These things are important, she was saying in the back of my mind; It's OK to talk about these things.
I went to the book signing after Sara's talk to tell her how much it had meant to me. I burbled on as I tried to explain that she had just normalized talking about "girl stuff" in the context of web development, that I felt so much more empowered to talk about the issues that are most important to me regardless of the gender of the audience, that it had been the most powerful feminist experience of my life. To be honest, I think I embarrassed her, but I'm not very good at giving compliments, so that's not entirely unexpected.
Sara's keynote made me feel more empowered to express the entirety of who I am, not just the parts of me that fit in with the Drupal developer crowd, and it was a very powerful gift.
Check out the rest of our DrupalCon[densed] 2106 series! No matter who you are, we've got your perspective covered.