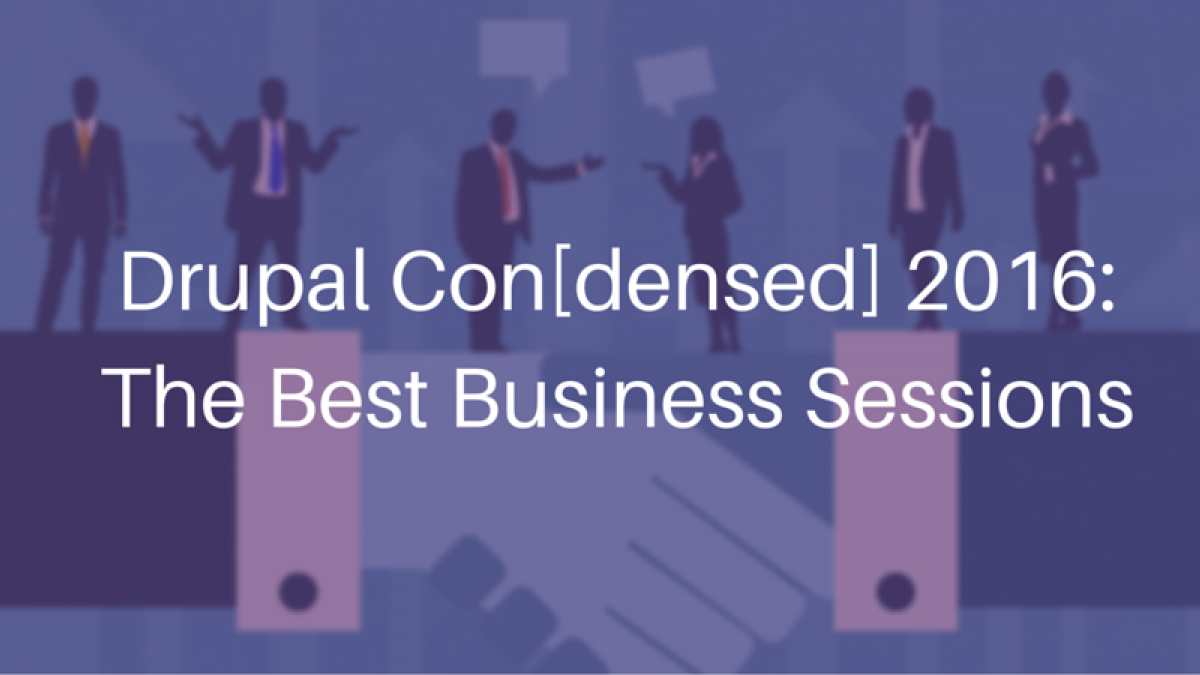 DrupalCon[densed] 2016: The Best Business Sessions
My role as a principal at LevelTen means that I spend a lot of time overseeing Accounting, Operations, and Marketing. So for my visit to DrupalCon 2016, I wanted to spend as much time as I could talking with other C-level people to see what struggles we have in common and what solutions we've come up with.
Throughout the sessions, summits, and socializing, there were a few key themes that kept coming up over and over from people who run Drupal shops. With that in mind, this post is less of a DrupalCon 2016 takeaway than a preliminary analysis of the economics of Drupal as it evolves in Drupal 8 and beyond.
Offshoring: The U.S. Perspective
As with any business, attention to the bottom line is always a topic of hot discussion among agency principals. One recurring theme seems to be the idea of offshoring of development work (and increasingly other work).
Let's face it, Drupal has its origins across the pond, so the concept of offshoring has always been in its roots, so to speak. As Drupal grew, healthy collaboration from anywhere in the world became a standard within the community. Geographic boundaries were never a problem when it came to the sharing of information, modules, and other technical hurdles.
What did NOT come as straightforward was the outsourcing of the actual development work (or project management work) to places outside of the country a company was conducting business. Historically, outsourcing seemed to be frowned upon within U.S. agency circles, but now, it seems to be the standard practice for larger agencies, even if only to test the waters. (For the record, I am not a protectionist, but I can appreciate the long term economic implications suggested by those who don't like this trend.)
Either way, it is a new economic reality for any U.S. agency wishing to compete: some competitors will be leveraging workforces outside the U.S. We can talk about maintaining a competitive advantage all day, but the economics of capitalism will drive companies to seek economic advantages abroad if they exist.
Business Summit: One Size Does Not Fit All
Susan Rust did an excellent job of leading the Business Summit, where many takeaways for agency principals were discussed. There were way too many great conversations to pack into this writing, so I suggest that, if at all possible, you should really attend one of these summits yourself -- maybe at DrupalCon Baltimore?
One issue Susan raised, which I also think needs to be addressed, is the separation of agencies by size in these summits. Considering all the varying sizes of companies working with Drupal, one size does NOT fit all when it comes to operational challenges (or solutions). It is both inspiring and comforting for all to listen to the successes and challenges of all size shops; however, the idea that a 15-person company like LevelTen will employ the same solutions as a 100-person shop and a 2-person shop would be naive. I reiterate Susan's call to modify the format in some way to accommodate all business summit participants, but sub-segment by agency size.
Drupal Economics: Drupal is Going Upstream
For those developer types, "upstream" has nothing to do with Git. In business parlance, "upstream" has to do with looking at larger industry sectors that, most times, serve other industries downstream. When we say that Drupal is going upstream, we mean that Drupal is evolving to be a good solution for large enterprise-level businesses, as opposed to small or mid-size businesses.
I saw a lot of people during the course of the week get caught up in the question of whether Drupal "can" be for everyone. Of course it can. The real question is "Who is Drupal best suited for at this time?," and an honest assessment is needed to answer it. It seems clear that Drupal is going upstream, becoming a preferred web platform for large enterprises. If you think Drupal is still best suited for small or medium businesses, I would love to hear why.
Now that we have established that Drupal is in fact going "upstream," I would like to share what that means for the economics of Drupal:
1. Project sizes are getting larger, even as websites are commoditized.
Websites are fast becoming a commodity (if they are not already there, here in 2016). Look no further than ads for free websites with a minimal purchase, or inexpensive SAAS platforms for the masses. With this commoditization comes downward pressure on prices (price per unit of output), even as the industry matures. The successful companies look to larger projects to sustain the increased revenue requirements needed to support growth initiatives in an industry where the price per unit of output is decreasing.
2. Drupal shops are looking for economic advantages (see my point about outsourcing, above).
With increased revenue comes increased expenses and decreased profits as a percentage. Business owners often combat this with lower cost structures to prop up profits, which is generally regarded as a short term fix.
Lowering costs is not a sustainable model for growth unless, that is your competitive advantage (side note: contrary to Michael Porter's acclaimed Competitive Advantage Theory (which I generally subscribe to), certain industries that exhibit rapid change, and lots of new alternatives or substitutes, will find that being the cost leader is the least desired strategy). Instead, the majority of Drupal shops are looking for other ways to increase their margins, whether that is through outsourcing, moving to a recurring-revenue retainer model, or other ways of restructuring the company.
3. Consolidation in the industry is coming.
Lastly, in an environment this competitive, Drupal companies are increasingly looking to consolidation through mergers and acquisitions of competitors to maintain growth. In this scenario, only a few survive the onslaught -- unless you have a true differentiation in the marketplace, and even then, it will be tempting to sell out to a competitor at some point.
This is not a doomsday prediction for the economics of Drupal, but rather, a reminder of the economic forces of goods and services that have increasing demand, and how companies attempt to capitalize on this need during the growth phase.
As Drupal becomes more powerful and more popular, these tensions are going to arise for more and more people, from solo freelancers to small shops to big players like our friends at FFW. At LevelTen, we plan to keep doing everything we can to keep bringing Drupal solutions to the people that need them.
Check out the rest of our DrupalCon[densed] 2106 series! No matter who you are, we've got your perspective covered.