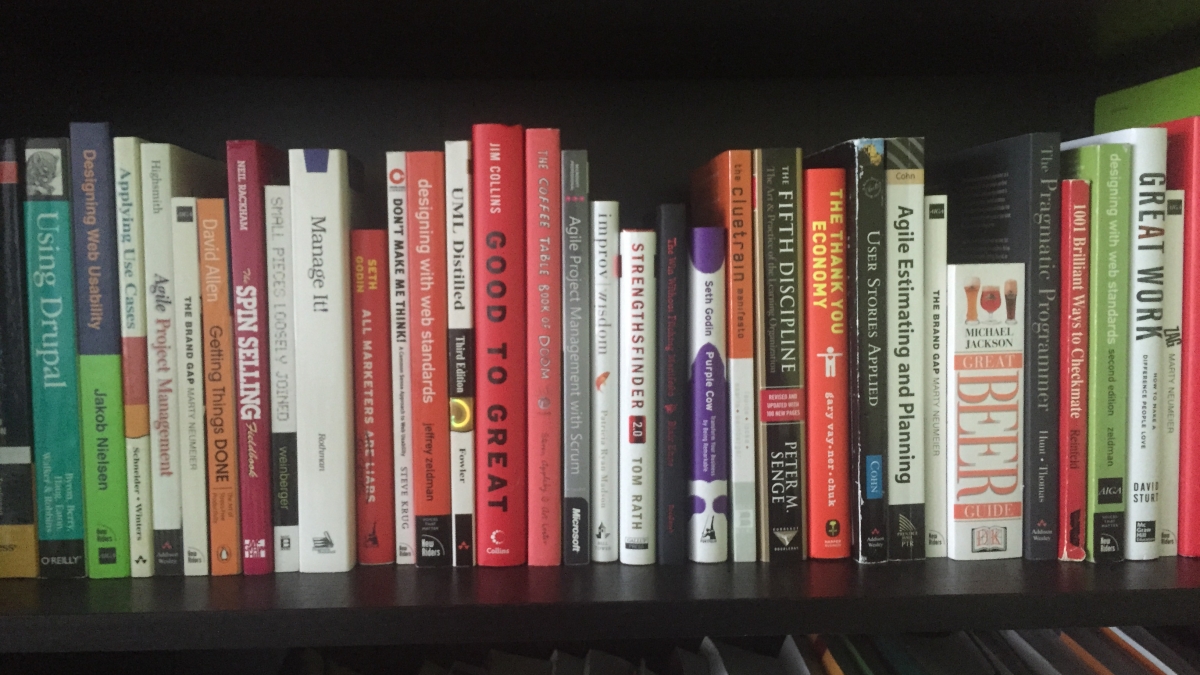 LevelTen Bookshelf
With all the new employees running around here, it's time to start up the old LevelTen Book Club. For those new to the office - or for those that want to ace the interview - here's a list of books that you're sure to hear referenced around the halls of LevelTen.
Everybody Writes: Your Go-To Guide to Creating Ridiculously Good Content 
by Ann Handley
Everybody Writes teaches how to write in a clear, accessible, honest voice across all of your marketing assets: blog posts, web pages, marketing offers, and social updates. The language of business has become more like the language of real people. Customers have elevated expectations. They don't want to hear marketing messages; they want stories and a sense of the human beings behind the brand. Want to know more? Read Felipa's review
---
The Design of Everyday Things 
by Don Norman
In this entertaining and insightful analysis, cognitive scientist Don Norman hails excellence of design as the most important key to regaining the competitive edge in influencing consumer behavior. The Design of Everyday Things is a powerful primer on how—and why—some products satisfy customers while others only frustrate them.
---
Don't Make Me Think, Revisited: A Common Sense Approach to Web Usability
by Steve Krug
Since it was first published in 2000, hundreds of thousands of Web designers and developers have relied on usability guru Steve Krug's guide to understand the principles of intuitive navigation and information design. Witty, commonsensical, and eminently practical, it's one of the best loved and most recommended books on the subject. It's a core foundational book that every Web designer must internalize to make their designs truly effective.
---
Rocket Surgery Made Easy 
by Steve Krug
In this how-to companion to "Don't Make Me Think: A Common Sense Approach to Web Usability," Krug spells out an approach to usability testing that anyone can easily apply to their own Web site, application, or other product. This work makes it realistic for teams to test early and often, catching problems while it's still easy to fix them.
---
The Mythical Man-Month 
by Frederick P. Brooks Jr.
No book on software project management has been so influential and so timeless as "The Mythical Man-Month." Now 20 years after the publication of his book, Brooks revisits his original ideas and develops new thoughts and advice both for readers familiar with his work and for readers discovering it for the first time. With a blend of software engineering facts and personal opinions, this book offers insight and direction for anyone involved in building complex computer systems.
---
Crossing the Chasm 
by Geoffrey A. Moore & Regis McKenna
Crossing the Chasm explains the vast difference between the early adopters and the early majority. While early adopters are willing to sacrifice for the advantage of being first, the early majority waits until they know that the technology actually offers improvements in productivity. The challenge for innovators and marketers is to narrow this chasm and ultimately accelerate adoption across every segment.
---
The Cluetrain Manifesto 
by Rick Levine
This nationally acclaimed best seller is a spirited, original, and wonderfully irreverent conversation that will challenge, provoke, and forever change your outlook on the digital economy. A rich tapestry of anecdotes, object lessons, parodies, insights, and predictions, The Cluetrain Manifesto illustrates how the Internet has radically reframed the seemingly immutable laws of business--and what business needs to know to weather the seismic aftershocks.
---
The Inmates Are Running the Asylum 
by Alan Cooper
Insightful and entertaining, The Inmates Are Running the Asylum uses the author's experiences in corporate America to illustrate how talented people continuously design bad software-based products and why we need technology to work the way average people think. Somewhere out there is a happy medium that makes these types of products both user and bottom-line friendly; this book discusses why we need to quickly find that medium.
---
Getting Things Done
by David Allen
In Getting Things Done Allen shows how to apply the "do it, delegate it, defer it, drop it" rule to get your in-box to empty, stay focused in changing situations, plan projects as well as get them unstuck, and feel fine about what you're not doing. Veteran coach and management consultant Allen shares the breakthrough methods for stress-free performance that he has introduced to thousands. 
---
Thinking, Fast and Slow 
by Daniel Kahneman
In the highly anticipated Thinking, Fast and Slow, Kahneman takes us on a groundbreaking tour of the mind and explains the two systems that drive the way we think. System 1 is fast, intuitive, and emotional; System 2 is slower, more deliberative, and more logical. Kahneman exposes the extraordinary capabilities — and also the faults and biases — of fast thinking, and reveals the pervasive influence of intuitive impressions on our thoughts and behavior. 
---
Getting Real: The Smarter, Faster, Easier Way to Build a Successful Web Application
by 37 Signals
Getting Real details the business, design, programming, and marketing principles of 37signals. The book is packed with keep-it-simple insights, contrarian points of view, and unconventional approaches to software design. This is not a technical book or a design tutorial, it's a book of ideas. Anyone working on a web app - including entrepreneurs, designers, programmers, executives, or marketers - will find value and inspiration in this book. 
---
Agile Project Management with Scrum 
by Ken Schwaber
The rules and practices for Scrum are few, straightforward, and easy to learn. But Scrum's simplicity itself can be disarming, and new practitioners often find themselves reverting to old project management habits and tools and yielding lesser results. In this illuminating series of case studies, Scrum co-creator and evangelist Ken Schwaber identifies the real-world lessons culled from his years of experience coaching companies in agile project management.
---
Inspired: How To Create Products Customers Love 
by Marty Cagan
Why do some products make the leap to greatness while others do not? How do you manage the often conflicting demands of company execs, customers, sales, marketing, engineering, design, and more? Product management expert Marty Cagan answers these questions and hundreds more as he shares lessons learned, techniques, and best practices from working for and with some of the most successful companies in the high-tech industry.
---
The Lean Startup 
by Eric Ries
Most startups fail. But many of those failures are preventable. The Lean Startup is an approach being adopted across the globe, changing the way companies are built and new products are launched. Eric Ries defines a startup as an organization dedicated to creating something new under conditions of extreme uncertainty. Ries provides a scientific approach to creating and managing successful startups in a age when companies need to innovate more than ever.
---
The Startup Owner's Manual 
by Steve Blank
The Startup Owner's Manual guides you, step-by-step, as you put the Customer Development process to work. This method was created by renowned Silicon Valley startup expert Steve Blank, acknowledged catalyst of the "Lean Startup" movement, and tested and refined by him for more than a decade.
---
The Four Steps to the Epiphany
by Steve Blank
The bestselling classic that launched 10,000 startups and new corporate ventures - The Four Steps to the Epiphany is one of the most influential and practical business books of all time. The Four Steps to the Epiphany launched the Lean Startup approach to new ventures. It was the first book to offer that startups are not smaller versions of large companies and that new ventures are different than existing ones. 
---
Lean Analytics
by Alistair Croll
Whether you're a startup founder trying to disrupt an industry or an entrepreneur trying to provoke change from within, your biggest challenge is creating a product people actually want. Lean Analytics steers you in the right direction. This book shows you how to validate your initial idea, find the right customers, decide what to build, how to monetize your business, and how to spread the word. 
---
Lean UX 
by Jeff Gothelf
With this hands-on guide, you'll learn that UX is about the experience, not the deliverables, and that as a UX designer you need to focus on the product experience being created and not the documentation. By applying a set of lean design practices and principles, you'll learn how to design the best product for your target audience in the most efficient way, while keeping the users needs first and foremost.
---
Naked Statistics: Stripping the Dread from the Data
by Charles Wheelan
For those who slept through Stats 101, this book is a lifesaver. Wheelan strips away the arcane and technical details and focuses on the underlying intuition that drives statistical analysis. He clarifies key concepts such as inference, correlation, and regression analysis, reveals how biased or careless parties can manipulate or misrepresent data, and shows us how brilliant and creative researchers are exploiting the valuable data from natural experiments to tackle thorny questions.
---