People don't plan to fail, they fail to plan. No wait, they do plan to fail.
What is the purpose of website planning?
That's not meant to be a rhetorical question. Think about it. Write down your answers.

 

 

 

 

 

 

 

 

 
This is a question I ask at a lot of conferences. Most audiences I present to are developers. The typical answers are:
So we know what the client wants
To document requirements
To assess risk
To estimate the project budget
To create a project plan & timelines
It is not surprising that developers are focused on the technical features of a system and what it will take to deliver those features. What is surprising is that when I ask the same question to usability, design and project management audiences, the answers are still predominantly about stakeholder defined scope, budgets and timelines.
This is the wrong focus if your goal is to actually build your business, non-profit or venture online. There are two problems with this obsession that most stakeholders and dev teams have with planning for the project management iron triangle (on time, on budget, in scope).
The first issue is that iron triangle planning fails to achieve its core goal, on time on budget and in scope, 2 out of every 3 projects. According to the Chaos report the average project is 45% over budget, 63% late and missing 1/3 of the originally specified features. If you are not achieving certainty, why waste so much time planning for it? If you have followed the LevelTen blog at all, you know the answer to the first issue - agile project management. Agile is all about using empirical process controls to deliver more features sooner. When you couple agile with an advanced Content Management System like Drupal, it is amazing how fast you can churn out new features.
But there is still a second problem that is prevalent in both traditional big design up-front and agile planning. The focus is on features and worse yet, features the stakeholder wants. Projects quickly become about lots of trees and often trees that the forest dwellers don't even want. The forest gets lost.
Ironically, I have found that this internal feature focus problem is often worse in agile projects. Agile continually builds and prioritizes around what the product owner wants. Sure agile delivers more of what they want faster, but if not done strategically, we only get more stuff, not more of the right stuff.
The first step to building a truly successful site is to change your vision. Typical project planning focuses on stakeholder needs, timelines and budgets. Remarkable results-oriented websites are lightning focused on end user desires and organizational benefits.
Five years after your website launches it won't matter if your project actually beats the odds by delivering on your initial requirements, on time and on budget. How well you delighted users and converted that delight into revenue, cost savings and good will for the organization is all that truly matters.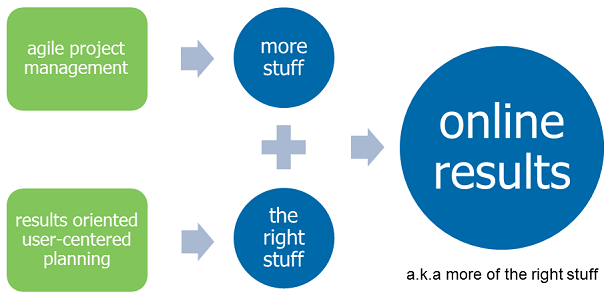 In the old days, that is what we preached was the purpose of big design up-front. User studies, focus groups, prototype sites - it was all to understand the user and to build what they wanted. Numerous manager interviews, surveys and net present value projections were all to build return on investment. But of course in the modern high paced world of agile, this level of planning delays us getting to working on software sooner, where we can really start making informed decisions.
For the last three years we have been researching and developing a lightweight, agile-compatible, strategic planning process for results-oriented websites. To get results, the process has to blend the needs of both IT and marketing - and innovate in blazing fast web time. We have borrowed heavily from industry leaders like Mike Cohn and Constantine & Lockwood. We have added in some elements that are our own adaptations.
Over the next few posts, I will cover the results-oriented strategic planning process. If you want to learn more about how to get user-centric and results-oriented inside of agile, I invite you to come out to the meetup event Wednesday, Nov 9th at 7:00pm. Stay tuned, there is more to come.
Are you agile? Still using big design up front? How do you stay focused on users and results? I would love to hear your insight.
photo credit born1945's