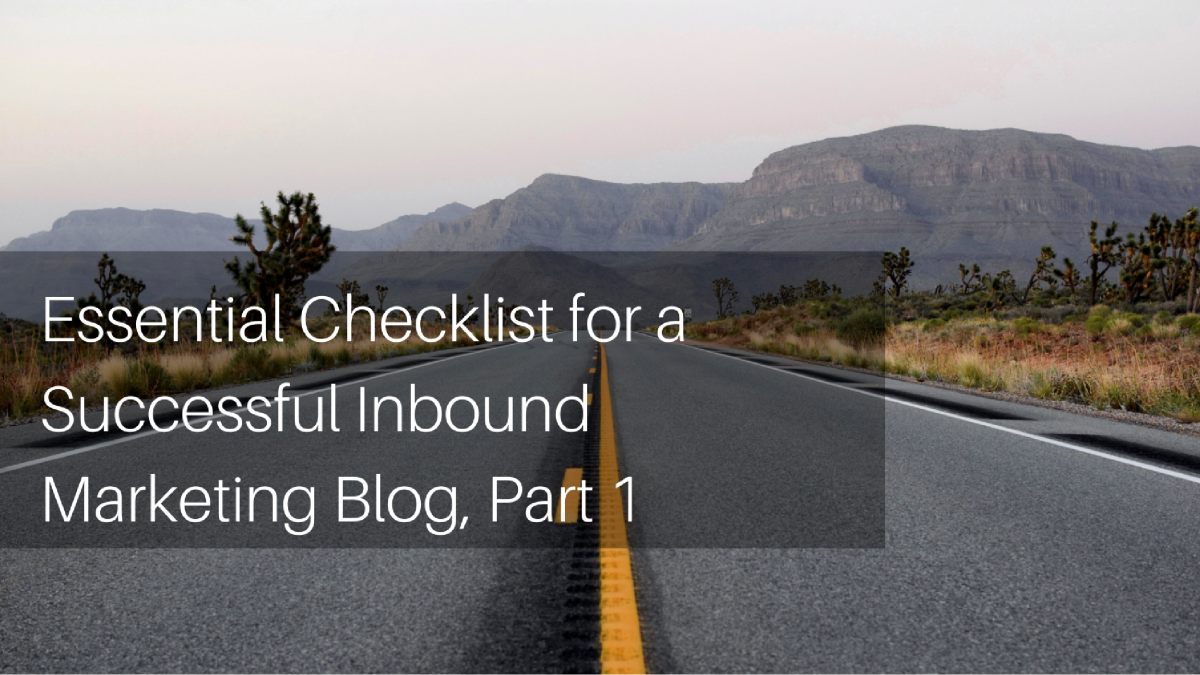 Essential Checklist for a Successful Inbound Marketing Blog, Part 1
The term "inbound marketing" is thrown around a lot these days, partially due to the success of HubSpot's marketing automation software. Part of inbound marketing is content marketing - the two terms aren't interchangeable - and part of what makes content marketing successful is powerful blog that's built to engage and delight readers. 
Building a successful and powerful blog takes some key elements, however. Let's break those down and make sure you're getting started down the road to success.
A Robust CMS
In order to add content to an older website, a user had to know HTML and be experienced with web servers. Content management systems (CMS) enable people to control their own content through a web based interface and without any coding. A CMS is like a virtual printing press. They have enabled millions of people and organizations to become their own online publisher.
Content management systems do just that: manage content. A robust CMS will break down content into easily managed parts that create flexibility for the user.
Some things to look for in a CMS:
Adaptable
Enterprise ready
Popular
Large community
Support
ADAPTIVE CONTENT ARCHITECTURE
As more and more web pages are being accessed via various mobile devices, companies are forced to look at content a little differently. Content needs to be broken down into smaller elements on a page. This way, the content can adapt to the viewing device and the website manager can be prepared for future devices as they're available. A checklist for adaptive content architecture points back to the first part of our checklist - a robust CMS. To begin:
Conduct a content audit
Group all your content into types
Break each type down into elements
A good WYSIWYG
Creating great engaging content requires more than just text. A blog that delights will also include a polished layout requiring styling of content like headers, bullet lists, and mixed media such as graphics and videos. After years of using word processing software, many of us are familiar with using an interface that makes all of these design elements easy.
While word processing documents use extensive markup to achieve the look and feel of the document, we want minimal markup on a web page. We also want to make sure the page displays well on mobile devices. While many authors prefer manual styling of their content, others prefer a good WYSIWYG editor. These options can both be made available in a CMS. 
Here are some items to look for in a good WYSIWYG editor:
Authors can easily style vital content elements such as:

Headers (H1, H2, H3…)
Bullet lists
Bold (strong), italic (emphasize)
Embed images
Embed videos

Authors can select to turn off WYSIWYG editors and switch between different styling tools
Styling tools and filters produces clean code that follow the site's style guide and W3C standards. 
Method to copy and paste from popular word processors that strips out superfluous markup. 
Publishing Workflows
Creating remarkable, interesting, and authoritative content is vital to successful online marketing and cementing yourself as a thought leader. The best and most authentic way to do this is to have your subject matter experts publishing regular articles on your site.
However not everyone is a great writer, unfortunately. Most blogs have an editor and a workflow process for each piece of published content to check for things like grammatical and punctuation errors, SEO, readability and so forth.  It is important that your CMS support these customizable editorial workflows.
Most CMS' have the ability to set content as live (published) or draft (unpublished). This at least gives you a basic way to pass content back and forth between author and editor without it being live on the site. Draft mode may provide the basics, but it doesn't directly facilitate a workflow. A true publishing workflow automatically manages each pieces of content as it moves through various approval stages and reviews.
As an example, for a blog post you might create stages for:
Draft
Editorial
SEO
Legal
Live
As part of a blog planning process, these stages must be discussed and implemented. There should also be publishing user roles, again part of your CMS, to go along with each stage.
Following these guidelines will set any online publisher on a good road to creating a strong content marketing platform and a successful inbound marketing blog.
Continue to part 2 of this series. And leave us a comment below if you have questions!
Photo credit: Issac Borrego