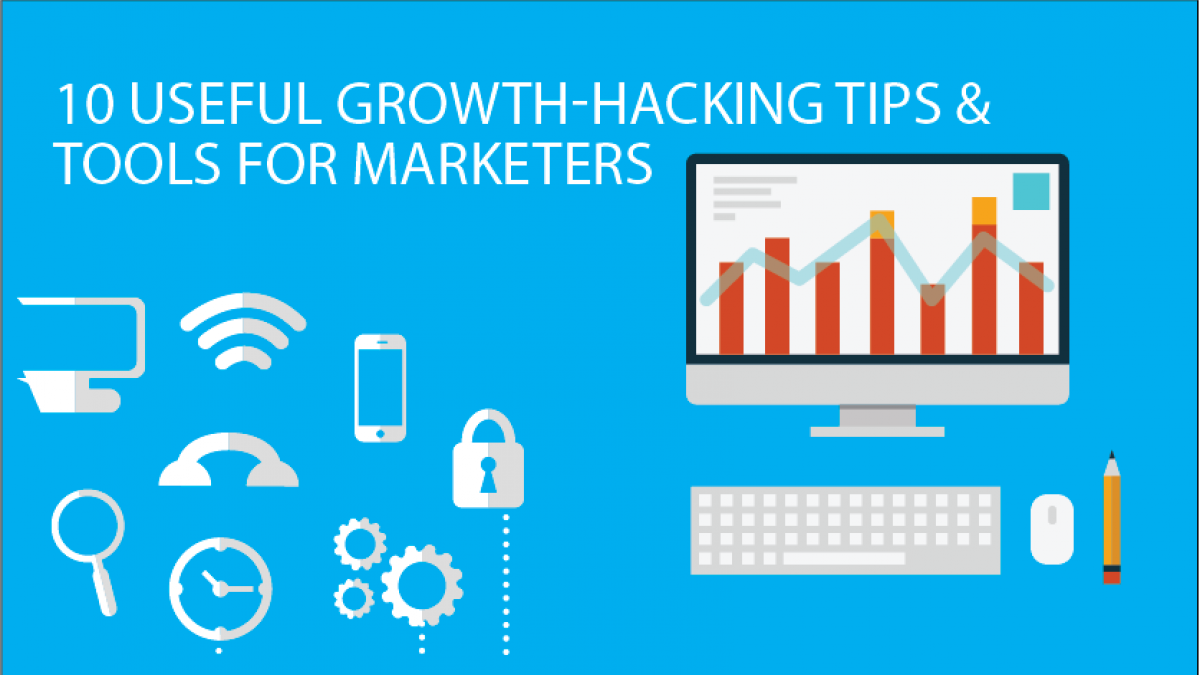 10 Useful Growth-Hacking Tips & Tools for Marketers
Growth-hacking is used in online marketing, especially with new websites and start-up companies and organizations, with a focus on SEO, analytics, content marketing, and social metrics to increase exposure of a brand, product, or purpose.  It utilizes inexpensive options, such as taking advantage of social media, often with a goal of virality.  You do not have to be a coder or an engineer to engage in growth-hacking.  Keep reading for tips and tools that marketers can use:
1.  Expand Your Social Reach. 
Tools like Colibri IO will find the people who are talking about your product, service, market niche, or even your competitors, on social media and elsewhere on the web.  This will help you gain insight into consumers' thoughts, join their social media conversations, and discover guest blogging opportunities.  This gives you the opportunity to publicly demonstrate your expertise and expose your brand to an interested audience.  Colibri IO also provides SEO monitoring features.
2.  Write Great Headlines.  
80% of visitors will read your headline, while only 20% will continue on to read your content (Source).  Where the headline serves as the subject of an email, this could be the only information they see, if they choose not to open it.  Therefore, it is crucial to grab your readers' attention and make them want to learn more.  There are plenty of articles telling you how to write effective headlines.  Even better, CoSchedule provides a handy Headline Analyzer that grades your headline according to word balance, word and character count, sentiment, and appearance.
3.  Attach Visuals.  
Graphics are the only elements that will draw a visitor's attention faster than a terrific headline.  It is human nature to process pictures more quickly than a block of text, so always include an image with your social media posts.  Tweets with images have been shown to receive 150% more re-tweets than those without images (Source), and GIFs have received 166% more click-throughs than static images (Source).
4.  Length Matters.  
Research has shown that web pages with more content, specifically around 2,000 to 2,500 words, rank highest in Google search results.  Pages containing more links also rank higher in search results.  Longer pages get more likes on Facebook and more re-tweets on Twitter.  And, some long versions of homepages have converted better than shorter versions in a limited comparison experiment.  If more copy leads to better search rankings, more social media traffic, and higher conversions, then the simple growth-hack is more content.  (Just be sure that it is not a rambling block of text; use high-quality, concise copy which is easily consumed with subheadings and/or bullet points.)
5.  Provide a Call-to-Action.  
What do you want your visitors to do while visiting your site?  Your CTA makes is obvious and simple for your customers to take the next step, and you can add a CTA without any coding skills with Hello Bar.  This tool adds a customizable, horizontal bar with a CTA button at the top of your site, with goals of either increasing traffic, collecting email addresses, or linking visitors to your social media pages.  Hello Bar also provides click-tracking.
6.  Make Sharing Easy. 
ClickToTweet helps you create links that your audience can conveniently share via Twitter.  You simply enter the message that you want your audience to share, and ClickToTweet generates a link that can be used in emails, websites, and social media.  When a user clicks your link, your message is automatically inserted into their Twitter status box.  Click-tracking and analytics to assess the effectiveness of the link are included.
7.  Target Your Emails.  
Even in 2016 with marketing focused on social media and emerging technology platforms, good old email still has the highest return on investment of any platform (Source).  To maximize email's potential to reach customers, tools like MailChimp can help you segment your mailing lists and customize emails based on visitors' website activities, as well as provide you with advanced analytics.
8.  Post it Again.  
You spend a lot of time creating fantastic content, so promote it repeatedly.  Share it often on multiple social media sites.  Re-sharing a few hours apart can catch followers in different time zones, and re-sharing a few weeks or months apart can increase the chances of it being seen by new followers or occasional visitors.  If you created a post that performed exceptionally well, recycle it occasionally!  CoSchedule shows how many much traffic can be missed by only posting once, and can help you with a social sharing schedule.
9.  Solicit Feedback. 
By including surveys, polls, quizzes, and user ratings, you gain valuable information about how your brand is performing and what direction to take to reach your customer base.  You can easily create such feedback loops with Polldaddy.  The questionnaires can be included in emails, social media, websites, and iOS platforms, and real-time data is reported in a filter-able spreadsheet.
10.  Keep it Speedy. 
Blog sites in particular can get weighed down with plug-ins and themes.  Speed is important to both visitor retention and search results.  Google uses site speed as a factor in search result rankings, and according to Kissmetrics, a whopping 40% of visitors abandon a website if it takes more than 3 seconds to load.  Google's PageSpeed tools will help you determine why a site is responding slugglishly and analyze how to optimize it.
Please share your experiences.  What growth-hacking tools have been the most effective in your online marketing efforts?  Which ones are you eager to try out?