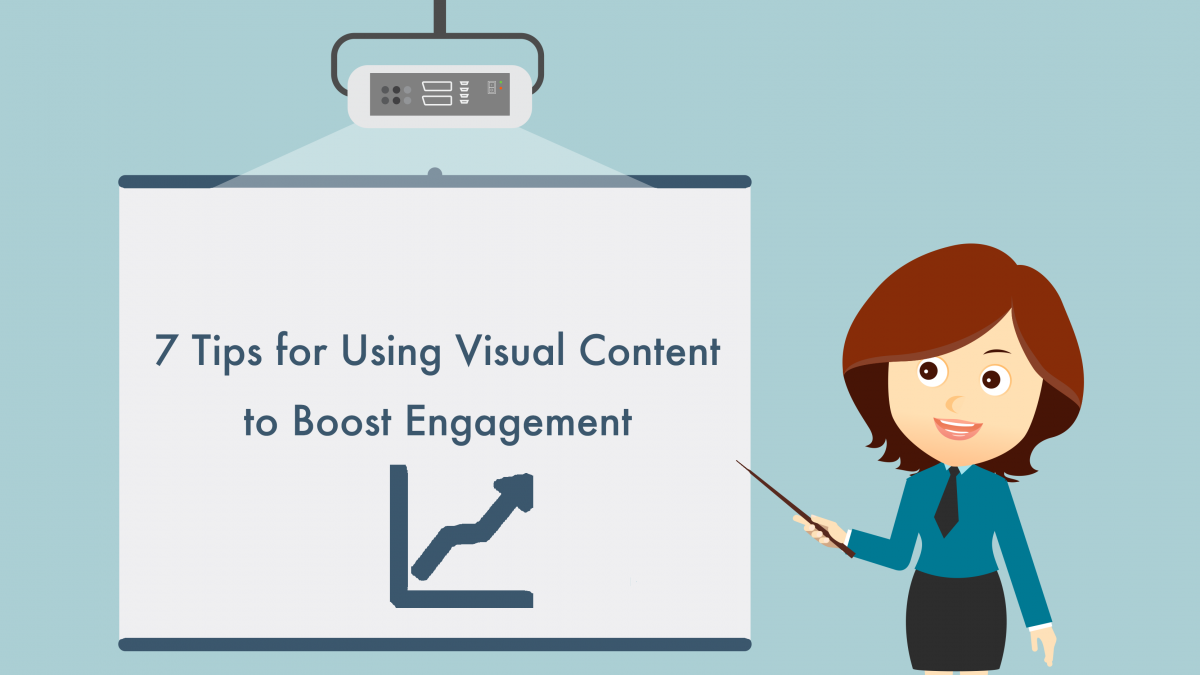 7 Tips for Using Visual Content to Boost Engagement
We all know the saying, "don't judge a book by its cover."  But we do.  We retain up to 80% of what we see, but only about 20% of what we read.  It is human nature to scan for visual clues about what is going on around us, before diving into the more mundane details. 
Online content that includes images gets 94% more total views, and Facebook and Twitter posts that include visual content are shared more than twice as often as those that do not.  So, it is logical that images inspire web visitors to browse a little longer, absorb more information, and share more frequently with their networks. 
Here we will discuss some guidelines about how to use visual content to effect engagement with your websites, blogs, and social media.
1. Make images shareable.
A key to spreading the word about your business or cause is tech-enabled word-of-mouth, also known as social sharing.  To encourage sharing of your visual content, be sure to include buttons enabling users to quickly post your image on their social networking profiles and via email.  And then, make sure that the shareable content links back to your landing pages so that users can get more information and engage directly with your site.  Add search-optimized captions, and your URL or a watermark on your image to ensure that users can locate the original source.
2. Make images relevant.
What do your potential customers need to see in order to keep them engaged, or to close a deal?  I recently looked for a carpet repair company on the web.  I came across a site that included a photo of a clean-cut gentleman smiling while working on carpet, along with several 'before & after' photos of his work.  The rest of the site was unimpressive, but these photos gave me the information I needed to feel confident in calling the company.  A photo-less site or stock images probably would have led me to continue to explore other options. 
3. Treat images as content.
Don't include images just for the sake of including images.  Make sure they visually communicate something useful to your visitors, not just design elements to break up the text.  Visual content that serves a purpose is more likely to be shared, especially on sites like Pinterest and Facebook.
4. Tell your story.
Yes, a picture really is worth a thousand words.  High-quality, original photos can communicate immensely more information about your brand and personality in a fraction of the time it would take someone to read your 'About' or 'Our Story' section of text.  In fact, images are processed 60,000 times faster than text.  Avoid stock photos, especially ones that include people.  Instead, feature actual employees, customers, and volunteers in-action, as well as location photos.  Maximize the power of your images by using them to communicate what your business is all about.
5. Use images to provide data.
Just as photos can quickly tell your story, charts, graphs, and infographics are the most effective visual tools to communicate data and statistics.  A viewer may quickly zone-out when presented with rows and columns of numbers, but can quickly digest the same data with a chart that represents those numbers.  And, infographics are liked and shared 3 times more often than other content.  Don't let your research and stats go to waste.
6. Use good design principles.
Volumes of information about good design are available on the web, but here are a few important points to keep in mind for effectively engaging viewers:
Use an eye-pleasing color scheme.  Color schemes should have 5 or fewer colors, most that complement, and least 1 that contrasts.
Be consistent.  Replicate the colors and imitate the style associated with your logo or branding when creating new visual content.
Creative, personality fonts can be used for large, eye-catching headings and titles.  Simple, easily-read fonts should be used for body text.
Keep the layout simple and include negative or "white" space to help guide your visitors' eyes through your information without causing them to feel distracted or overwhelmed.
7. Use the right text to image ratio.
Research has shown that when trying to maximize 'shares,' it is most effective to include one image for every 75 to 100 words of text.  This is true for blogs, websites, and social media posts.  Look at your total word count versus your number of images, rather than trying to stick an image in at exactly 75 to 100 words.
Put a few of these tips into action and let us know if you see an increase in shares or other evidence of increased engagement from your viewers.  How are you using visual content in your online marketing? Tell us what has worked for you!