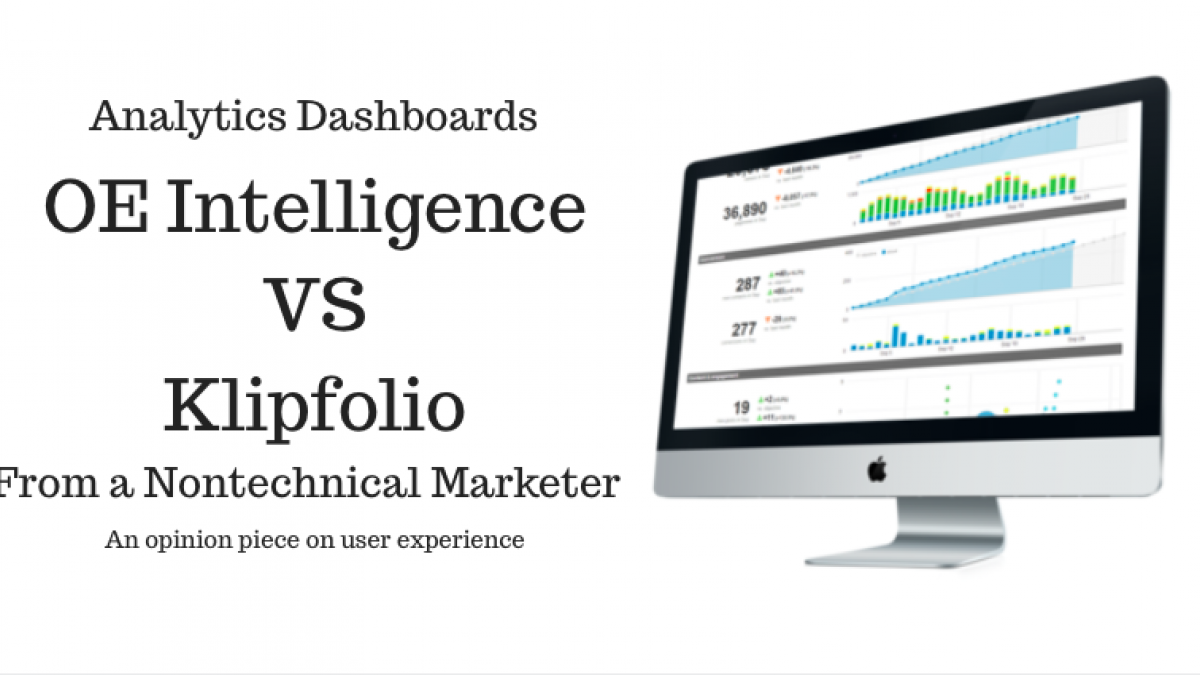 Analytics Dashboards: OE Intelligence vs Klipfolio from a Nontechnical Marketer
In a crowded web analytics market, businesses have started to offer new analytics dashboards to marketers – apart from the ones already created by Google, the king of the web analytics dashboard. The analytics tools in today's market are flooded with browser-based and mobile-friendly solutions that have been designed for marketers with less technical backgrounds.
With companies like Salesforce Analytics Cloud "Wave", IBM Watson Analytics, Tableau, SAS (Visual Insight), Oracle (Oracle Cloud Analytics), Klipfolio and LevelTen's own Open Enterprise Intelligence all competing to provide the most insight to consumers, one could say that the analytics market could be considered nothing short of chaos. 
What separates one analytic dashboard from another? Besides offering different sets of data (which many systems generate using Google Analytics), analytics dashboards are distinguished by their user experience and how well they meet needs of marketers.
For example, I use the Open Enterprise Intelligence dashboard on a daily basis to keep track of site traffic and traffic sources so that I can compare that data to the previous month. Intelligence also allows me to see the actual conversion rates for each objective we set for form submissions.  Intelligence also allows our marketing team to see the amount of content that is being produced on our website and how that particular content is being shared.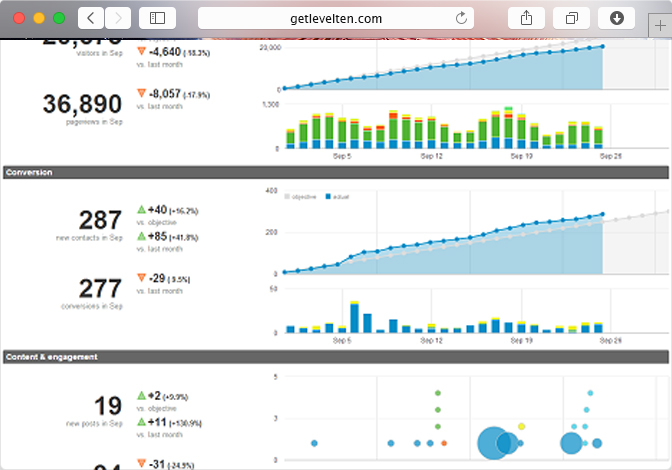 It's amazing how many data points Intelligence allows me to evaluate as a marketer. Google Analytics has Events, but with Intelligence those events are easier to read and the user is able to see the goals they trigger. These terms may not register with you, but we have blog posts on the LevelTen site that will help you fully understand. If you are looking to set up Google Analytics' Events on Drupal, which happens to be the platform that Intelligence works on, this blog by Tom McCracken will be useful. 
Now, you may say that I am biased in saying that I believe Open Enterprise Intelligence has an intuitive interface for setting up measurements for all of your valuable variables. When I first started working for LevelTen, the Intelligence dashboard seemed daunting with its vast array of graphs, pie charts, color codes and numbers. However, it took only a few hours to learn what everything meant and how to set values – and this is coming from a person who knows only VERY basic HTML. Also, I had never worked with Drupal before, only WordPress, so I was very much a beginner.  Open Enterprise and Intelligence were easy for me to set up and configure on clients' websites. Intelligence is a browser-based dashboard that's built right into your website, so all of your  analytics data can be accessed on your own site.
I'm always curious about the other analytics dashboards available – besides the one my coworkers and I use internally here at LevelTen. So after some research, I came across Klipfolio. Klipfolio is also a browser-based analytics dashboard targeted to marketers and sales departments. They offer a free trial to test before buying without using a credit card.  As a first time user, I was attracted to the dashboard and all that the website said it offered. Registering was easy, but when I tried to log back in,an error message kept directing me to technical support. I started getting annoyed. I ended up registering again under a different email, and finally was able to access the demo dashboard shown below.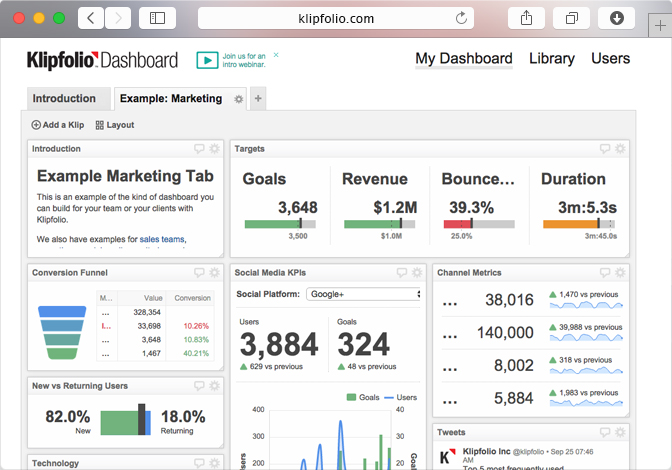 Source: Demo Klipfolio Dashboard
My initial impression of the Klipfolio dashboard was that it was confusing and daunting. There were tabs, numbers, words, charts, etc. It took me entirely too long to set up the demo. Even after reading instructions and watching YouTube videos, I don't believe I set it up correctly. The documentation was great, but Klipfolio is just not very intuitive. Another disadvantage over Intelligence is that Klipfolio requires you to pay per user. You pay a one-time fee and any authenticated user with assigned privileges can access it.
While Klipfolio has a steep learning curve for users, it does provide thorough analytical data. However, having to pay for every individual user is a major downside of the system. Intelligence, on the other hand, provides even more analytical insight and is available to all employees or team members for a one-time investment.
The dashboards, respectively, deliver Google Analytics data in an easy-to-view format for non-technical marketers. They differ in that Intelligence offers more than goals, visitors, objectives and ROI. It also allows for marketers to evaluate content authors, social shares and content like blogs, landing pages and offers. Klipfolio does not offer the option to set up these data points. Klipfolio is purely data driven. You can get status reports on social media sites in terms of followers and likes. Klipfolio is also more geared towards sales-driven users. The system is not able to read the information, in terms of content, that is being published on your site, like Intelligence can. 
As a marketer, what do you need to know? What is it that your company most needs evaluated? Both Intelligence and Klipfolio are great dashboards, but they have differences that target different audiences. Klipfolio is great for a sales team, but not marketers who need in-depth analytics. And therein lies the reason for the crowded market for Analytics Dashboards.
Want to learn more about Open Enterprise Intelligence? Comment below or read more about it here.