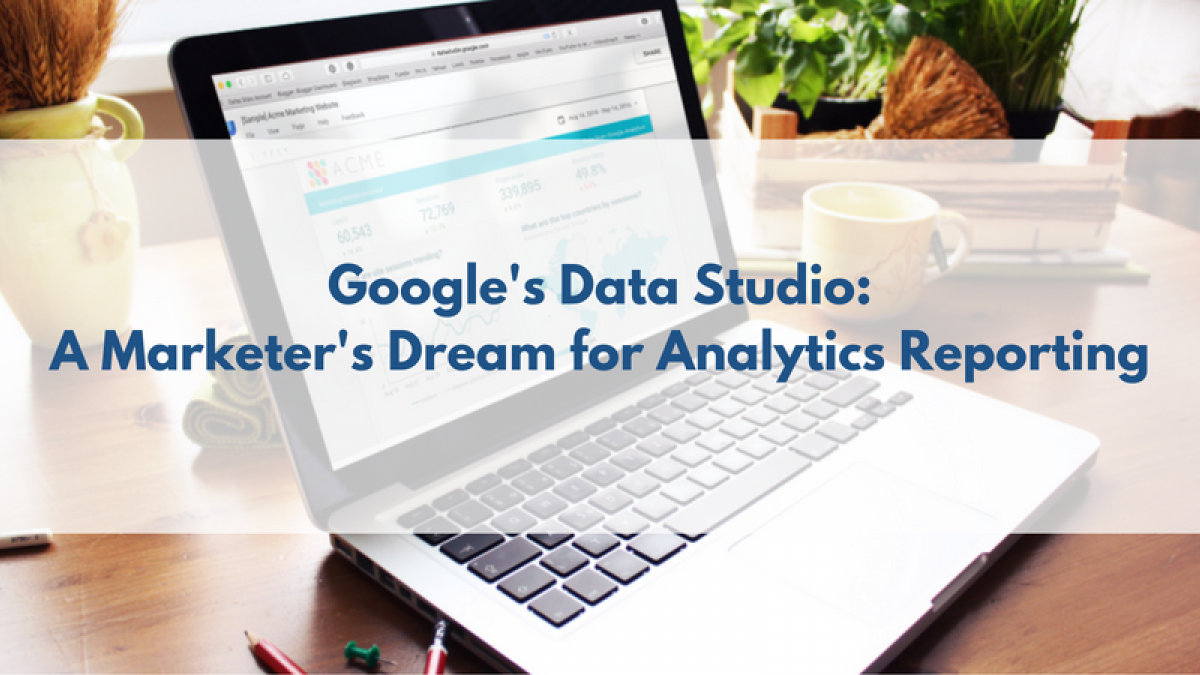 Google's Data Studio: A Marketer's Dream for Analytics Reporting
Last December, I wrote this blog, Google Analytics, and Google Spreadsheets: Create Your Own Dashboard all about how you can generate custom Google Analytics's dashboards. Today, I come to you with Google's Data Studio!
What is Data Studio?
At the beginning of 2016, Google announced the creation of their Data Studio 360 for their enterprise level of their Google Analytics 360. Google's Data Studio turns your data into informative easy to read reports that can be easily shared and are fully customizable.
In my previous blog, I created custom reports with LevelTen's branding colors. Well now with Data Studio, you can make dashboards and reports with your company's branding colors. Data Studio makes it easier and you no longer need to memorize Google's reference tables for configuration parameters for dashboard reports. An added bonus, no more spreadsheets!
What is Google Analytics 360 Suite?
For those who don't know, Google Analytics 360 Suite is a collection or stack that is meant for enterprise sized businesses with dedicated support, training, and exclusive access to their products. 
Do Non-Analytics 360 Accounts have Access?
Yes! On May 24, 2016, Google made it possible for individuals and small teams to have access to Data Studio (beta) for free! Every reporting metric that is available in 360 version, is also available in the free version. However, the only real difference is that the free version only allows you to create five reports per account. If you only handle your business' analytics, then you'll be fine, but in the event, you manage more than 5, well you'll have to invest in the 360 Suite.
Are the Reports Interactive?
Yes, they are interactive just like the ones I created in my previous blog. Data Studio allows you to hover over the graphics, and it will give you the exact data point data.
Are the Reports Sharable?
All (5) reports are shareable with anyone that has access to the shareable link to the report. A great feature of the Data Studio is that if you are familiar with any of Google's Docs, Sheets, or Presentation, you'll find it incredibly easy to use. The only thing I noticed, is that you can't embed the report. Perhaps it's because it is still in beta, but in my version of custom dashboards, I was able to export and embed onto the blog an interactive graph. 
I created a very quick version of an example report using our analytics. In the video, you will see how the report is interactive. 
Want to learn more about Google's Data Studio and a quick demo? Check out this video:
What do you guys think? I know it makes my life easier as a marketer to report data that is easier to see and read.