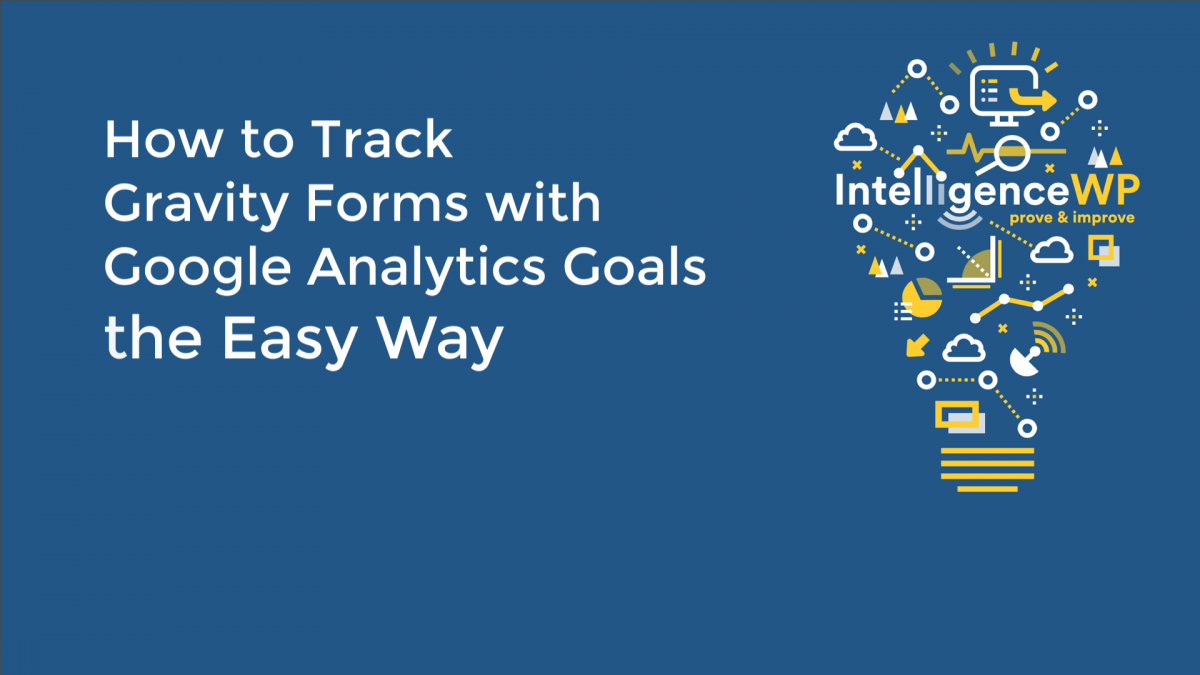 The Best Gravity Forms Google Analytics Tracking How To?
There are loads of great how-to tutorials for tracking form submissions with Google Analytics goals. So why is this the best Gravity Forms Google Analytics goal tracking how-to? The easiest way is often the best way.
Despite all the great Google Analytics how to tutorials, less than 10% of websites implement this killer feature. 
Why? Because it's still hard. Too many steps and too many different things to log into.
We wanted to create a few simple steps for anyone to implement robust Gravity Forms Google Analytics goal tracking in just minutes without having to leave WordPress.
Here is what we came up with. The Gravity Forms Google Analytics Intelligence plugin. Please let us know what you think in the comments.
The best how to track Gravity Forms with Google Analytics goals tutorial:
Download the free Gravity Forms Google Analytics Intelligence plugin.
Video Transcript (edited)
In this video, I am going to show you how to track Gravity Forms submission as Google Analytics goals, the easy way.
On my site, I have several Gravity Forms I really should be tracking as Google Analytics goals. The challenge is the traditional way of implementing this involves several steps such as setting up goals in Google Analytics and either writing custom code or leveraging Tag Manager expertise.
But no more. Now the Gravity Forms Intelligence plugin makes it easy.
Plugin Installation
The first step is to go ahead and install the plugin. So I go to Plugins > Add new. Search for the plugin and go ahead and download it and install.
Now I have this notice I need to go ahead and setup the plugin. Click on the Setup plugin button.
We're going to install the Intelligence framework which provides enhanced Google Analytics tools to make things like setting up goals easier to do. I'm going to go ahead and click on install Intelligence. Activate it.
Connecting Intelligence & Google Analytics APIs
Now I'm going to go create an Intelligence tracking Id to help automate the management of Google Analytics. Log into my Google Analytics account. Connect it to the Google Analytics API.
I am going to go ahead and select the existing tracking Id on my site. Intelligence will create an enhanced profile that will work side by side with any existing Google Analytics configuration I have already done.
Setting the default form tracking
Now I'm back on my WordPress site and see that all my forms are going to track using a form submission event but ideally, I really want to track my forms as a goal that has a value. I can add a goal by clicking the Add Goal link.
I'm going to create one called "Contact submission". Leave the description and goal value blank and add my goal. Now it's going to create this goal in Google Analytics from WordPress automatically. 
Now I can set it inside of WordPress by just using the drop-down. Click next and I'm done.
Testing Gravity Forms goals
I'll go ahead and try out my tracking. Click through to the demo.
The first thing I want to do is I want to go ahead and open up Google Analytics real-time tracking so I can see the event coming through and will notice that the goal that we created, Contact submission, has already been created is available for us.
Here are the four forms that we have any tryout. I'm going to go ahead and use the Contact form.
I will fill it out. Click submit.
Over on the real-time report, we will see it shortly. Here the contact submission is now coming through. If you're wondering how this works, behind the scenes we are actually pushing an event that we configure Google Analytics to listen to. So it's nice is it also tells us the title of the form so we know which ones are being submitted.
Customizing form tracking
It's great all of our Gravity Forms are now being tracked as a default goal but a lot of times we want to customize some tracking. For example, Contact submission may not be appropriate for all of these different types of forms so let's go ahead and set up a custom goal for our Newsletter Signup.
I can do that but going into Gravity Forms itself. Go to the Newsletter signup. I've got this drop-down for Intelligence. If I drop down the tracking selection I have my existing goals. I want a newsletter subscribe goal. I can go ahead and add that using the Add goal button.
Add my Newsletter signup. I could set a value if I want. I will just go ahead and add the goal for now. And Click Add goal.
Now it's available in my drop down for selection. Do the Newsletter signup, save my settings. 
Testing custom tracking
I can go back to the demo. Just back up a few pages here. I can try out my newsletter signup.
This one just asks for the first name so put in Abe and an email and click submit. 
Now we go back over to Google analytics. I'm going to refresh the page so that we now see our new Newsletter signup goal and here the event comes through.
Summary
If you're going to do analytics right, it's vital to track important interactions like form submissions as conversion goals. What used to be hard and forgotten now takes just a few minutes with the Gravity Forms Intelligence plugin.