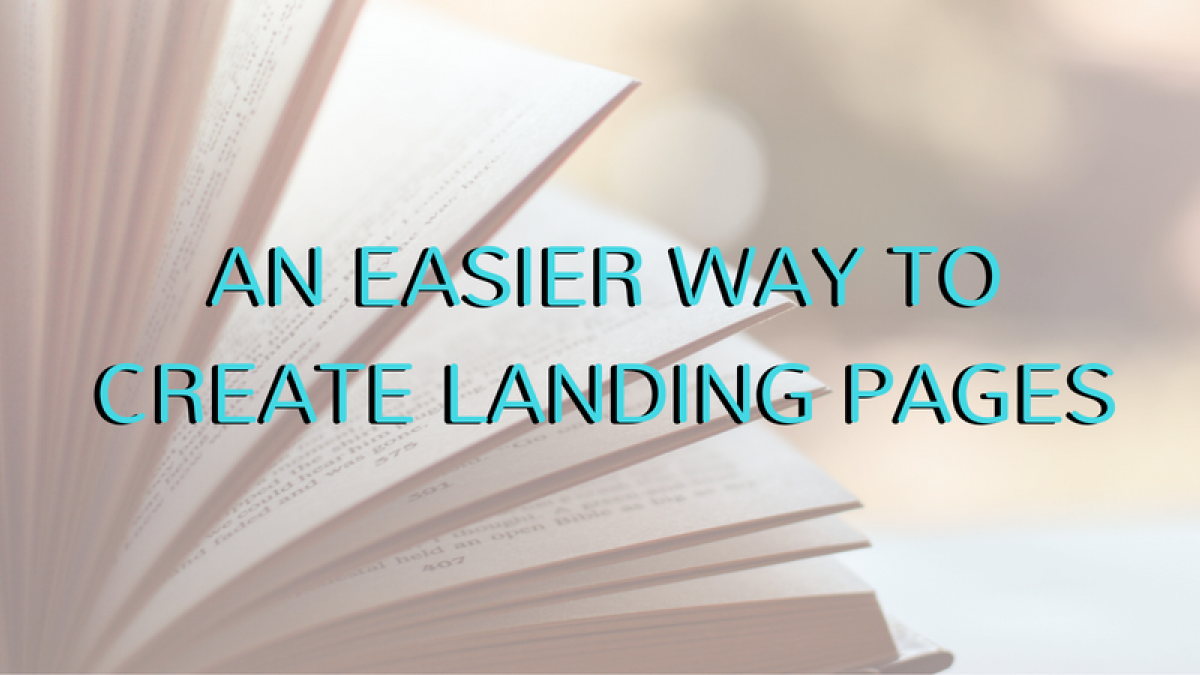 Leadpages Landing Pages and Thank You Pages - They're So Easy
Have you ever been hooked in by the content some companies have on their website? Well, I was hooked when I saw the tagline "The #1 Landing Page Builder". As a marketer, this caught my attention in that I didn't need to use any type of code to make landing pages look pretty. So what did I do? In the interest of testing new platforms for building landing pages and marketing automation, I decided to sign up for Leadpages and Drip (marketing automation).
A little background on what we currently use:
LevelTen currently uses HubSpot for CTA's, Landing Pages, and Automation. However, we don't use it as a CRM, our sales team actually uses Insightly which they particularly love that it integrates with Evernote. We love when our tools can integrate with other best of breed tools.
Leadpages
I've already mentioned that they brand themselves as "The #1 Landing Page Builder" on the market. So I set on a journey to test that claim. Leadpages actually does more than just landing pages, they also incorporate webforms and thank you pages as well. 
If you visit or read our blogs, you might have noticed we promote some of our eBooks on the side of the web page as a CTA. As an example, I will use our landing page for our Drupal Site Success eBook and give you all an inside look of the features Leadpages has to offer for creating great looking landing pages for your premium offers. 
Creating a Landing Page
I created our landing page using the drag and drop feature as featured on the home page. It really was as easy as the following gif looks.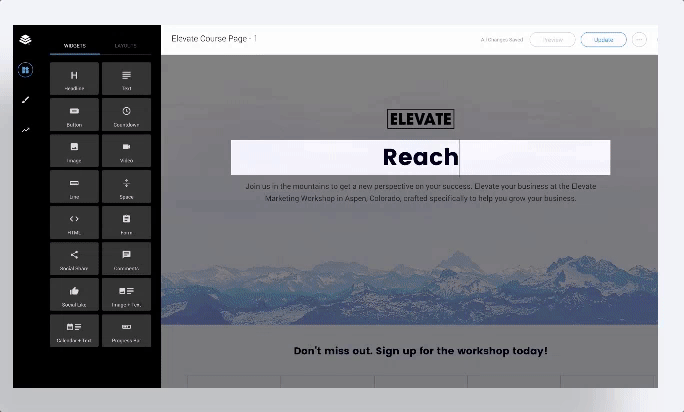 Don't like that look? You can swap out colors and elements and more elements and or make it more simple with less content. You are also given a plethora of themes to choose from to give you inspiration.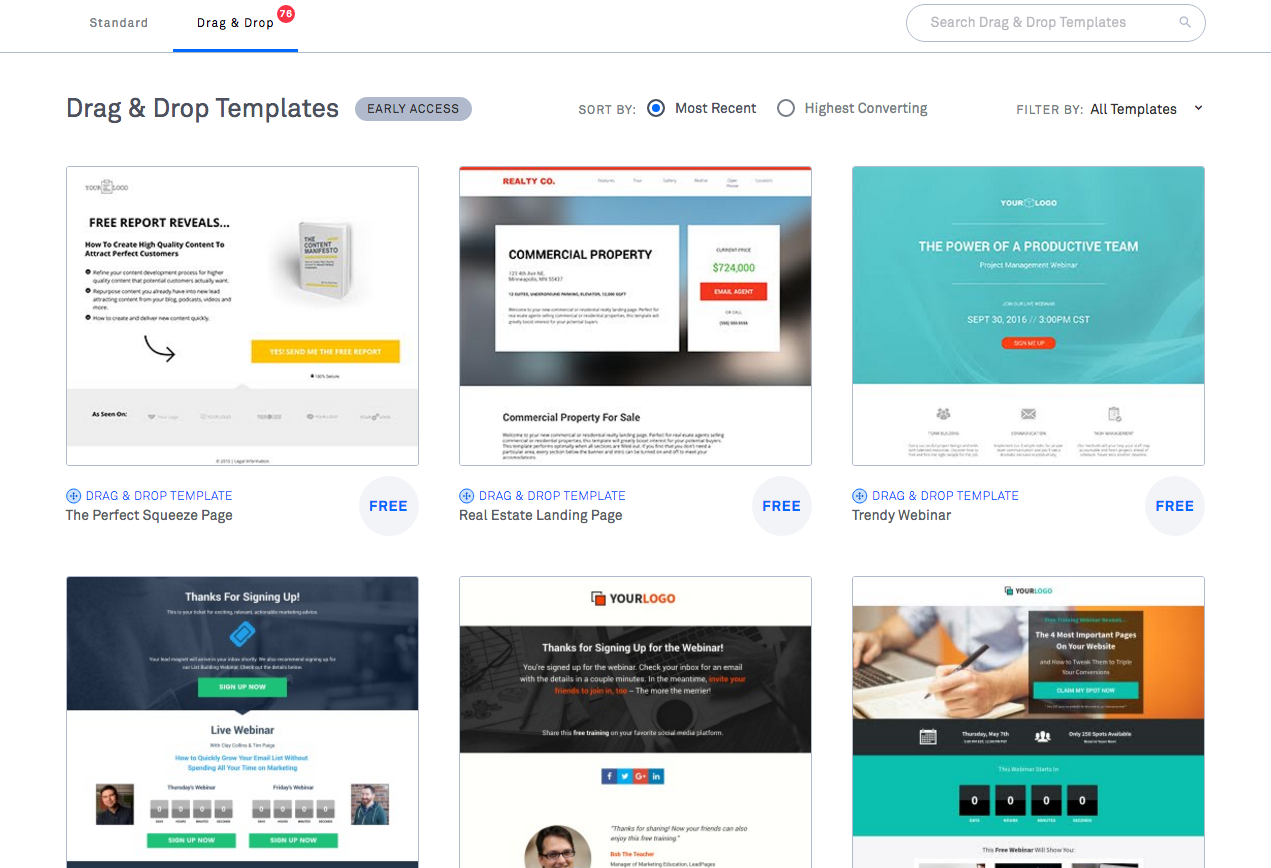 If you have multiple landing pages like we do, Leadpages allows you to tag the landing pages to the appropriate thank you pages via their colored tagging system. When you are actively updating each page you will come to find out that they are out of order, and that is because if I have been editing they will stay at the top. So this makes tagging important and useful.
Each landing page has the ability to be optimized for SEO, Open Graph, and  Google Analytics. As you can see in the gif below, we have optimized our landing page for the appropriate keywords.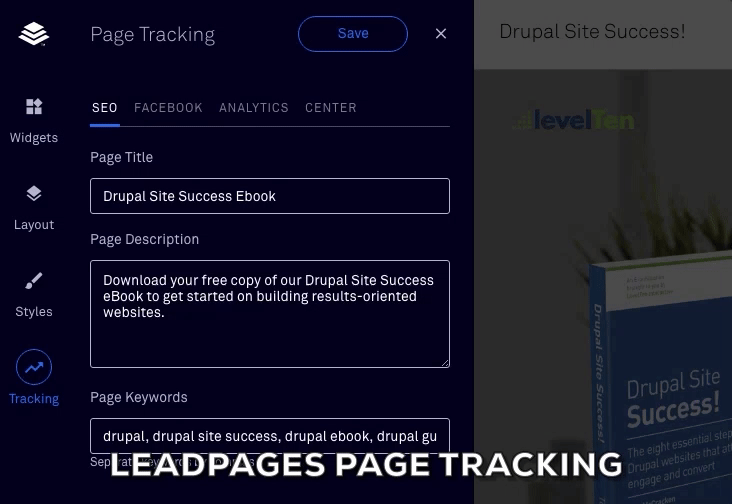 Similarly, "Leadboxes" aka the modal signup webform also has the ability to be tracked via Google Analytics script.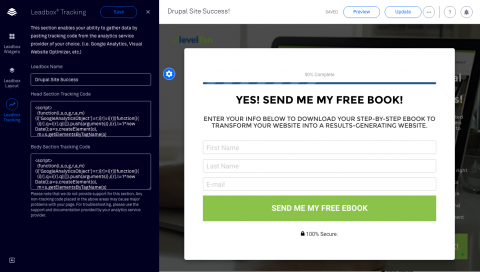 The CTA button in the image above is editable and can be linked to services such as Drip and MailChimp so that the data collected has somewhere to go as demonstrated below. You will also notice that the button is also triggering an action and that is to send a Lead Magnet in the form of an email with a downloadable version of the eBook. You will also see the thank you page subscribers see once they submit the form.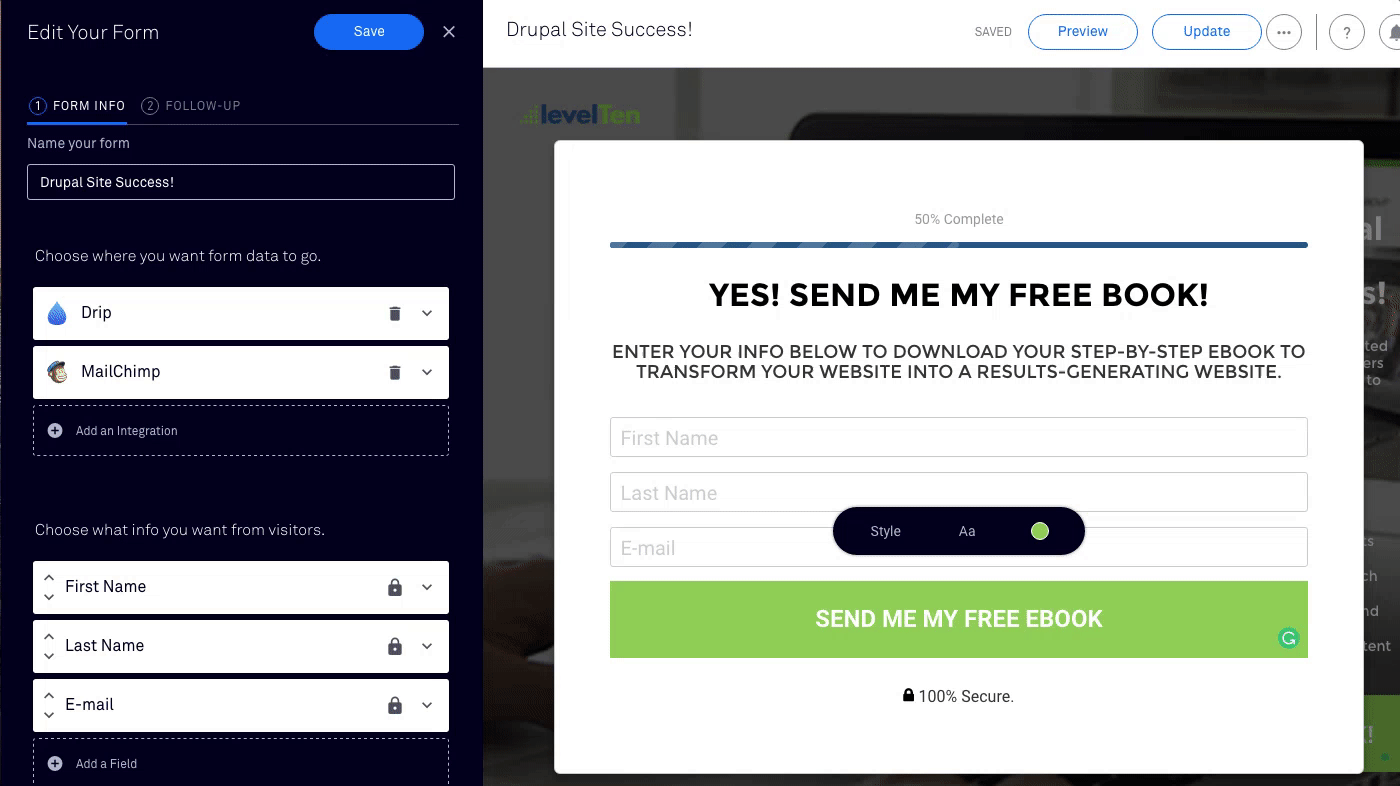 Lead Magnet delivery
Because we chose to do an eBook landing page then we had to actually upload what they call a Lead Magnet Delivery, in other words, this is what, in our case a book PDF, is being emailed to the subscriber after filling out the webform on the landing page. All you have to do is upload the downloadable file that a subscriber is expecting, give the "asset" a name, your email delivery subject message, sender name and email, and that's all there is to it.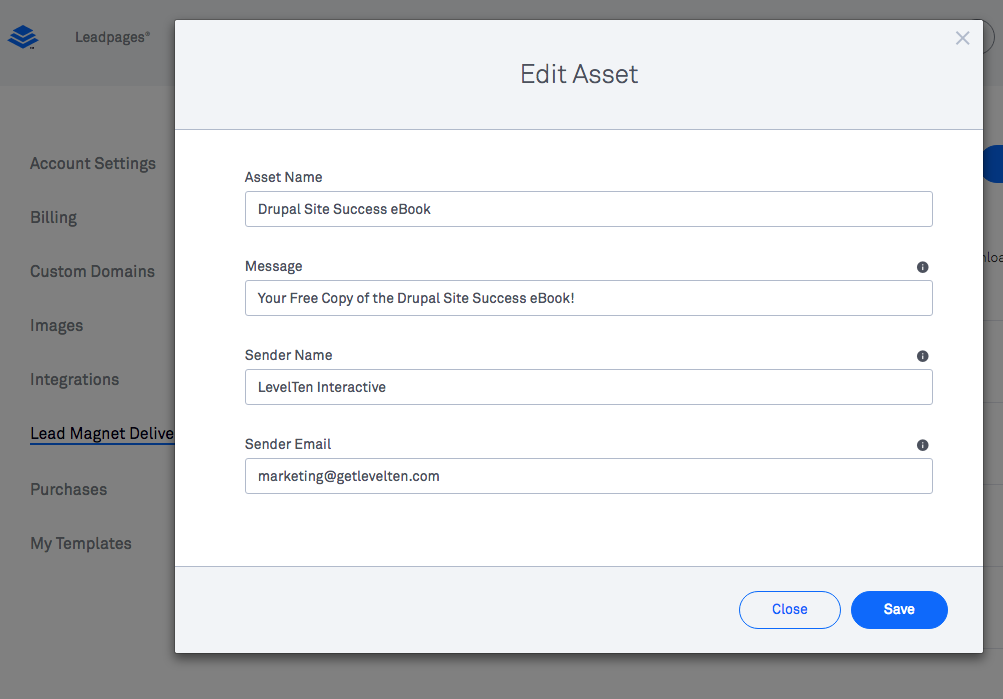 Leadpages' integrations
We pride ourselves in having tools of the trade that talk to each other, in other words, integrations between platforms. Luckily for us, Leadpages works nicely with some of our existing services. We connected our MailChimp account to store subscriber and we also use Drip for the marketing automation.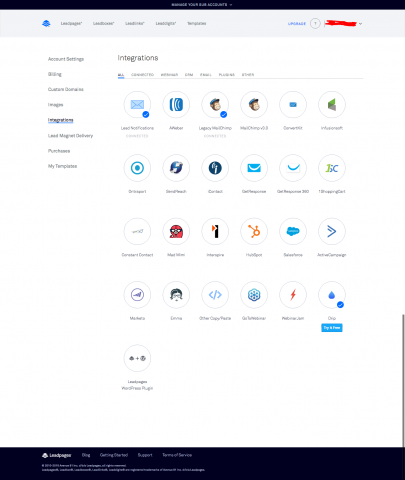 Leadpages thank you pages
Very similar to if not exactly the same as a landing page, Leadpages gives you a variety of templates in order to create the thank you page of your liking. In our case, we took a well designed pre-made template and adapted our branding to it.
Our New Landing Pages and Thank You Pages
Is a complete first look at our new landing page and thank you page design.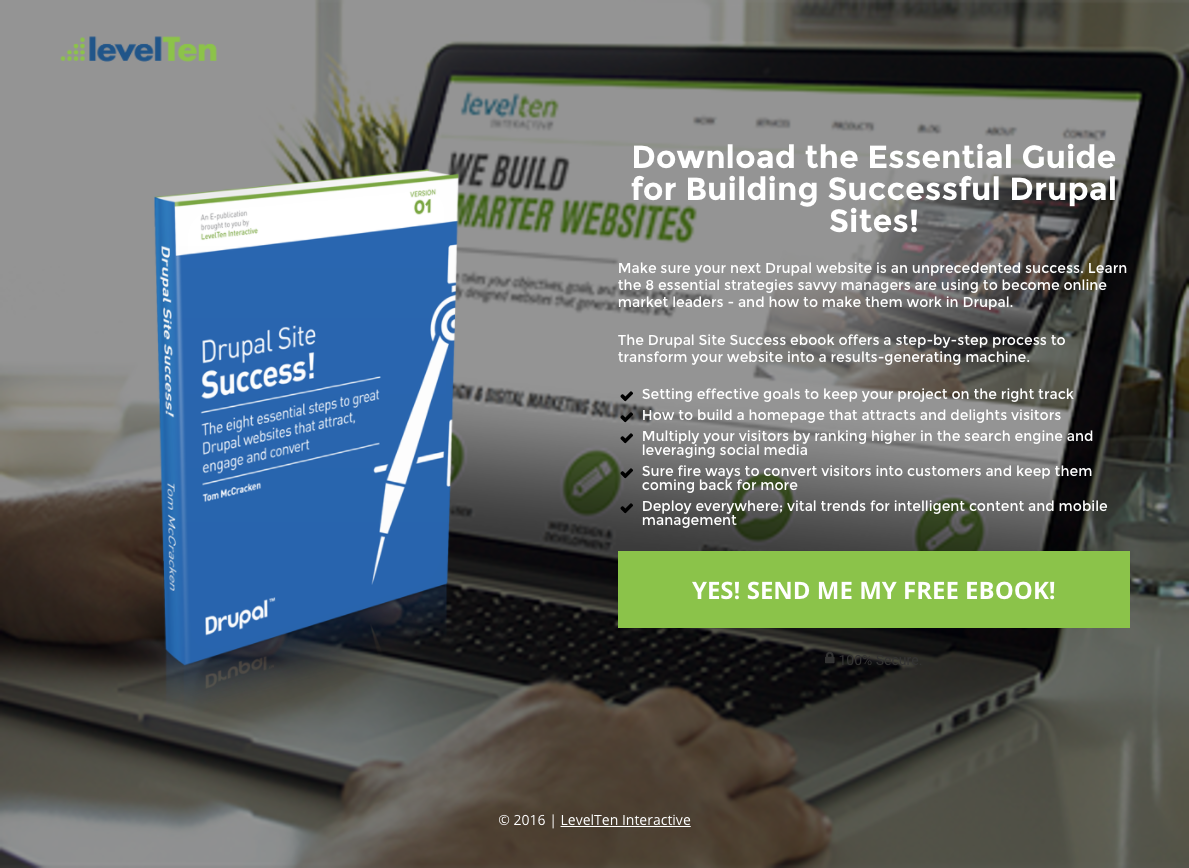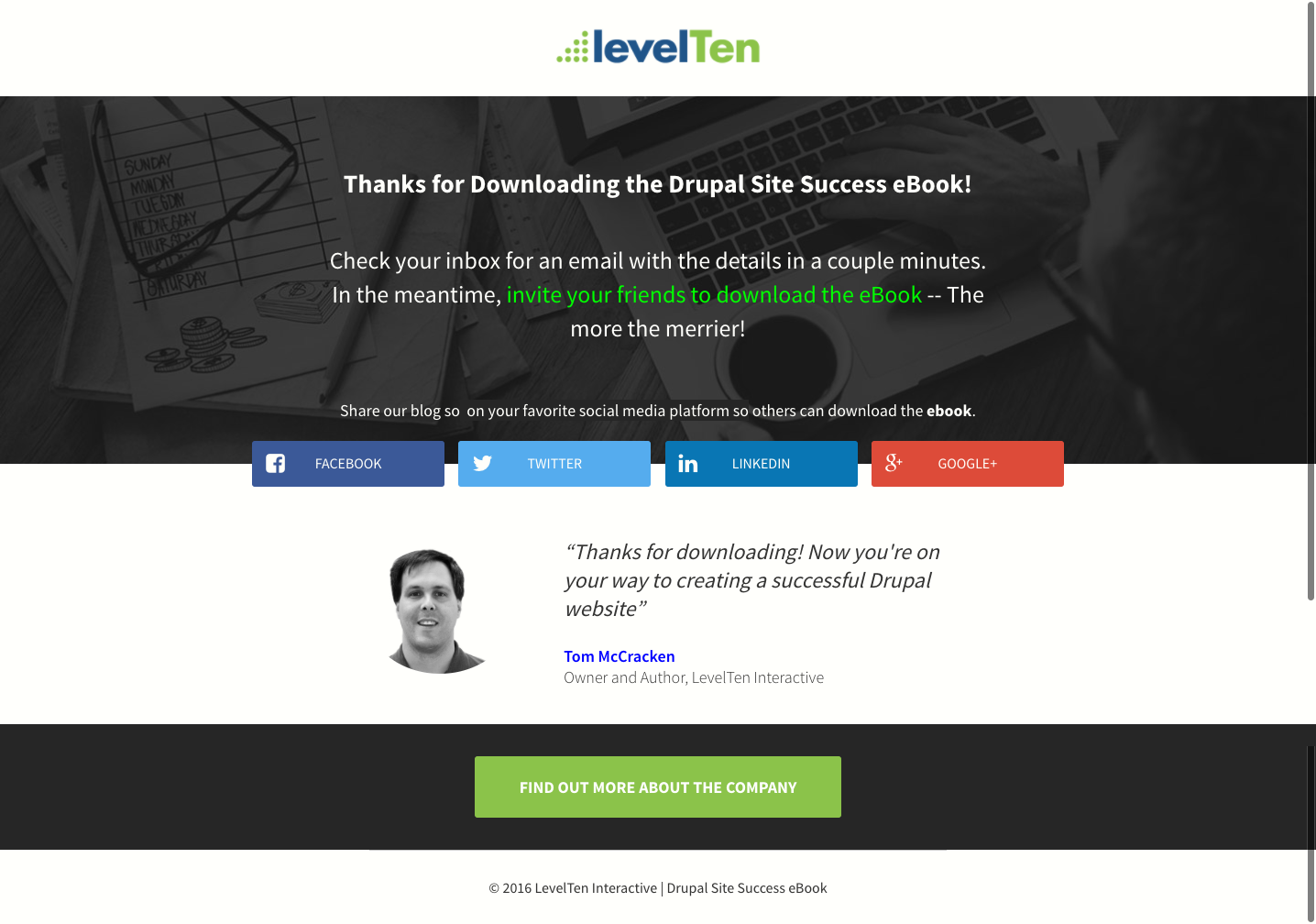 Now that you have seen what Leadpages can do, what are some of the other services out there you currently use for your landing page needs?