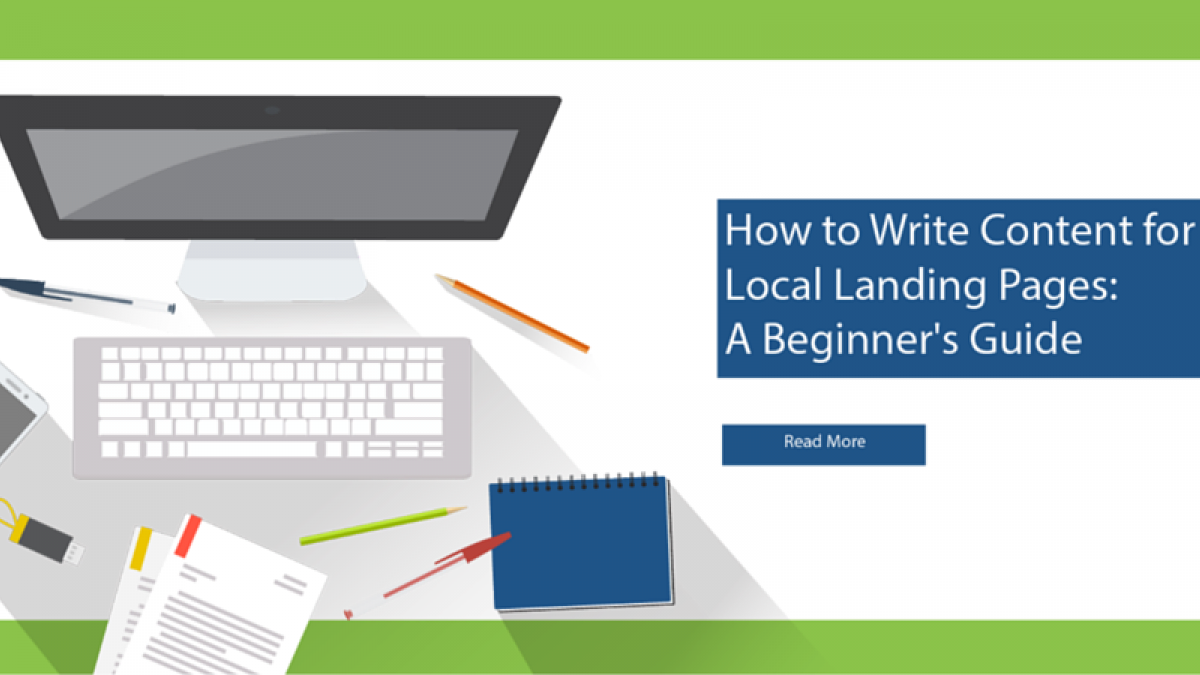 How to Write Content for Local Landing Pages: A Beginner's Guide
Today, in the hustle of competition and corporate growth, companies are beginning to see the benefit of creating landing pages specific to their regions or cities of interest or expansion.
Local landing pages are a great way to boost your local SEO ranking and connect with customers in your region. Unlike some inbound marketing tactics, site-specific landing pages actually work great whether you're a B2B or a B2C company: either way, you want people to know where your stomping grounds are.
When used incorrectly, these landing pages can be sources of duplicate content, visitor frustration, and even search engine penalties. However, when used correctly, site-specific landing pages can be a powerful tool to capture leads and increase conversions in your local markets. This post provides you with three simple guidelines to procure the benefits instead of the drawbacks.
1. Targeting Your Audience
While you may be tempted to create a local landing page for every city where you could conceivably have customers -- for example, a page for each of the 31 cities in Dallas county -- that's really not likely to be a good use of your time.
Do: Focus on the regions or cities which provide the most value to your business. Make sure these areas have a need that your business fulfills, find your best opportunities, and develop meaningful relationships with the community. This is nearly impossible to do if you're targeting every single region, city, and neighborhood in the US.
Don't: Target too many regions or cities. This could potentially put you in a tempting position to cut-and-paste content while switching out locations (a big no-no!) or stick your content writer with the grueling task of trying to say the same thing a thousand different ways.
For example, if you're a business in the Metroplex that sells athletic gear, it would make sense to target cities with big high school football teams, like Plano and Southlake. The point is to be strategic in choosing which local landing pages you want to build out.
2. Defining Your Landing Page's Purpose
Once you've pointed potential customers to your shiny new local landing page, you want to immediately create a positive first impression by providing content that meets their needs and genuinely helps them.
Do: Your local landing page should serve as the start of a beautiful relationship, showcasing exactly what the visitor needs and why you are the best fit for them. Don't just toot your own horn: provide a landing page that has definite value to your audience. Make your visitors go looking for more out of genuine interest in what you offer, not out of confusion about what they have just stumbled on.
Don't: Create a dull, keyword-stuffed, landing page that only serves to funnel your audience to other content that might actually be useful after another click or two. Your content should not be about whatever you think the search engine might like to show up on the organic results. This could lead to "anticipointment," [https://www.wordnik.com/words/anticipointment] where users are expecting certain information on a landing page, and are subsequently disappointed with low quality and irrelevant content.
If your local landing page is not genuinely useful to the readers, your site will most likely suffer an increase in bounce rates and decrease in potential conversions. It's a solid UX 101 tip: build for the user, not for the search engine.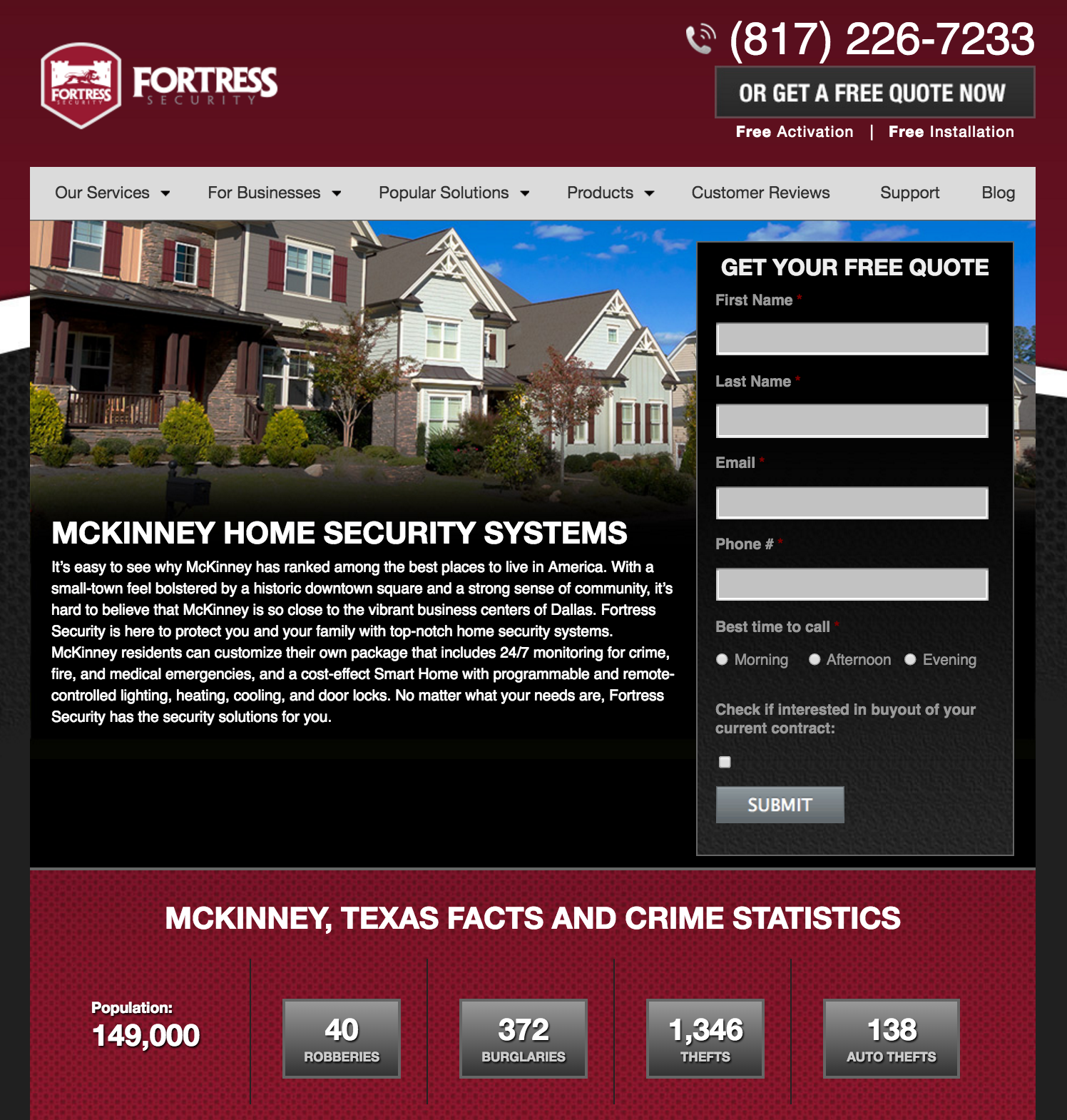 Here's a nice example of a local landing page from a Fortress Security, a home security firm based in Arlington. They wanted their potential customers to know that they serve McKinney, a fast-growing suburb of Dallas. To help make connections with those readers, they included local crime statistics that are likely to be of interest to homeowners in McKinney considering a home security system.
3. Writing Unique, User-Centric Content
The worst thing you can do while building out local landing pages is to use the same content over and over, just changing the name of the state or city on each one. Google hates duplicate content like this, and it's not particularly useful to your readers either.
Do: Consider the specific attributes of the location of your audience and your audience itself. Some questions to consider when writing your site-specific content are:
What is the area best known for?
Why does the area appeal to the people living in it?
Why has your business chosen to operate in the area in particular?
What is your business's involvement/relationship with the community?
Why do your business's products/services fit the needs of the people you're targeting?
Why should your site visitors choose you over your local competitors?
Leverage your content as an opportunity to appeal to your visitors on a deeper, personal level. Build credibility by presenting renowned clients, case studies, customer testimonials, and any awards or recognitions you may have. Also, take the opportunity to showcase your company's personality through photos, videos, and the voice of the content itself.
Don't: Create location pages that are practically identical in content under different city names. Tailor your content to your audience. Keep in mind that what your business offers should be consistent across your various location pages. However, consistent does not mean identical. Use the right-side of your brain and be creative!
Here's the landing page we just created for our new Houston office (which is the process that inspired this blog post!).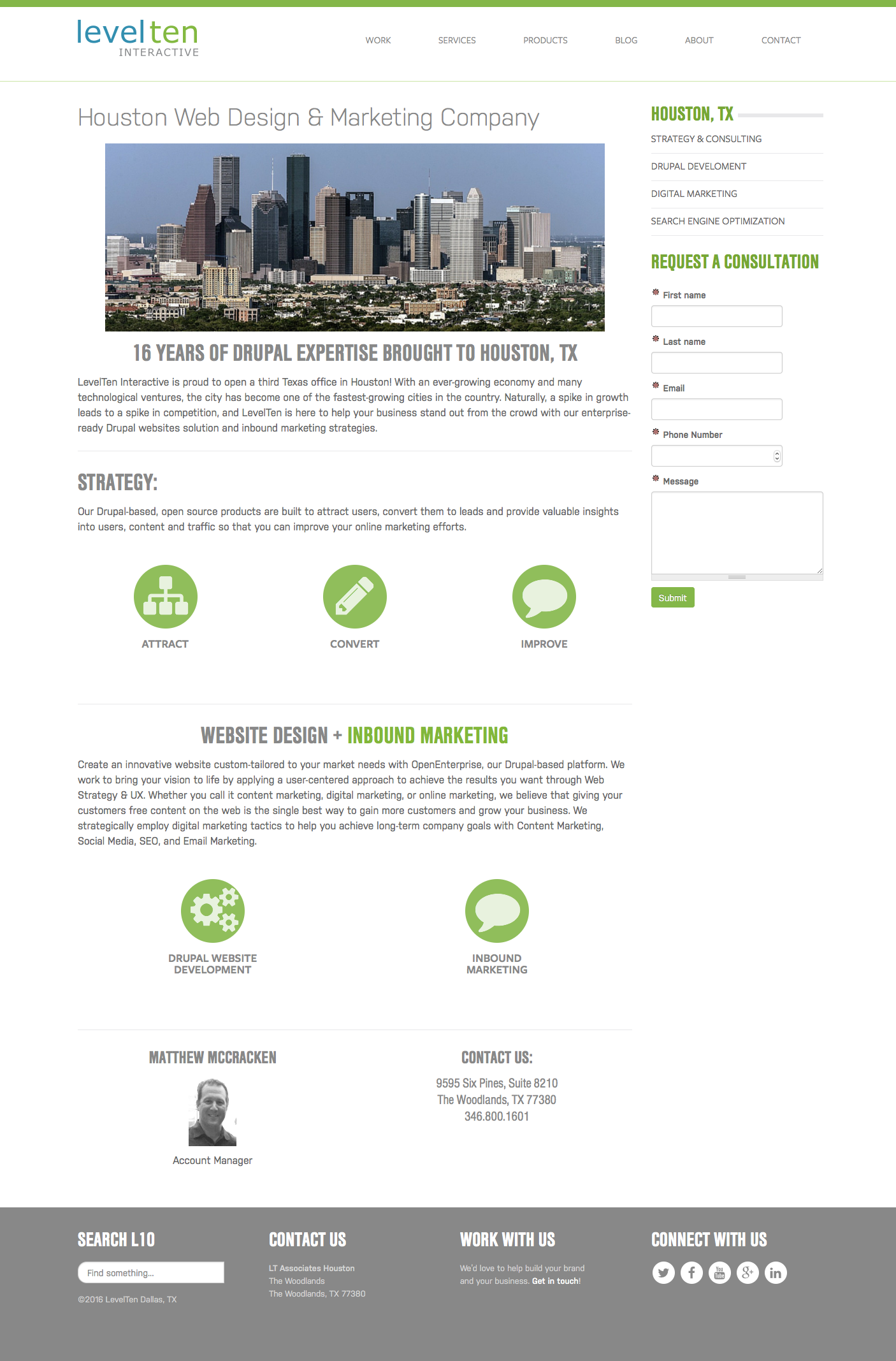 We wanted to make it really clear that Houston -- with its massive enterprise and fast-growing economy -- is a market where we think our Drupal and Marketing solutions can really have an impact on growing local businesses. That way, our landing page is about what we can do for our new potential customers, rather than being about us.
If you're expanding your business and planning to build out some landing pages to support your new offices, I hope this quick cheat sheet helps to point you in the right direction! As long as you write with your customers in mind, we think you're poised for success.