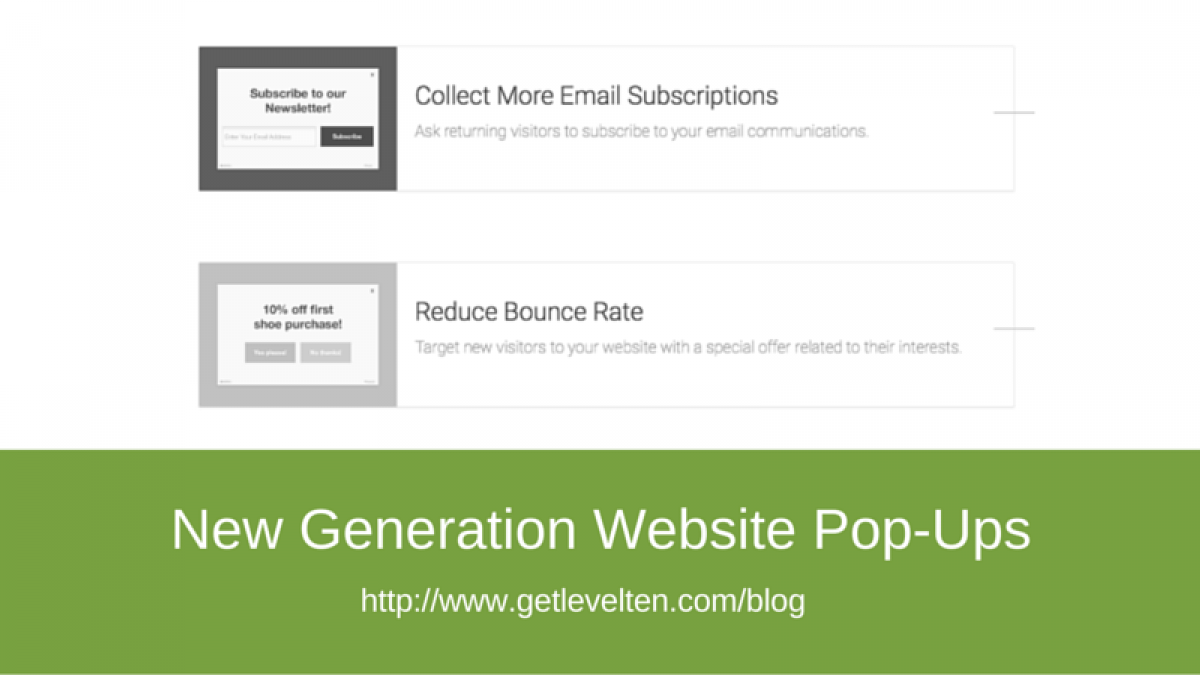 New Generation Website Pop-Ups
When that pesky pop-up window suddenly materializes on your screen, getting in the way of what you were trying to read, how do you respond? We have been conditioned to hate them, thanks to the old school, intrusive Java script pop-ups that had nothing to do with what we were browsing, and kept popping up over and over.  We feel annoyed and immediately click them closed, without even reading its content. We wonder how that irritation managed to sneak through, and we check our pop-up blocker settings. But no one actually reads or clicks on them… Or do they? 
A food craft blogger had a call-to-subscribe on a side bar which converted 0.4% of visitors, while the same call-to-action in a pop-up converted 5.5% of visitors, during an 8 month timeframe.
A recipe website experienced a ten-fold increase from 30 new subscribers per month to 300 after integrating a pop-up lightbox.             
A retail shoe site offered a coupon via pop-up to visitors who were abandoning their shopping carts, and 6.87% went on to complete their purchase.
So, people are reading and opting-in through pop-ups.  The old-generation of pop-ups have a bad reputation.  People find them so utterly annoying that they go to great lengths to avoid them, and web browsers have even tried to safeguard their users from them.  But there is a new generation of pop-ups that have evolved to become less obtrusive and less obnoxious.  And, most importantly, they work!  They can be the not-so-subtle prompts that a visitor needs to go ahead and sign-up, click-through, or make the purchase.
Here are a few strategies for putting them to work thoughtfully and effectively for your website while turning down the annoyance factor:
On-topic
No more pop-ups that have nothing to do with what the user is searching or browsing.  Visitors to your restaurant's website do not want to see a spammy offer for discount tires invade their screens.  Your pop-ups should generally contain a call-to-action directly related to the content of your site and the purpose of your business.
Timing
Do not splash a pop-up across your visitors' screen as soon as they arrive.  Give them enough time to get acquainted with your site and your brand.  Consider how long a visitor needs to scan and begin to form opinions about the information on your site.  Displaying a pop-up too soon can drive away a visitor before they have had a chance to get to know you.  On the flipside, by waiting too long you risk losing the opportunity for the pop-up to appear at all.  One study found that 10 seconds was the optimal time to present the pop-up, but the best timing depends on your specific content.
Triggers
Scrolling:  A pop-up can be triggered by scrolling to a defined point on the page.  It can be timed to appear as the visitor reaches the end of the text, or at a certain percentage of the text.  By utilizing a scrolling trigger, you lessen the likelihood that you will miss an opportunity, as it will pop-up whether the visitor is scanning through at super-speed or slowly reading every word.  Plus, you increase the likelihood that you will convert a visitor who is genuinely interested if they have hung around long enough to make it to your trigger point.
Exit-intent:  Catch them for one last-ditch marketing effort as they are headed out the door.  A pop-up can be triggered by a plug-in that tracks users' cursor movements.  When the plug-in senses that a visitor is likely to leave the page via the 'back' button or by closing the browser, it will display a pop-up with something enticing them to reconsider.
Frequency
Pop-ups can be made much less annoying by not displaying one every time a user visits or reloads the page.  Use cookie tracking to prevent relentlessly showing the same pop-up to repeat visitors.  Set it to show the pop-up just once, or at longer intervals, such as once per day, once per week, or once every 60 days.  If your pop-up is offering a coupon code, you may want to allow it to display each time the page loads, in case visitors are browsing back in their history to look for the code again.
Ease of exit
Do not make it a challenge to find the tiny 'X' that closes the pop-up box.  The exit should be simple and clearly marked, so that the user can easily continue on with what they were browsing prior to the pop-up.  Trying to hide it in order to force the user to view the pop-up is irritating, and visitors will be more likely to navigate away from your page.
Offers
The word "FREE" or numbers next to a % or a $ are likely to catch a visitor's eye before they close your pop-up.  Offers for discount codes, free shipping, or a free eBook in exchange for their email address can help you grow your email list quickly.  It can also encourage visitors to proceed with placing an order, or persuade them to stay and explore a little longer.
Creativity
Pop-ups do not have to be boring boxes of text begging for email addresses.  Incorporate simple graphics and use clever text that speaks to your audience. Wait But Why's exit-intent triggered pop-up is a great example.  It includes a simple, eye-catching graphic, and humorously acknowledges that everyone hates pop-ups.
Applied in the right way, pop-ups can be powerful marketing tools that are not as annoying as they used to be.  They cannot be overlooked or ignored.  They force a visitor to opt-in or close the pop-up.  If they work, and data shows that they do, then is it not worth annoying some visitors to increase conversion of others?  If you are still unsure, try A/B testing with a pop-up and see how your stats change.
Please share your experiences:  Do you hate pop-ups?  Have you used pop-ups and seen increased conversions?  Do you have an example of an effective pop-up?  What has worked for your site?
---
Pop-Up Image Source: AddThis