Everything You Need to Know About New and Current Google Penalties
In a web world where content is king, SEO is the second-in-command. Your site's Google rankings seriously affect the amount of traffic you receive as a result of an organic search. Fortunately, this has led marketing specialists to pay special attention to the algorithms that Google uses to determine who sits at the top of the search page.
When these penalties are released, many sites see drops in traffic or rankings. The Google Webmasters Forum offers suggestions on ways to alter your content to follow best practices, and if your rankings or traffic have dropped due to a Google penalty in the past, you can fix the site and submit a Reconsideration Request to have the penalty removed.
A Brief Background of Google Penalties1
Panda
First released in February 2011
Current Version: Panda 4.2 (rolling out starting in July 2015)
Targets low-quality or thin content
Affects the ranking of the whole site
Penguin
First released in April 2012
Current version: Everflux
Continually updates
Targets bad SEO tactics that create artificial links (link spamming)
Hummingbird
First released in August 2013
Current version: unknown
Targets search queries; improves search results by better understanding the meaning of the search as a whole, as opposed to matching specific individual words
No affect on site rankings
Pigeon
First released in July 2014
Current version: unknown
Targets local search results to focus on more accurate search results
 
Most Recent Updates
Mobile Friendly/"Mobilegeddon"
First released in April 2015
Pre-announced by Google
Targeted sites that were not mobile-friendly
Phantom 22
Released in April/May 2015
Unconfirmed by Google
Changes to core algorithm for determining & processing site quality
Continually updates
Reviews individual pages, but affects the whole site
 
What's Next
In September of 2015, Google announced that they would begin penalizing sites that use intrusive app install ads that block large amounts of content. This update is expected to take effect on November 1, 2015, and will likely act as a supplement to the Mobile-Friendly update of April 2015 by deeming sites with these ads as not mobile-friendly.3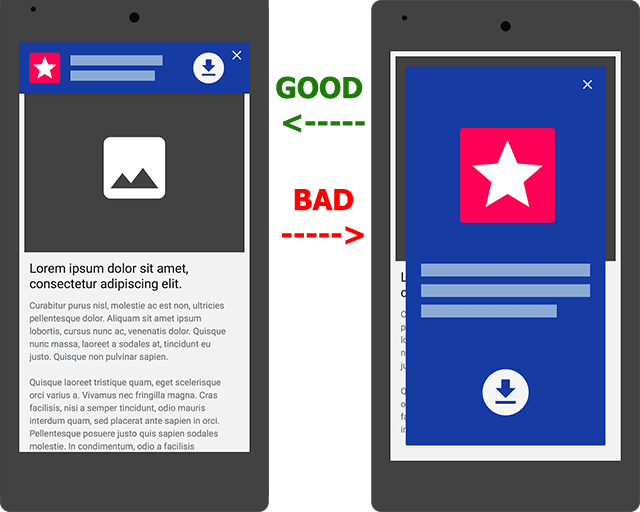 Image Source: https://www.seroundtable.com/google-app-interstitials-penalty-20845.html
Google actually warned developers and content creators about this bad practice in July, leading some bloggers to predict this change in the algorithm for mobile pages. If you're following this practice, you have about a month to update your site or face potentially lowered organic rankings.
Do you think large app install ads are intrusive, or is this an excessive penalty by Google? Leave your comments below.