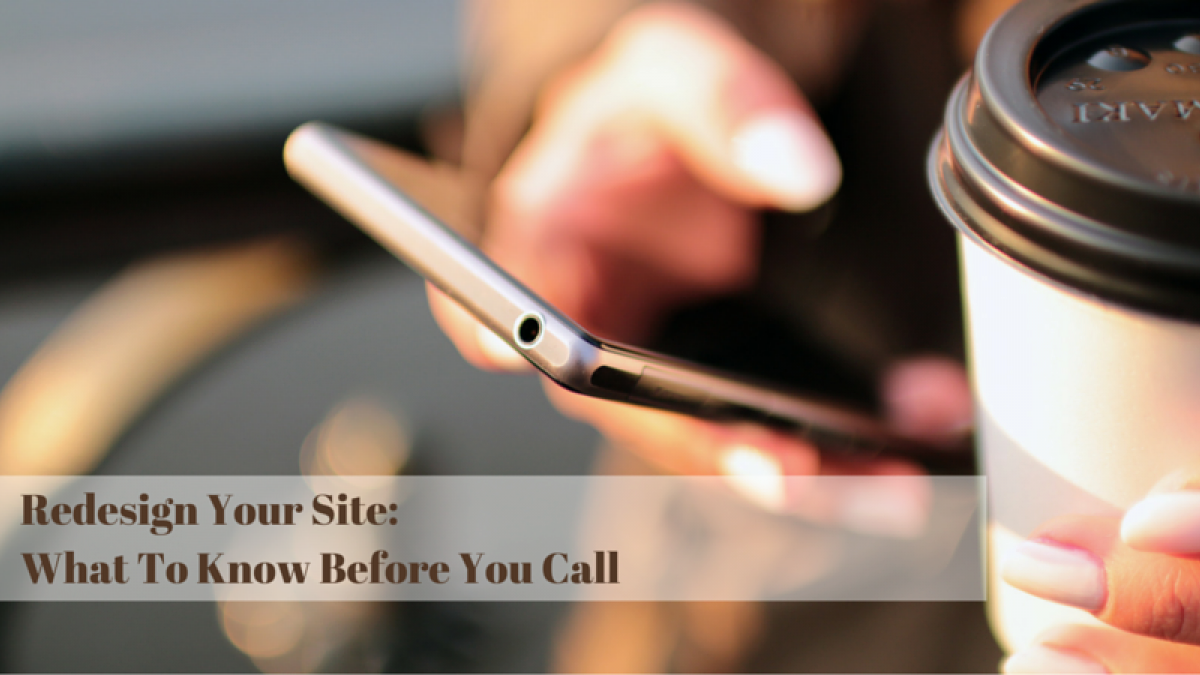 Redesign Your Site: What To Know Before You Call
I get several calls each week from companies interested in redesigning or revamping their website. The people in charge of the site redesign vary from being highly technical to not technically knowledgeable at all – and that's to be expected! It can be difficult to figure out what to ask for when it comes to a new website and even harder to properly communicate your goals as an organization to ensure you get the best fit for an agency.
Before you call an agency, take a look at the questions below and prepare your answers!
 
1. Why are you seeking a new or different website?
This helps the agency determine what your current pain points are. Although any good agency will perform their own evaluation of your site, a potential client needs to relay any issues regarding the way that it works and the needs of their users. Some common answers are –
The design of my site is outdated
Users can't find the content that they need
I can't make changes easily to the content or the website
I don't have ____ feature on my site
I don't have any analytics for my site
My website doesn't look right on phones and tablets
 
2. What do you want to see in your new website?
This helps the agency determine the best solution for your new site. It's important that this is communicated well, because it is typically what the agency will base your cost off of. A feature that may seem simple can actually require a good bit of development time, or there might be research needed to find an alternate solution. Some of the biggest items that affect price are –
No current branding guidelines – This causes more work on the design side
Content migration – Content migration can be very time-consuming, especially if you are moving from one CMS to another
E-Commerce capabilities
Integrations with 3rd party systems
Internal hosting – We always recommend managed hosting like Pantheon or Acquia as opposed to hosting on your own server
 
3. Who is the decision maker in this process?
This is perhaps most important when the person who makes the initial contact with an agency is not the decision maker. Your proposal is often tailored to the person who will be reading it, but this can vary widely across different industries and companies. A proposal for a non-profit is often reviewed by a board of stakeholders, as well as an Executive – but the person collecting that information might be someone who works with the website or marketing department. In this case, it would be important to include enough information to ensure that all reviewers will have a full and complete understanding of the project without having ever spoken to the agency.
 
4. Do you have good content for your website?
Your content powers your site – from providing information to your users to implementing keywords to improve your SEO. Many sites do not have enough content or are overloaded with poor content. If you're going to invest in a new site, you should also be willing to invest your time and energy into creating great content. Many agencies will help you create content, but you should specify this need at the beginning of your discussions as it often requires a separate fee or marketing engagement.
 
Thinking through these questions or discussing them with your team can provide some much needed direction internally, as well as for a potential agency. By having a better understanding of your needs, agencies can prepare better proposals and you're more likely to get the right fit. You don't want to miss out on the right agency simply because they didn't understand what you were asking for! The best agency for you is out there - and by getting off on the right foot, you can create a long-lasting partnership to grow your business and your website.