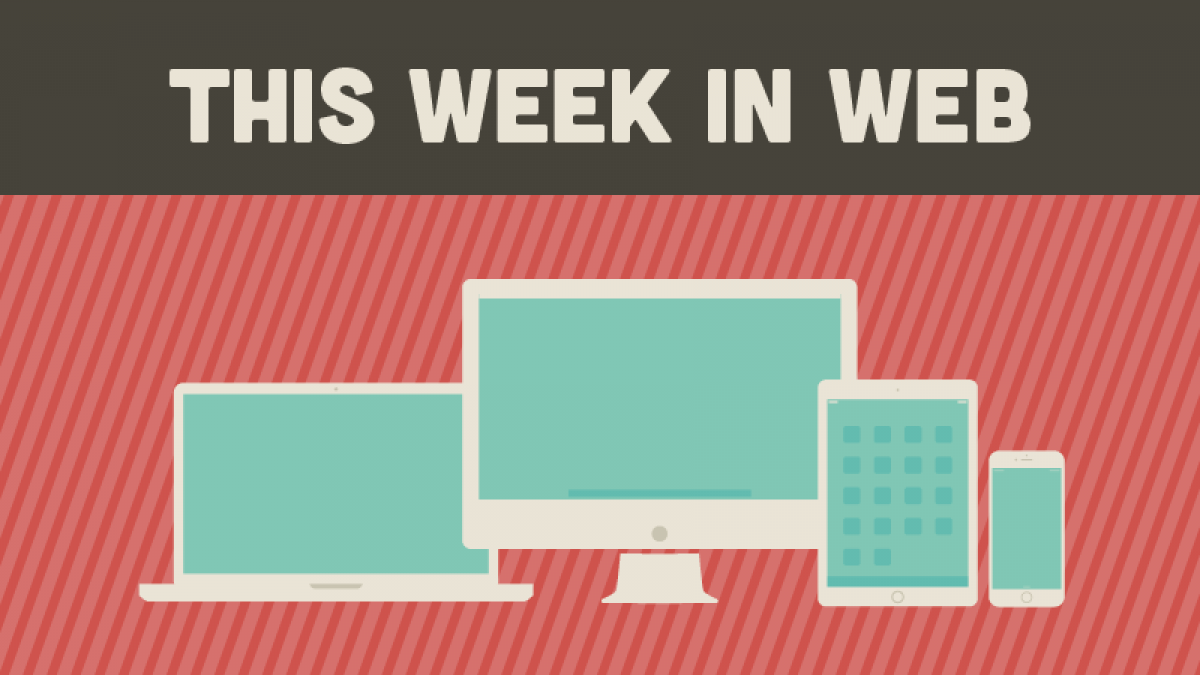 This Week In Web: Sept 7-Sept 13, 2015
This week, Apple dominated web news with their new and updated product release extravaganza.  We poke our nose in the door of the Apple party to sum up their big announcements into a few Reader's Digest-style bullet points.  In other news, Facebook is widening the circle of people who may use the Mentions app, and Spotify is officially validating you as a music trendsetter.  Also, Facebook is making it easier for small businesses to connect with customers, and making it so shoppers never have to leave Facebook.  Last, live-streaming video with Periscope may change the way we experience television with Apple TV.
 
APPLE HIGHLIGHT REEL
Apple held their big product unveiling event this week, and there was plenty to reveal.  Here is a seriously abbreviated version of what's new with Apple products:
iPhone 6s and 6s Plus:  The world's most popular phone added 3D Touch (more sensitive than Force Touch), a 12 megapixel camera, a 5 megapixel selfie camera with flash, and a 4K video camera.  The new phones will be made of Apple custom alloy and stronger glass.  The new A9 processor is 70% faster than the previous A8.  And if you are considering switching over from Android, Apple will provide an app to help transfer over photos, notes, and other files.  They are also offering an iPhone Upgrade Program that allows you to get a new phone every year, including AppleCare+, by paying monthly installments starting at $32 for the 16MB version. 
New Apple TV: The 4th generation of Apple TV presented much anticipated updates, including an App Store, a new operating system "tvOS," and improved hardware.  The Bluetooth remote utilizes both a touch pad and motion control, similar to a Wii remote.  A more powerful Siri is at her best, enabling voice-based, proactive, system-wide searches.  And games and apps will be shared across Apple devices, which is kind of cool.  However, the $149-199 price tag is several times higher than competitors' streaming devices.
iPad Pro: This super-powered tablet has a 12.9-inch, high-definition display.  This makes it large enough for more than one app to share the screen, but imagine an audience full of iPad Pro users all trying to photo or video an event, holding their huge screens in the air… yikes.  It has front and rear-facing cameras and four speakers, as well as faster processing and more storage.  Apple also announced a peripheral keyboard, and the proclaimed "secret weapon," the Apple Pencil stylus.  The iPad Pro will cost $779-1079, plus $169 for the keyboard and $99 for the stylus.
iPad Mini 4: It is thinner, lighter, and more powerful than its predecessors, and utilizes iOS 9.  The updated hardware will enable it to support multi-tasking, and it costs $399.  Not much hype behind that one.
Apple Watch: The functions of the watch were reiterated, and fancy new watchbands and gold finishes were announced.  WatchOS 2 will roll-out in a few days, which will enhance the core operations of the watch.  Also, native apps were announced, including Facebook Messenger, a GoPro app, and iTranslate.
 
GETTING MENTIONED
Last month, we looked at the Mentions app on Facebook, then available only for high-profile celebrities to live broadcast on Facebook.  Mentions is moving beyond entertainment and superstar self-promotion by allowing access to journalists with verified profiles.  Mentions gives journalists the ability to livestream video directly into your Newsfeed and facilitate live Q & A sessions.  These features have great potential as the 2016 Presidential races are heating up.  Mentions also allows journalists to share their reports only with users who follow them, and not their entire Friends list, so that journalists will not have to spam their friends every time they post their work.  Journalists will be able to generate more community interaction with those followers who want to see their content.
 
BRAGGING RIGHTS
Do you proudly claim that you listened to Aloe Blacc before he made it big?  Now you can validate your cutting edge music experiences with Spotify's new Found Them First feature.  It tracks your listening history to determine if you were in the first 15% of listeners to stream artists who have since accumulated 20 million total streams and experienced 2,000% growth during the last two years.  If you are not hip enough to have discovered any rising artists yet, don't fret.  Found Them First is going to help you with a playlist of new music to try out.
 
STAY AND SHOP A WHILE
Facebook wants you to be able to shop without leaving their world, while helping the 45 million small businesses already on Facebook connect and make money.  So they are rolling out changes to their business 'Pages' to make them more like storefronts, where you can interact with the owners, and in some cases purchase goods and services from them via their Facebook Page.  The new features include:
A 'Shop' tab, where you can see catalogs of products and services offered by the business.

Powered by Facebook's partnership with Shopify, some Pages will allow you to buy directly from their Facebook Page.
More prominent contact options, including 'Call Now,' 'Send Message,' or 'Contact Us.'
Recognition with a 'Very Responsive' emblem for businesses that respond to customer messages within 5 minutes, 90% of the time.
By creating Facebook storefronts, small businesses are relieved of the time and financial costs involved in creating mobile websites and apps.  There are no costs to owners of Pages, but Facebook can potentially benefit through increased advertising and traffic, plus keeping hold of users who might have otherwise followed links from a business' Page to shop on their website.
 
PERISCOPE ON THE BIGGER SCREEN
It looks like there will be a Periscope app available on the new Apple TV update.  Although the functionality of the app has not been announced yet, it will probably work similarly to Periscope on the web, allowing viewers to see live-streaming video, but not broadcast.  This and other unique apps will differentiate Apple TV from other streaming media devices like Amazon Fire TV, Chromecast, and Roku.  In a society where people want more control over their television, bringing media choices that are normally limited to our smaller screens to the TV may be another big step toward the demise of cable and satellite television. When news is breaking, can you see yourself tuning into a Periscope livestream instead of CNN?
 
Any tech news we missed? Let us know in the comments below!