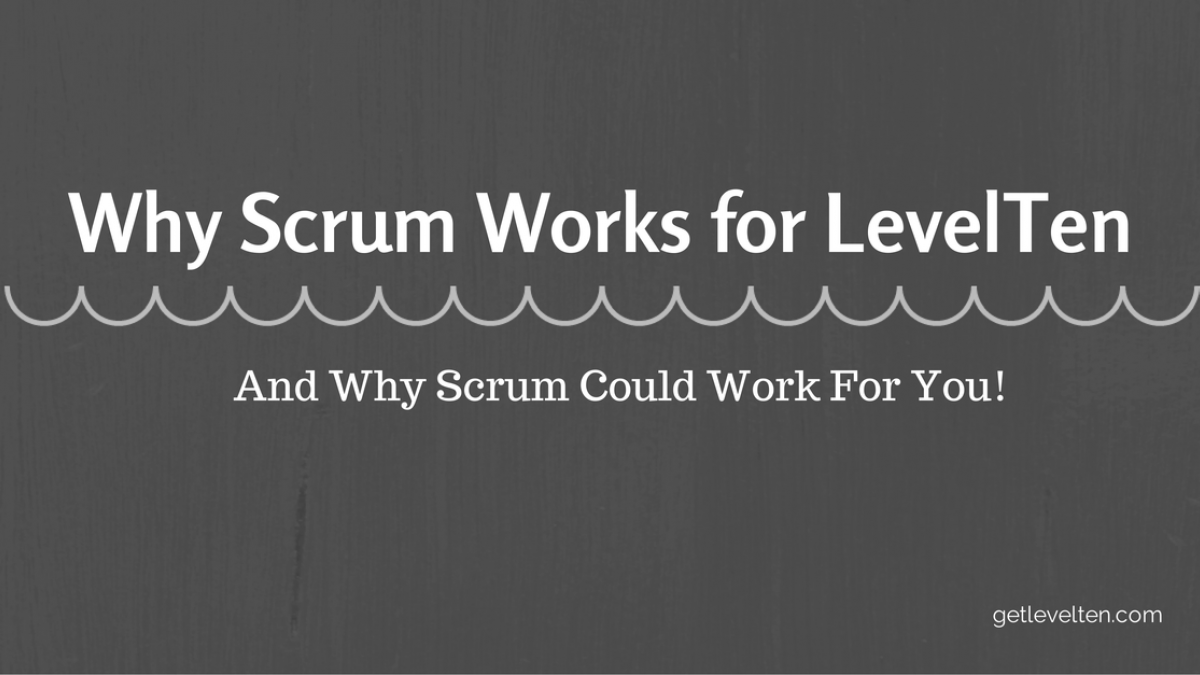 Why LevelTen Benefits from Scrum Methodology and So Could You
As a project manager and designated "Scrum Master", for LevelTen Interactive, it's important for everyone on the team to be on the same page. It's important for me to know what everyone is doing for each and every project that is brought to the table.
Yes, I mentioned I was "Scrum Master". We follow Scrum Methodology and with Scrum, we attend or "virtually" attend daily stand-ups. Scrum allows for the team to stay on top of tasks and keep organized for all of our projects. These are the reasons why LevelTen benifits from Scrum.
Open Communication with the Team
Every morning at the start of the workday, we meet for what is called a "Daily Stand-Up". We like to keep them short, but of course if problems or questions arise, then they can last up to 30 minutes. As the Scrum Master, I call on every team member to say what he or she worked on the day before, if any problems occurred, and what will be worked on that particular day of the meeting. Everyone is held accountable for his or her "stories" or task if you will.
It Allows us to See the Big Picture, while Working on the Small Details.
A benefit we get from our daily scrum stand up meetings is an opportunity for discussion on solutions and explanations for a project's development. With the open communication, we are able to identify problems and issues early and resolve them quicker. As the project manager, it's my job to keep everyone focused on the end goal of a project and milestones, while my team stays focused on the tasks (small details) to help us get there (the big picture).
Everyone Benefits from Scrum
Not only does it allow me to keep track of project development, it allows the team to see the goal of a project being finished. More importantly, it allows us to communicate to the client where and if they're project is on schedule. Keeping our clients satisfied with the end project begins with the work we put out every sprint.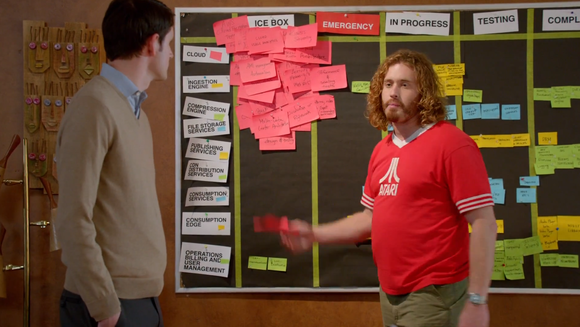 HBO Original Series: Silicon Valley gets introduced to Scrum
Why You Should Follow Scrum
Here are my reasons why small web development companies of 8-12 team members should consider using Scrum as part of their business model:
Scrum helps the company in saving time and money.
It is a lightly controlled process, which insists on frequent updating of the progress in work through regular meetings (stand-ups). Thus there is clear visibility of the project development.
It requires continuous feedback from the user.
Because of short sprints and constant feedback between the AM/PM and Story Owners (Devs, designers, themers, etc.), it makes it easier to manage with possible changes or problems.
Daily stand-up meetings be it physical or through Google+ Hangouts, make it possible to measure each members individual's productivity.
Issues are identified well in advance through the daily meetings and therefore can be resolved quickly.
Have questions on Scrum? Are you a Scrum Master? Leave me your tips and comments below!