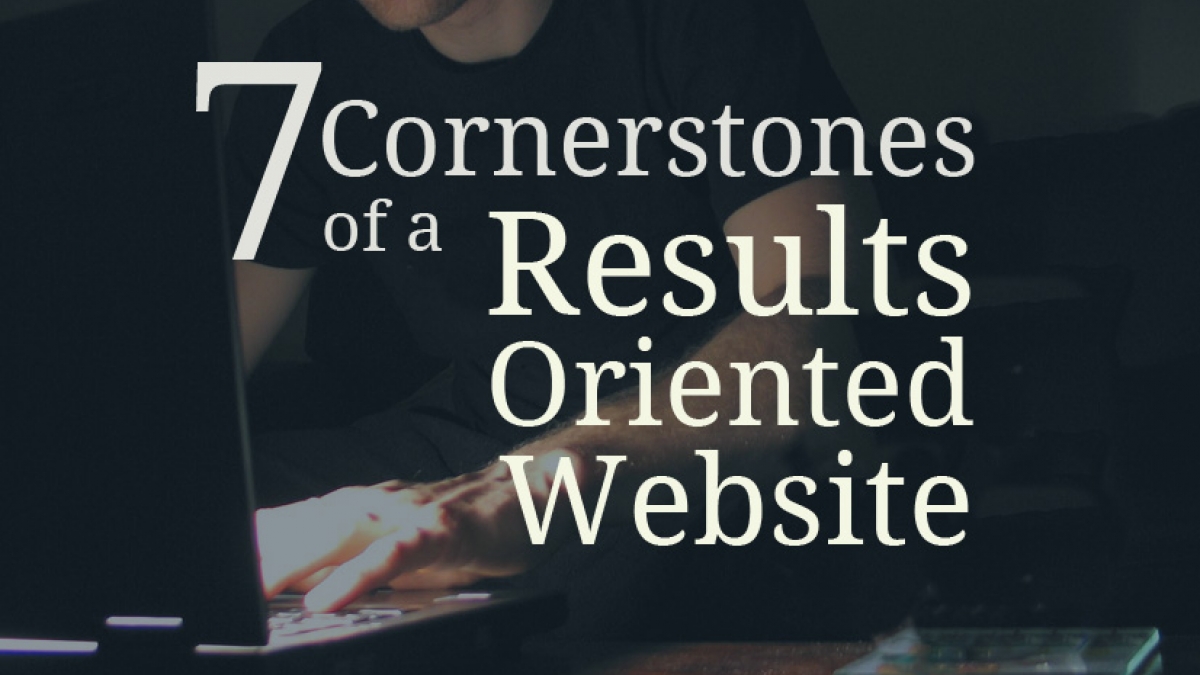 7 Cornerstones of a Results-Oriented Website
Building a website that drives traffic, delights and engages users, and converts and builds brand champions is not an overnight process. There is no magic tool or tactic that can instantly make you an established leader. However, there are seven cornerstones upon which many successful websites are built.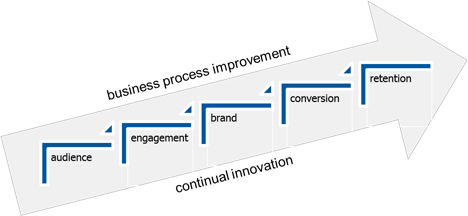 Audience
The first cornerstone of a results-oriented web presence is the audience. Unfortunately, the "if you build it, they will come" tactic does not work. Audiences must be planned for and cultivated. Great websites begin every initiative with their audience in mind, clearly defining who they are targeting, what features those people want, and how to reach them and drive them to the site.
How does your audience find you? There are hundreds of ways to market a website. Two of the more popular and effective ways are search engine optimization (SEO) and social media. Search engine optimization means getting your content placed on the first page of results for popular industry search terms in engines like Google, Yahoo and Bing. Social media is the use of sites like Facebook, Twitter, LinkedIn and YouTube as a marketing tool. The web has always connected people to each other; however, the meteoric rise of social media over the last few years has created unprecedented opportunities to connect with your customers, build awareness and foster brand champions. Marketing via social media requires trust-based, human-centric strategies with clever integration. Done wrong, it can be a PR disaster. Done right, it can create volumes of lasting brand impressions.
Engagement
Once you have captured your audience, you need to engage them. Many websites are not appealing to look at and spew out contrived corporate communications. They are unintuitive, lack places for customer interaction, and are focused on the company rather than its customers.
A great site incorporates all of the following:  
Aesthetics – Despite what our mother told us about not judging a book by its cover, the first impression your website gives can make or break your company. Your site should look professional, connect emotionally with the visitor, and reinforce your organization's message.
Usability – Visitors come to your site with a goal in mind. That goal is very rarely to read your home page. There is almost always a particular piece of information they are seeking, or a specific task they want to complete. If they can't figure out how to get what they want easily, your competition is just a click away.
Content – While the aesthetics of your website make the first impression, the written parts contain the meat of your message. People want a quick aerial view of your content and then you can entice them to dig deeper.
Interaction – If you already have aesthetics, usability and content covered, congratulations! That means your visitors are finding what they want. Now you need to get them to interact with your company, employees and site.
Brand
The term "brand" here refers to the overall impression people have of your company.  Brand building is about creating a positive, lasting image with your audience. In one visit to your site, your customers should be able to determine almost instantly whether or not they want to use your services.
Conversion
Once you have an engaged audience that thinks positively about your company, it's time to do some business. "Conversion" is an Internet term that indicates when a site visitor has taken a step towards buying, i.e. fills out a sales request form, signs up for a newsletter, clicks on an online advertisement, or calls for information.
To get results, the conversion process is critical. It starts simply enough by having conversion mechanisms.  Some basic conversion mechanisms are easy contact points, phone numbers, web forms, and maps for retail locations. Great websites will do much more:
Customized lead-qualifying web forms
Webinar and in-person event registrations
Subscriptions to newsletters and RSS feeds
Registration for premium content
Online purchases / donations
Once you have the functional pieces for conversion in place, the next step is to guide website visitors through the process. Teaser content, calls to actions, next step links and forms all should be part of your site.
Retention
It is often said that it is many times easier to sell to an existing customer than to acquire a new one. Once your site is doing a great job converting people into customers, you need to give them a reason to come back. Unfortunately, traditional corporate messages are not going to accomplish this.
So what do you do? Build a customer list and then get the word out with "nuggets."  "Nuggets" is a term sales consultants use to describe little gifts you send to people to build goodwill and stay at the top of their mind. There are many types of nuggets organizations use, from informative content and trinkets to greeting cards and gift baskets. One of the most cost-effective methods is to provide information. Try blogging or sending out expert tips that might interest your readers.
Business Process Improvement
There are two ways to impact your bottom line: increase revenue and reduce cost. So far, we have primarily focused on increasing revenue. However, websites can be powerful tools for streamlining business processes and reducing costs.
Website customer service is an ideal opportunity to reduce costs by allowing visitors to quickly find answers without calling your company. You can create FAQs, knowledge bases, wikis and extranets where people can find the answers they need without having to talk to your staff directly. You can improve your team's collaboration and efficiency by implementing these same kinds of tools on your company's intranet.
Web Presence Improvement
Being an online success really boils down to two components:
Having the right strategies
Implementing them faster and more efficiently than the next guy
Having all the right strategies is not something you can just plan for up front – it is an ongoing process. For example, think about how many times Facebook has changed its functionality in the last couple of years.  To truly be a results-oriented website, you must continually monitor and change tactics based on visitor response.