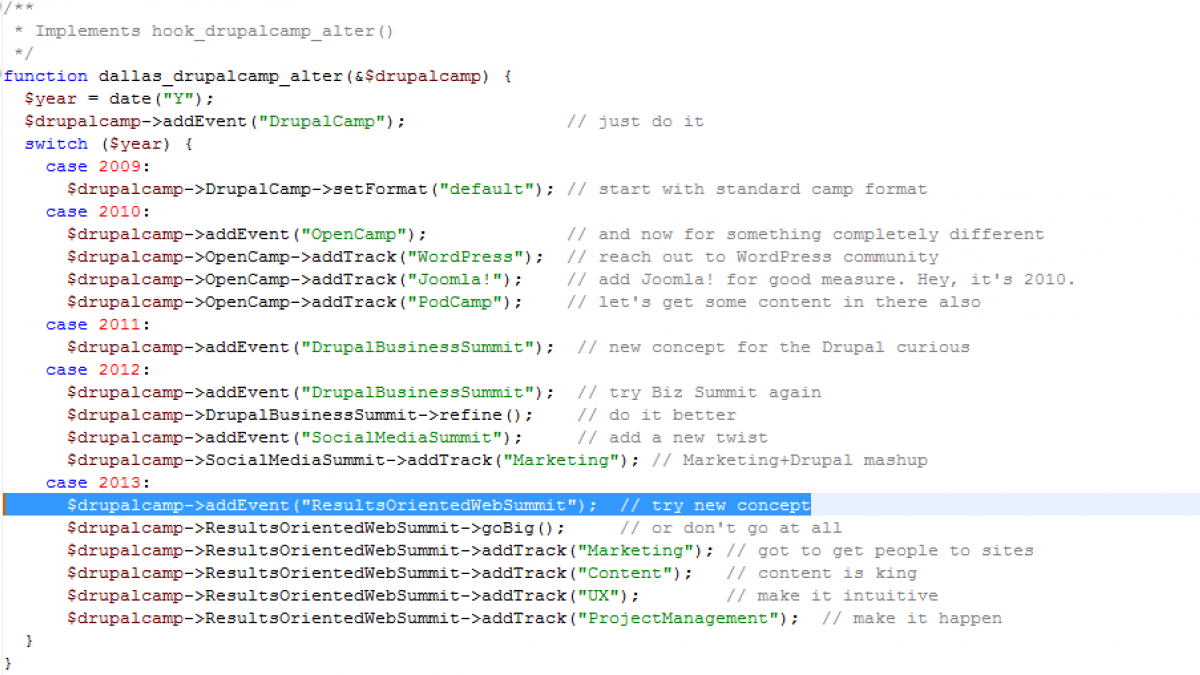 hook_drupalcamp_alter(); //experimental Drupal community building take 5
Over the last few years, one of the hottest topics among Drupal agencies is how to break out of the Drupal echo chamber and reach out to new audiences.  If you have been to DrupalCon or local DrupalCamps, you know the unique, passionate community that is Drupal. The challenge has been spreading that passion outside of the Drupal faithful.
DrupalCamps are invaluable for building the local community. However, they don't have the impact many would have hoped for as far as attracting new people to Drupal. So for the last several years, we have been experimenting with a camp model to make a bigger impact on growing the community.
This post is a quick rundown of what we have tried. What worked and what didn't.
2009 - DrupalCamp Dallas
In August 2009, we held our first DrupalCamp. I took some notes from a panel at DrupalCon DC and with a belly full of fire, the Dallas User Group jumped in head first. Five months later we had a camp. It was actually a pretty good camp. 100 people, some great sessions and sharing of invaluable knowledge at a venue donated by Improving Enterprises.
Our monthly meetup doubled in size after that. We were pumped. The next year we were going big with our Camp.
Takeaways:
If you have a local meetup group and are thinking of doing a camp, just do it. If you don't have a meetup group, start that first to get some traction. Once we set the vision and got the ball running, things came together better than expected. We had only 10 to 15 people regularly coming to our weekly meetups and were able to pull off a 100 person DrupalCamp with no real experience.
Learn from the community. We reached out to others in the community for help.
Start with a donated venue. Don't take on the risk of a commercial venue until you have a few camps under your belt.
2010 - OpenCamp
We wanted to do the 2010 camp bigger and better. We needed a bigger venue. When this proved to be more of a challenge than we thought, we reached out to the WordPress community for advice. That sparked a crazy idea - what if we did our camps together?
2010 went big indeed. It was a combined effort from multiple communities including: WordPress, Drupal, Joomla! and PodCamp. The 700+ attendees filled the Crown Plaza conference center. We joined the ranks of other high polished conferences with A list keynotes, lots of sponsors, big parties and even a skydiving exhibition to kick everything off.
I still have people coming up to me at DrupalCamps I have attended around the country talking about OpenCamp. It also did a lot to expose Drupal to other open source champions.
Takeaways:
Venues are hard. They are a lot of work but are critical to shaping your event. Start with venue research and start early - at least 6 months out.
This event had the single biggest impact of anything we have tried in promoting Drupal. We also got to know other platforms. All around, it was a big win. Try reaching out to other open source communities in your area and see if there is an interest in putting a multiplatform camp together.
A big polished event like OpenCamp was a lot of work. Luckily we had a well-organized, well connected and relentless leader, John P. Don't underestimate how much expertise and work it takes to play in the big leagues. If you have that in your community, go for it. If not stick it out with the little rough around the edges norm of most camps till you can build the experience.
2011 - Dallas Drupal Days
We tried to put OpenCamp back together. But alas it was not in the cards. I think everyone remembered how much work it was.
Undeterred, we set out to plan DrupalCamp on our own. One of our primary goals was to find a way to add to the standard DrupalCamp model to reach new audiences. The feedback we got from previous camps was that those new to Drupal were a little intimidated by the more advanced nature of the sessions. So we decided to host a day for the people wanting to understand Drupal and figure out if it was right for them.
We split the conference into two events: a traditional DrupalCamp on Saturday and a Drupal Summit on Friday. The concept behind the summit was to focus on case studies by organizations using Drupal. It was a way for those still evaluating Drupal to connect with others like them.
It was great in theory, but the Summit did not come off quite the way we wanted. Most people did not understand how the Summit was different from the camp. It was mostly attended by seasoned Drupalers attracting few new Drupal explorers. We realized we were pretty good at promoting to the Drupal community but struggled to go beyond it.
The Summit also was hampered by venue logistics. After much searching, The University of Texas at Dallas donated a venue space. While free was great, there were many drawbacks. In particular, we were lowest on the schools priority list. We originally planned the conference for April but UTD kept delaying confirmation that the space was available. We eventually had to push back to July and even then we only got 6 weeks prior notice for the go ahead.
Despite the short timeframe, the Camp came off pretty well. I was particularly struck by how strong the sessions were and how knowledgeable Drupalers are about web best practices in general.
Takeaways
Free venues are great, but there are tradeoffs. Many camps are held at universities which graciously donate the space for free or a very small fee. But, understandably we are not their main priority. Be prepared for logistics issues.
While we didn't achieve 100% what we wanted with the Summit, it was worth trying even if we learned what doesn't work and what to change.
Don't do a conference in Texas in the summer! It was 107.
2012 – Dallas Drupal Days + Social Media Summit
For 2012, we wanted to avoid logistics issues of free space. After a lot of time and effort we finally found a venue that was pretty cool and affordable enough to keep tickets at open source prices. We wanted to refine the Drupal Business Summit + DrupalCamp model. Since the summit was a smaller event, we had some extra space on that day. What to do?
After some brainstorming, we decided to put together a separate co-located event that was Drupal agnostic and would attract a more broad digital audience. We know a lot of great presenters in the online marketing space. So we put together the Results Oriented Social Media Summit and ran it in parallel with the Drupal Summit and Camp.
The concept was an awareness play. We wanted to expose Drupal to influencers who knew little to nothing about the platform. We also were hoping to get Drupal developers more in tune with the needs of marketers.
Both conferences were pretty successful. There were over 100 attendees at the Social Media Summit with some incredible presentations. A lot of Drupal fans attended and commented on some of the marketing sessions. They really enjoyed them. Probably the most entertaining cross-over session was Southwest Airlines talking about their Drupal blog. SWA hires some very uniquely passionate people which made for a great talk.
Takeaways
Having a real venue that provides a seasoned space coordinator was a huge help. While it was a little scary to commit to a traditional event venue, we found one that was under $10,000. We did lose a little on the conference, but not that much. It did save us a lot of time and enabled us to plan and promote better.
Two weeks away from DrupalCon is not enough. Several of our usual pals didn't make it to the conference. Many took extended time after DrupalCon Munich or were just worn out from the trip.
Consider tracks or even a parallel event that would appeal to those that don't know Drupal. The Social Media Summit was pretty effective in promoting Drupal to a new audience. The Drupal faithful really like the optional change of pace also.
2013 – DrupalCamp Dallas + Results Oriented Web Summit
After two tries at the Drupal Biz Summit concept, we felt it was not as effective as we would have liked promoting Drupal outside of the echo chamber. It is not that the Biz Summit idea is bad; after all, Atlanta had an amazing Drupal Business Summit. We just felt we got more traction from the Social Media Summit. 
Saturday will be the 5th annual DrupalCamp Dallas using a fairly typical camp format. The Friday before, we are nixing the Drupal Business Summit and replacing it with a sister conference that expands upon the Social Media Summit concept. In particular, we wanted to add tracks to cover a wider range of interests for digital managers and Drupalers alike. We have added tracks for content, UX and project management to complement the marketing track.
We are calling it the Results Oriented Web Summit. We set it up as a separate event with its own website (it didn't take much time to clone the COD dallasdrupal.org site and tweak the theme).
So far, so good. We have a lot of great speakers and a solid mix of DrupalCamp and non-Drupal people signed up. After the conference, I will follow up with how well this latest experiment worked – and how well it promoted Drupal.
Takeaways
Drupal events are one of the most powerful opportunities for us to grow the community. Traditional DrupalCamps are great for getting those who have already adopted Drupal engaged but are not that effective at attracting new people. Start with a traditional DrupalCamp and grow from there.
Drupal Business Summits are designed to attract the Drupal curious. This is a very valuable segment. While we were not as successful as we would have liked in attracting that audience, I still recommend this format for your second step. You can learn more at drupalsummit.com. More than a dozen Summits have already been put on and the organizers are very happy to share their experience.
Try something new each year. The best way to learn is to experiment, measure and refine. Maybe you can reach out to other communities in your area to create a combined event. A great example to follow is BADCamp. They organized solution specific tracks. I love this idea. It does a lot to make Drupal highly relevant. But most importantly, they are trying new things and reaching new audiences.
Who knows, you might discover the next great idea that we can all use to better spread the Drupal love.
Join Us
If you would like to experience one of the most unique events in the Drupal world, please join us for DrupalCamp Dallas and the Results Oriented Web Summit. You can attend both for just $100. (Register for the ROW Summit first and then use the coupon code sent to you for the DrupalCamp.)
Or tweet "I'm going to #ROWDFW" with a link to this blog post and follow @rowspeak for a discount code.