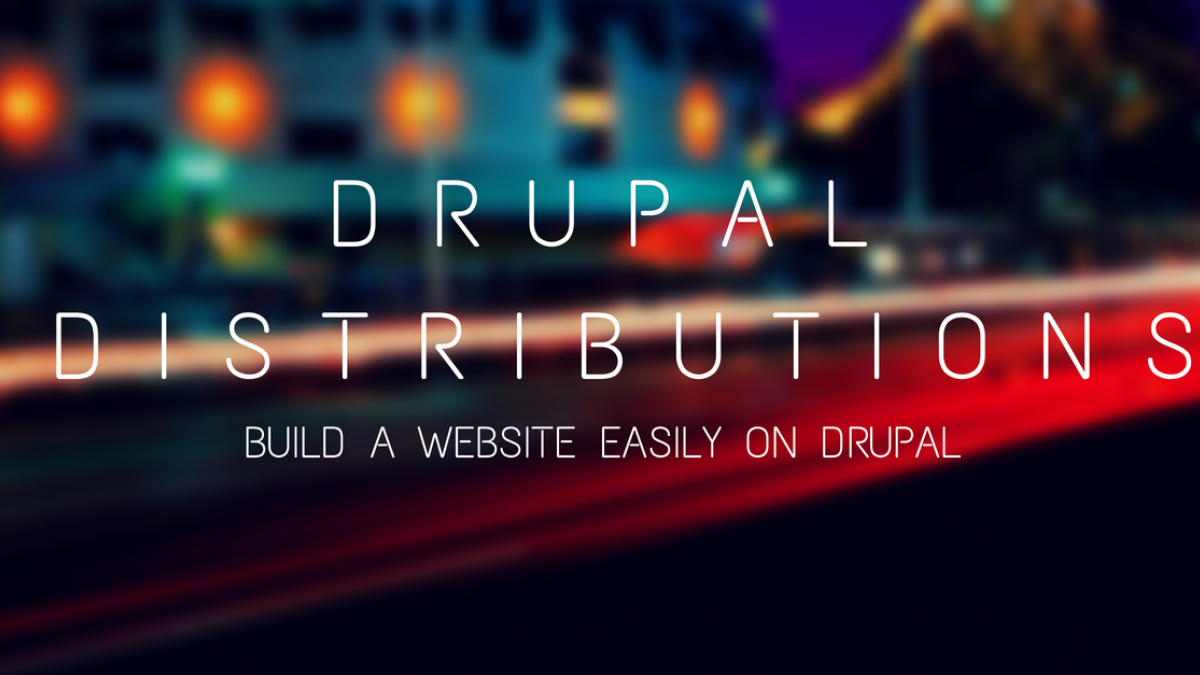 Building A Website Made Easy With Drupal Distributions
So, you decided that you want to build your website on Drupal, great! Your options now are "Do I build a website with the blank slate Drupal offers and build from the ground up?" or "Do I choose a Drupal Distribution?"
Now you're probably wondering what's a Distribution? Well, a Drupal Distribution is still just Drupal.
LET'S BREAK IT DOWN:
Drupal is composed of a few standard parts, that also come in  some shape and form with in a Drupal Distribution.
Core- is the set of files of basic code you get once you download Drupal from drupal.org. However, other files such as a licenses and some images are included, here we are only talking about the code.
Modules- In Drupal, a module is generally just code that adds a feature to a website. Drupal has thousands of modules that have been contributed to the community by developers.
Themes- there are is RARELY any websites out there that look exactly the same, and that is due to themes. No one wants to use the default theme. 
Configuration- Your "modules" need to be configured so that they can be used. When configurations is saved it is saved as extra code.
DRUPAL DISTRIBUTIONS: BEST IN BREED APPROACH TO DRUPAL
Now that you know a little about Drupal and what it would take to make a website, let's focus on Drupal Distributions. A Drupal Distribution is simply a best in breed approach to Drupal. What essentially is best of breed? Well its a combination of Core - Drupal 7, if you are familiar with Drupal, with some specific modules, themes, and configuration.
Someone or more like a company, like LevelTen Interactive's Drupal Distribution-- Open Enterprise, has built and configured a Drupal site for a particular purpose. Open Enterprise's purpose is to be a content management and marketing system. Other distributions are specific to education, government, magazine and newspaper, nonprofit, social and community distributions.
The main goal for installing a Drupal Distribution is to add content to your website. It helps getting rid of picking and choosing which module or theme you need for your website, it essentially takes away the headache of designing a website and get's you straight to adding and publishing content to get your website up and running in no-time. 

Characteristics of a Drupal Distribution:
Let's take Open Enterprise as the Drupal Distribution example for the characteristics that make some distributions starting a website easier.
There's no need to learn code or write code for that matter to add pages to a website.
Easily start adding blog posts to your website with a click of a button and a powerful WYSIWYG.
Change the look and feel of the page by using different layouts for particular pages.
Add CTAs faster and easier to your website, be it on the side or footer of a page.
Built in SEO
Easily share your content on social media sites.
Now why wouldn't anyone want to use a distribution? You get everything you need with key modules that allow you to make your website successful in building, designing, and managing. Adding content is the main factor though, this is the bread and butter of your website that will allow you to attract, convert, close leads.
Have any question on our Drupal Distribution? Or what a Distribution can do for your website beginning? Let me know in the comment's below.