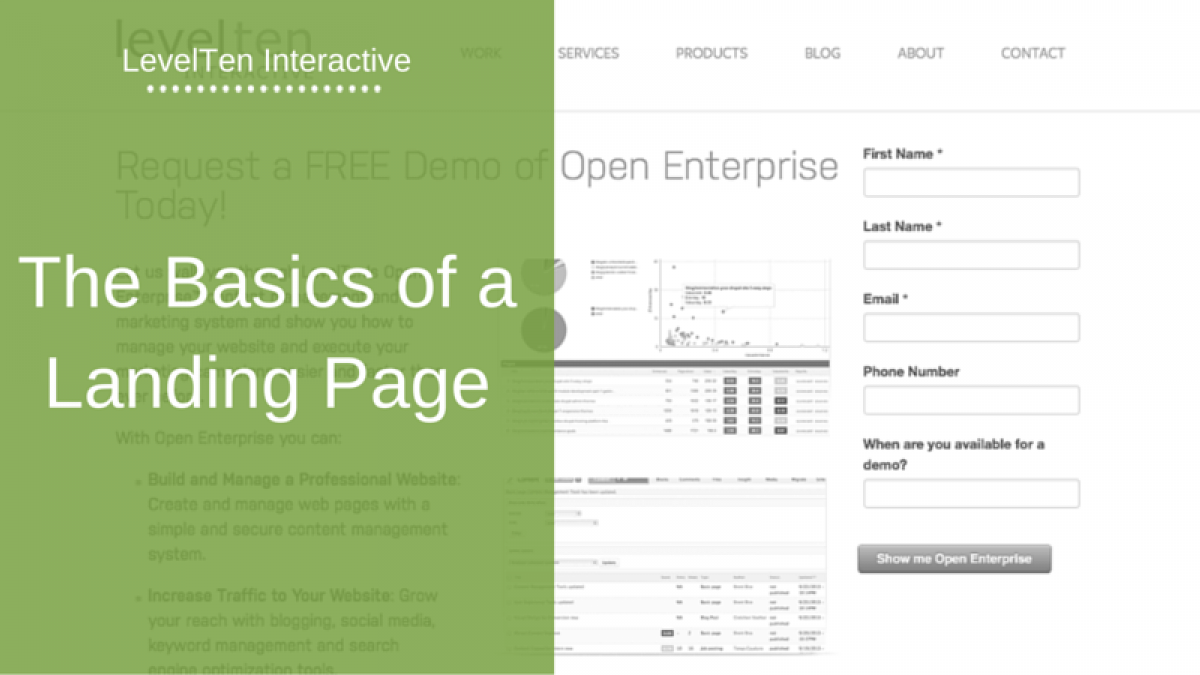 The Basics of a Landing Page
Do you have landing pages within your website?  If so, do you have enough landing pages to capture all the leads that you could?  More than likely, you do not.  Most businesses only maintain a handful, yet companies with 40 or more landing pages get 12 times more leads than those with 5 or fewer.  Here we will outline the definition of a landing page, discuss why they are important, and suggest some tips for putting them to work for your business.
What is a landing page?
A landing page is a section or single page of your website where a visitor "lands" in response to clicking on links in search engine results, online advertisements, or your site's call-to-action buttons and internal links.  There are two types of landing pages:
A reference landing page provides specific information that the visitor is seeking, either by searching, clicking on a link in an advertisement on social media or a pay-per-click ad, or perhaps scanning a QR code.  The information presented on the landing page should be a direct, logical extension of the link the user clicked to land there.  As an example, try searching for "shovels" on Google, and one of the first few results will be for Home Depot.  When you click on that search result link, you will find that you do not go to Home Depot's home page, but directly to a landing page about how to choose a shovel, and the store's selection of shovels.  You are taken directly to what you were seeking, rather than having to search or navigate from the store's main homepage.
A transactional landing page is also known as a 'conversion form' or 'lead capture page.' It contains (or directly links via a call-to-action) data inquiry forms which collect information about a visitor, minimally name and email address, but sometimes much more.  In order to collect that information, the landing page offers something of value to the visitor.  For example, a landing page may ask for a visitor's name and email address in exchange for setting up a free account, downloading a file, or getting requested information.  Once the contact information is obtained, you gain the ability to follow-up with future communications, and thus convert that visitor to a lead, and eventually a customer.
A landing page is not your home page.  A home page should contain a variety of information, providing a well-rounded presentation of your brand, what your business does, and how it can benefit the visitor.  Linking your marketing efforts back to your homepage, instead of to the specific good or service in your ad, is a common mistake.  44 percent of marketing links lead to homepages when they should lead to landing pages. 
Why are landing pages important?
Most visitors who follow a link to a landing page are not ready to make a purchase during their first visit.  They follow your link to further explore your offer.  If they do not make a purchase or sign-up for what you are offering in that moment, they might be lost forever.  But when you are able to capture the visitor's contact data, they become a lead, and you can keep them moving through your sales funnel.  You can continue to reach out to them via email, phone calls, or social media to encourage them to come back and make the purchase.
More landing pages mean more opportunities to gain leads and fill your sales funnel.  Businesses have experienced a 55 percent increase in leads when increasing the number of landing pages on their site from 10 to 15, yet 62 percent of businesses have fewer than 6 landing pages.  Optimized websites will have a landing page for every single offer presented to potential customers.
Beyond conversions, collecting contact and demographic data via landing pages can also help you better understand your target audience.  This helps you to segment and target different parts of your audience with offers relevant to their interests and needs. You can also track where your leads are originating and the effectiveness of your marketing efforts. 
How do I make an effective landing page?
Limit your opening message to less than 5 sentences, and clearly communicate what the visitor should expect if they provide their contact information.
Eliminate clutter and links to other products to help focus your visitor's attention on the reason that they came to your site.
Place the most important content, calls-to-action, and inquiry fields above the fold.
Asking for too much information on a landing page can feel invasive and result in bouncing your visitor.  To help narrow leads to clearly interested visitors, consider a two-step opt-in process, where you collect basic information on the first landing page, and then provide a 'Next' button to a second landing page where more info is requested.
Build visitor's confidence in you by including images that show the product being used, and testimonials about how your customers were able to solve a specific problem with your service.
Create a "halo effect" by displaying well-known company logos of business-to-business customers.  When visitors see that those customers have chosen to support your business, it suggests that they can trust you too.
Omitting navigation bars and menus on landing pages decreases the options the visitor has to consider, so that their choices are to complete the inquiry fields, or use the 'back' button.
Remain consistent in your brand message, tone, and design throughout your site, including your landing pages.
Incorporate social sharing buttons to facilitate visitors sharing your landing page on Facebook, Google+, and Twitter, and thus extend the reach of your offer beyond your network of leads.
Follow-up a customer's form submission with a 'thank-you page' that lets the customer know that their submission was received, and what to expect next.  This might be a link to what they wanted to download, or a message informing them to check their email.
Remember that effective calls-to-action are essential to getting the visitor to the landing page.
Landing pages work.  It is time to start cranking them out for your site.  Get familiar with your audience.  Discover what ads are working for you.  Generate loads of new leads.  Boost your conversions.  Try them out and see what happens!