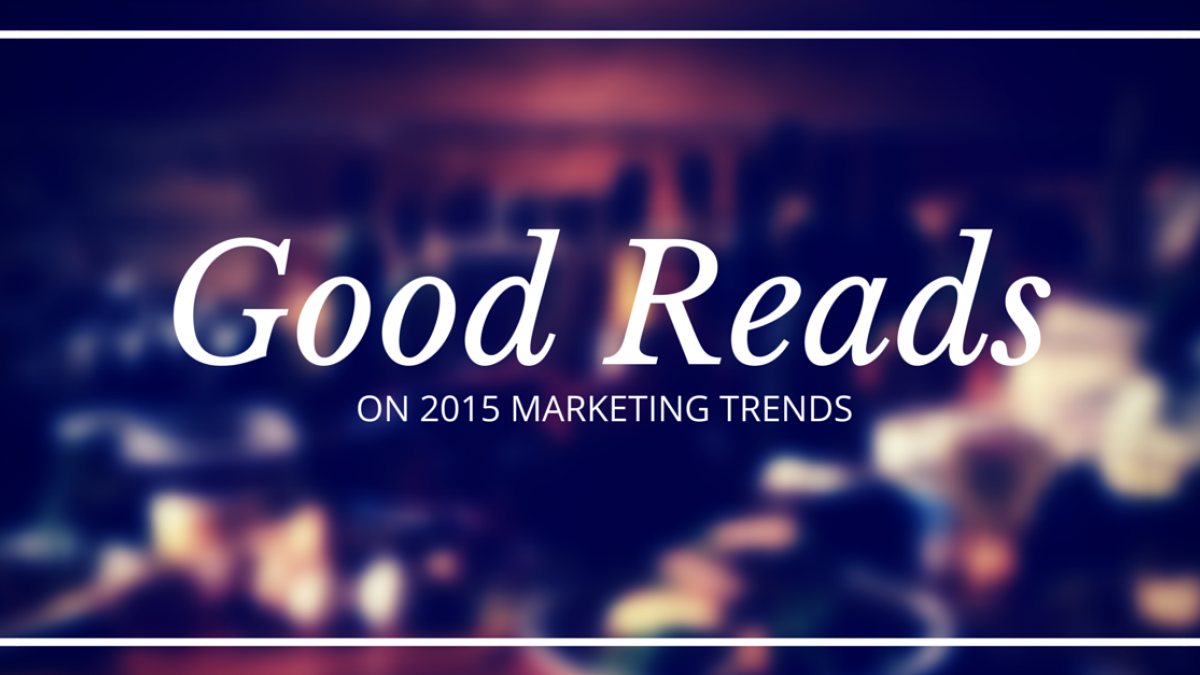 Good Reads on 2015 Marketing Trends
The year is coming to an end, which leads to a new year with new trends and technology advances. In recent weeks, I have come across some interesting takes on what various marketers believe will be trending in the marketing industry in 2015. Today, I will share my favorite articles below.
11 Marketing Trends To Watch For In 2015
This article, by Avi Dan for Forbes, goes into detail about the 11 marketing trends he believes will be big in marketing for 2015. What resonated with me was what Avi said about marketing shifting from globalization to a more personalized industry. Read more here. 
The Top 7 Content Marketing Trends That Will Dominate 2015
Jayson DeMers, also a contributor for Forbes, shares his views on content marketing and the rise of paid social media advertising to distribute created content. Along with using paid advertising, businesses plan to increase their marketing budgets in 2015 to help create more diverse content, according to the B2B Content Marketing 2015 Benchmark Report. Read more on Jayson's predictions here. 
6 Social Media Marketing Trends for 2015
Over at PracticalEcommerce, Paul Chaney writes about six social media marketing trends for the New Year. He talks about the new emerging niche social networks, the decline of Google+, increase of direct-purchase on social media sites and the how LinkedIn will dominate B2B Marketing. Read more of Paul's predictions here. 
What I think will be big for marketing in 2015
After reading countless articles on marketing trends, I predict the "buy" button on both Twitter and Facebook will challenge marketers to start targeting their audience by selling their products in real-time. This involves a more personalized way of marketing, just as Avi Dan mentions in his article. Also, paid post, boosted post, or whatever you want to call it, will also have a major impact on marketing and the marketing budget. Instagram, one of the fastest growing social media networks, now offers brands to pay for "sponsored" images while directing the consumer/user to their website link in their bio brief.
Because we are talking about marketing in 2015, I thought I would mention that Inbound Marketing Week will be held on March 2-6,2015, championed by HubSpot. To learn more about Inbound Marketing Week, read more here. 
What are some trends in marketing that you feel will be big for 2015? Leave your opinion and comments below!