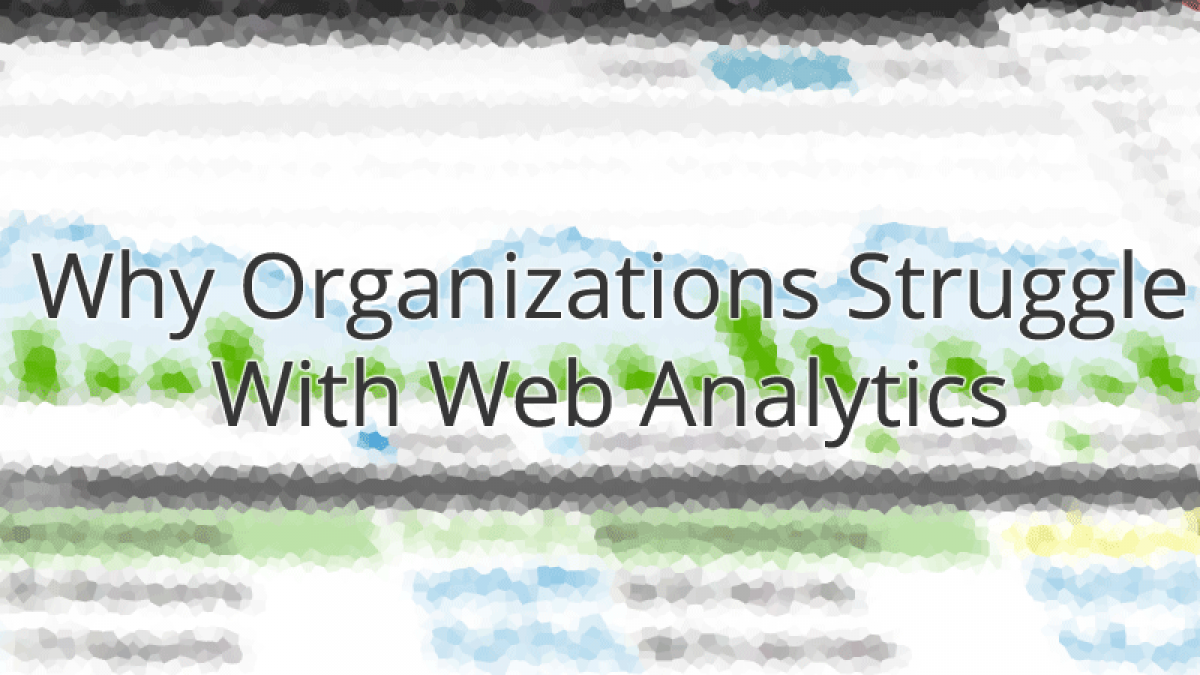 Why Organizations Struggle With Web Analytics
Web analytics software is being used in most organizations for basic analysis and reporting, but provides little (if any) actionable insight into marketing efforts. Many people login to analytics searching for "the magic answers to their business problems", but they don't have specific goals, or challenges they want to analyze/address. Then they become overwhelmed with the amount of information they receive. They throw their hands in the air and concede defeat.
True, many organizations are either using sub-par tools, or their analytics are not properly integrated into their website(s). But at the root level, business don't get the answers they are looking for because they don't have a clear understanding of their top goals and objectives and how both are reflected on their website. The result is very generic data reporting that does not help them achieve their business goals.
Fortune 500 companies using Google Analytics (over 51%) must heavily customize analytics to capture unique data in order to glean insights needed to make educated marketing decisions. Many businesses run multiple analytics packages in order to attain more intelligence resulting in more passwords to remember, more reporting to run manually, and more time to consolidate data.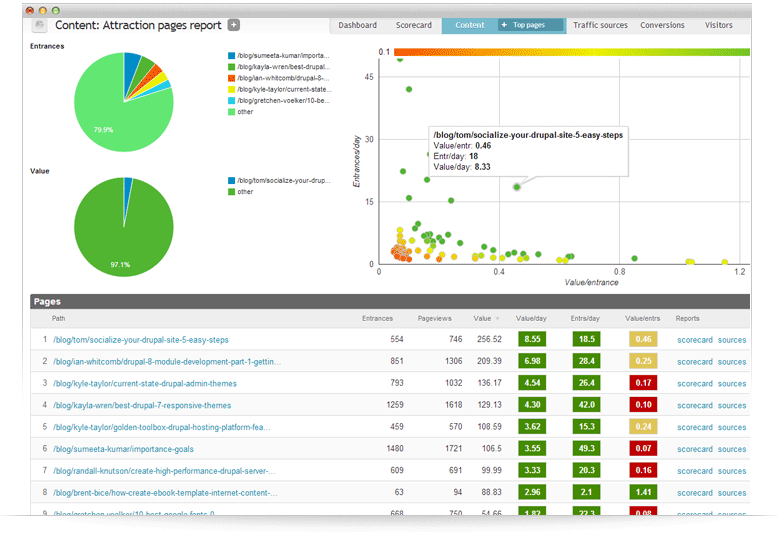 What if there was an easier way to leverage big data platforms like Google analytics to gather actionable intelligence?
What if you could:
Determine what subject matter provides the most value (ROI)
Determine what traffic sources historically generate the most leads for your organization
Better understand what "type" of content gets the most traffic, engagement and conversion
Gain insight into which social media network provides the most value
Measure which calls to action generate the most interest
Google Analytics actually provides the data points (more than 200) to capture the aforementioned marketing intelligence. It's really just a matter of understanding what to measure and how to measure it so you can more easily create actionable intelligence.
Here's an example - LevelTen wanted to gain a better understanding of which blog posts (and blog topics) generated the most value based on a combination of factors. We created an algorithm, which scored each blog post, comment and CTA click, then listed the results by value score. So, if a blog posts visit was worth 5 points, each comment was worth 10 points and each CTA click was worth 20 points, we could simply add up the scores for each action per blog post to determine the value. We could also segment findings by blog post terms to determine what term (topic) provided the most value. Doing so allowed us to better understand where we should focus our time and attention, thus optimizing our marketing efforts.
Why do organizations struggle to integrate web analytics with their websites?
I believe there is a "disconnect" between marketing and IT. Marketers often know what they would like to measure, but don't how to get the results. IT, on the other hand, doesn't always see value in marketing so they can be somewhat dismissive when marketers request integration. And honestly, there are very few people that dive deeply into Google Analytics' API to understand how to collect an display the data.
To solve this, marketers should share their goals and objectives with IT so that developers have a better understanding of what needs to be accomplished and why it is important. Developers need to be more receptive to marketers and look for ways to improve marketing processes through technology.
LevelTen is fortunate to have an owner whose background is programming, but whose passion is marketing. He realized the need for better analytics integrations and has worked very hard to bridge the gap. Initially, we created web services and modules between Google Analytics and Drupal as our "secret sauce", but after our clients saw many benefits, we focused heavily on creating it as a stand-alone product. The result is a suite of supported Drupal modules that help marketers better understand the true value of their marketing efforts so that they can make more informed decisions.
For all intents and purposes, it is Google Analytics (on steroids), built into Drupal, with automated event creation - giving you deeper insights to make more intelligent marketing decisions.
Many businesses struggle to understand their analytics in order to make more informed decisions. If you are one of those businesses, we want to hear from you. Do you agree or disagree with this post? I would love your feedback.