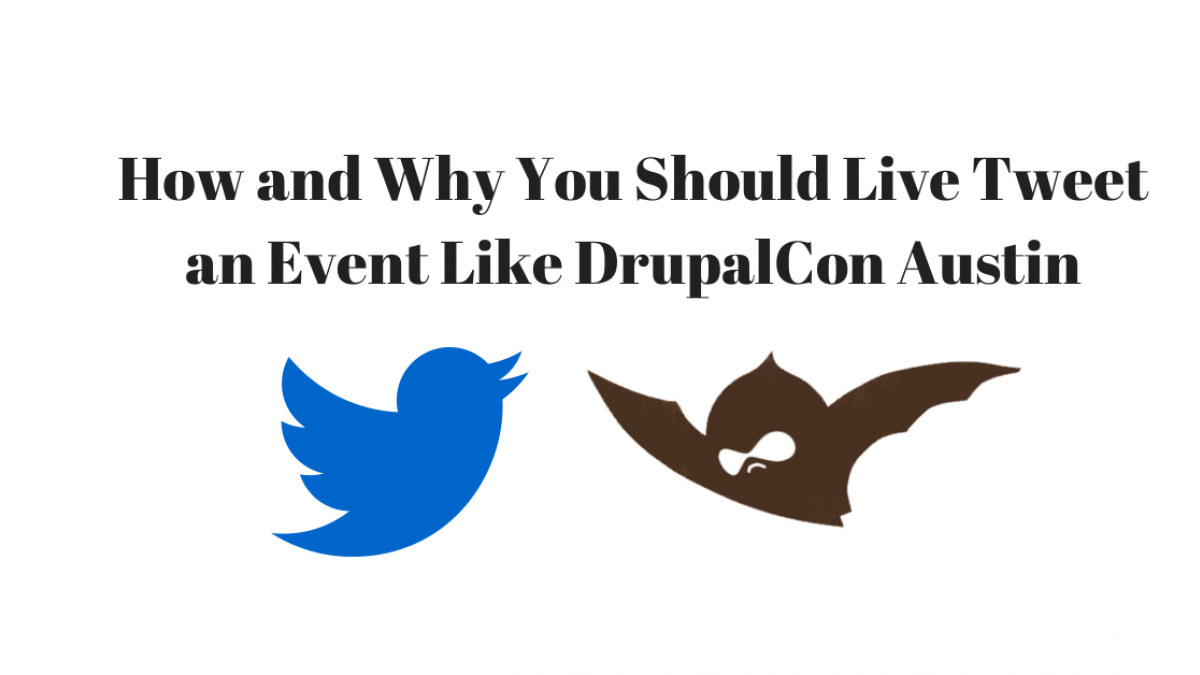 How and Why You Should Live Tweet an Event Like DrupalCon Austin
Have you ever noticed when Apple holds it's WWDC or even when SXSW takes place, many take to Twitter to "Live Tweet" the event? Most major conferences are now documented by people tweeting about sessions via a designated event hashtag.
Twitter helps you to extend the reach of your event and audience. It also helps that it allows your Twitter followers who are not able to attend the event to be in the loop. Here are a few steps to get you started with "live-tweeting" your event:
CHOOSE A #HASHTAG. If the event you plan on live-tweeting is yours, then be sure to have a dedicated #hashtag for your event. If you are attending a conference it's best to check if the organizers have one picked first. Remember to make the #hashtag short so there is plenty of characters left for Tweeters to comment.

IDENTIFY THE SPEAKER. During your event or conference be sure to reference the speaker or the company presenting. If you start your tweet with the speaker's Twitter handle be sure to put a period before the name so you are referencing and not directly messaging that person, for example: ".@LevelTen". This will show up in everyone's timelines.

USE MULTIMEDIA. Nothing is better than showing your followers images or video clips of an event to go with your tweets. People love visuals and this is a great way to gain the audience's attention. Vine app by Twitter allows you to take 6-second video clips. This app easily integrates with Twitter. Also, images taken on a smartphone through the twitter app will allow the image (pic.twitter) to display on followers and your timeline.

NETWORK (FOLLOWING AND FOLLOWERS). Tweeting from an event usually allows for new connections in terms of followers. Also, remember to follow those that are relevant to you, are using the designated #hashtag, and are adding to the conversation. These types of followers can eventually lead to leads.

ANSWER QUESTIONS. When followers of the live-stream ask questions regarding the product, event, or speaker be sure to respond in a timely manner. Those that ask question are more likely to be interested in whatever it is being presented and be more likely be a lead for you or your company.

KEEP SMART DEVICES CHARGED. There is nothing like your phone, laptop, or tablet running out of battery during an event, especially one that is being live-tweeted. Be sure to have an external battery charger to keep all your devices full.
Will you be attending DrupalCon Austin in June? Come and visit us and use our designated hashtags: #OEintel and #LevelTen. You will find the team of LevelTen tweeting about the days events and sessions they will be attending. Be sure to follow @LevelTen on Twitter for updates.
VISIT OUR BOOTH:
Visit us at Booth #210 to learn more about our products and meet the LevelTen Interactive team.
When: Tuesday, June 3, 2014
Where: Room 11 | 4th floor of the Austin Convention Center.
Time: 10:45 - 11:45 am
Drupal Version: Drupal 7.x
Experience Level: Intermediate
​Track: Business Showcase