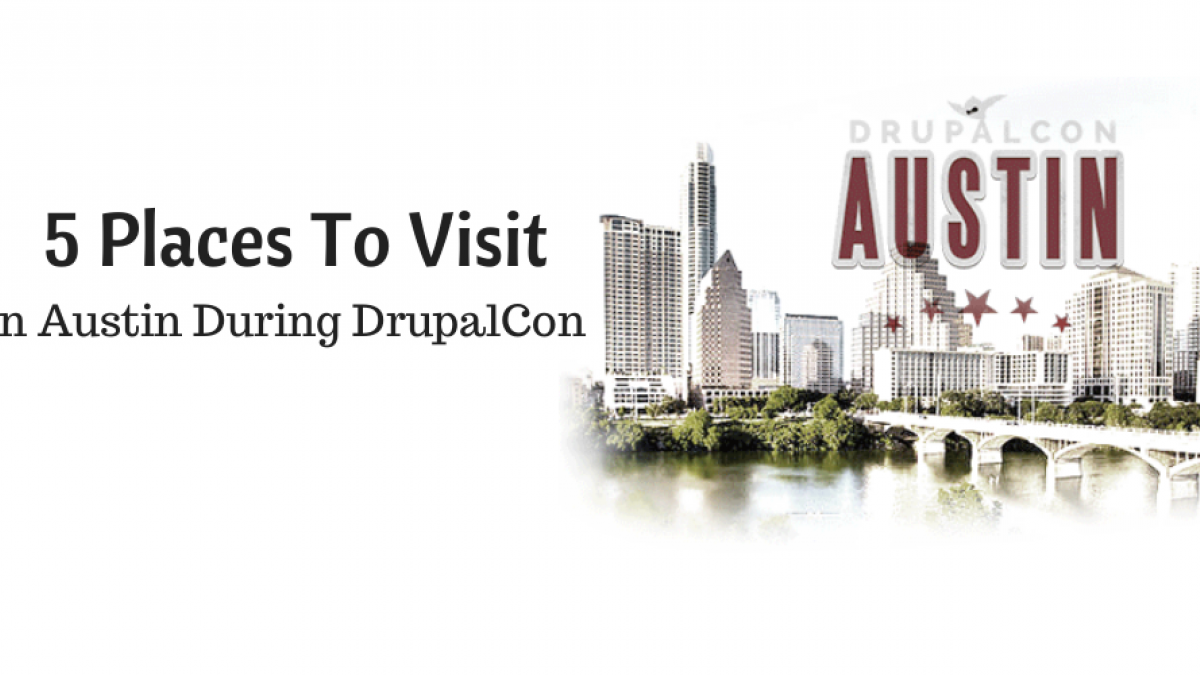 5 Places to Visit in Austin During DrupalCon
DrupalCon Austin is just 3 weeks away and although we will all be attending the many sessions that DrupalCon has to offer, there's always time to do some exploring. Besides Austin being the state capital, it is the 11th-largest city in the United States and the fourth-largest city in the state of Texas. It's such a unique city, with an unofficial slogan of "Keep Austin Weird", it's a place that has to be explored. Here is a list of the 5 places to visit in Austin, Texas.
Texas State Capitol
A visit to the state capitol should be your first destination in Austin. Wander around the capitol on a self-guided tour. The Texas State Capitol is the sixth tallest state capitol and taller than the United States Capitol in Washington, D.C. The must see features in my opinion would have to be walking around in the rotunda and seeing all the portraits as well as looking up to the spectacular dome architecture. 
Location: 1100 Congress Avenue Austin, Texas 78701 

Admission Fee: FREE

Operating Hours: Monday to Friday from 7am to 10pm; Saturday and Sunday from 9am to 8pm 

Website: www.tspb.state.tx.us
Congress Avenue Bridge
What's so great about a bridge? A bridge that is home to the largest urban bat colony in North America!  About 1.5 million Mexican free-tail bats call it home from Spring to early Fall. Around sundown, the bats start their evening flight. The best place to witness this natural event is at the Congress Avenue Bridge. 
Location: The Congress Avenue Bridge is in Downtown Austin, just 10 blocks south of the State Capitol building. 
Admission Fee: FREE
Website: Bat Conservation International
Tyler's
Tyler's is a store that just so happens to be the place where you can buy the shirts with the city's unofficial slogan, "Keep Austin Weird". Everywhere you go in Austin and even outside of Austin in Texas, you might encounter someone wearing this shirt. They come in a variety of colors. 
Location: 2338 Guadalupe, Austin, TX 78705 and 701 S Capital Of Texas S. Hwy. #B 250, Austin, TX 78746
Website: Tyler's Austin
Alamo Drafthouse Cinema
The Alamo Drafthouse is not just a theater, it's an experience. Yes it shows current movies and serves food and beverages like many others, but what makes this place unique is that it shows cult classics. It also shows indie films, hosts events, and has it's own series called "Alamo Signature Series". It offers a different experience than national franchise movies theaters do; making it a place to go visit while in Austin.
Location: 6 Austin Locations
Website: Alamo Drafthouse Cinema
X Games
The X Games selected Austin for it's host for the games and music festival for the next four years, replacing the previous city Los Angeles. Famous skateboarders will descend upon Austin June 5-8, just as DrupalCon Austin comes to the end. The X Games will feature Kanye West as the Game's headline act for it's music festival. 
Location: 9201 Circuit of the Americas Blvd., Austin, TX 78617
Website: xgamesaustin.com
Do you have any places that warrant a visit while at DrupalCon Austin? Feel free to comment below!