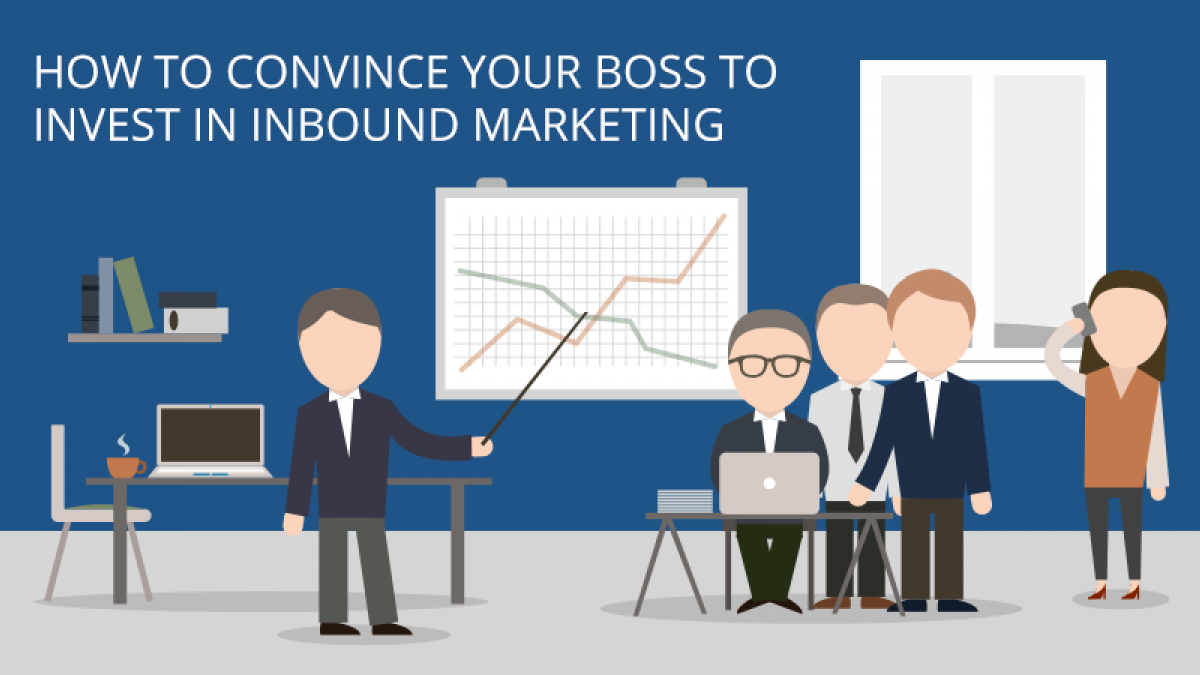 How to Convince Your Boss to Invest in Inbound Marketing
Have you jumped on the inbound marketing bandwagon? Plenty of people agree these days that inbound's educational, user-focused approach is the best way to stay ahead of the competition.
However, now you face a dilemma: selling your boss on the idea that it's worth the investment of both time and money. 
We have two easy ways to convince your boss:
Talk numbers. 
Give them the opportunity to try it on for size.
Let Them Try it on For Size.
One of the biggest problems with trying to convince other people that they should come join you in Inbound Marketing Land (it's fun over here! We have ponies and cupcakes!) is the idea that it's an all-or-nothing proposition. 
Because inbound marketing is a complete philosophy (that is, a holistic methodology for the most effective way to approach online communication with your customers and potential customers), it seems like a binary choice to management. Either the company decides to leap into inbound marketing, with all the investment in time and money that it takes for blogging, website design, email marketing, and so on, or it decides to stick with traditional marketing methods. This is likely to get you a "no" just because it's automatically a high-risk option.
If your management is likely to be averse to the idea of a completely new marketing philosophy, it's your job to lower the perceived risk. The best way to do this is to let them "take a bite" and try inbound marketing on for size. 
The simplest approach is to try just one targeted email marketing campaign or one series of blog posts. While a full inbound process has a lot (a LOT) of moving pieces, a single email campaign or blogging campaign lets you capture a discrete chunk of the process. Choose one of your target audiences that you already have a substantial segmented email list for: for example, if you're a home improvement store, you could target customers who are remodeling their kitchen. 
From there, do a deep dive into research: what are the pain points for people who are remodeling their kitchen? What information are they looking for? What problems can you help them solve? Develop some quality blog posts around this content, and if you have the bandwidth, you can also create some infographics, free downloadables, and even short videos shot on a smartphone. Then run a tight, simple campaign of three emails to entice people to your new attraction content. 
A "starter" email campaign or blog post campaign has lots of advantages: there's minimal investment of money (although content creation will take some time), it allows management to see and get a feel for how inbound marketing plays out in practice, and it lets you see what kinds of results you might get. 
Talk Numbers.
Let's say your boss doesn't really understand what all the fuss is about. We've made it easy for you to communicate value by giving you a plethora of stats that illustrate how and why inbound marketing works.
Proving a verifiable return on marketing dollars is one of the most common challenges most marketers face. Indeed, marketing has traditionally been hard to quantify, which is why we have so often been viewed as just "the t-shirt department." 
The internet has changed this: before, we had no way of knowing when people looked at the company's catalog, how long they spent on each page, and what they were considering buying. Now, analytics tells us all of that information! And it's our job to demonstrate our value to the rest of the company.
Here are our favorite stats to help you do just that:
Return On Investment: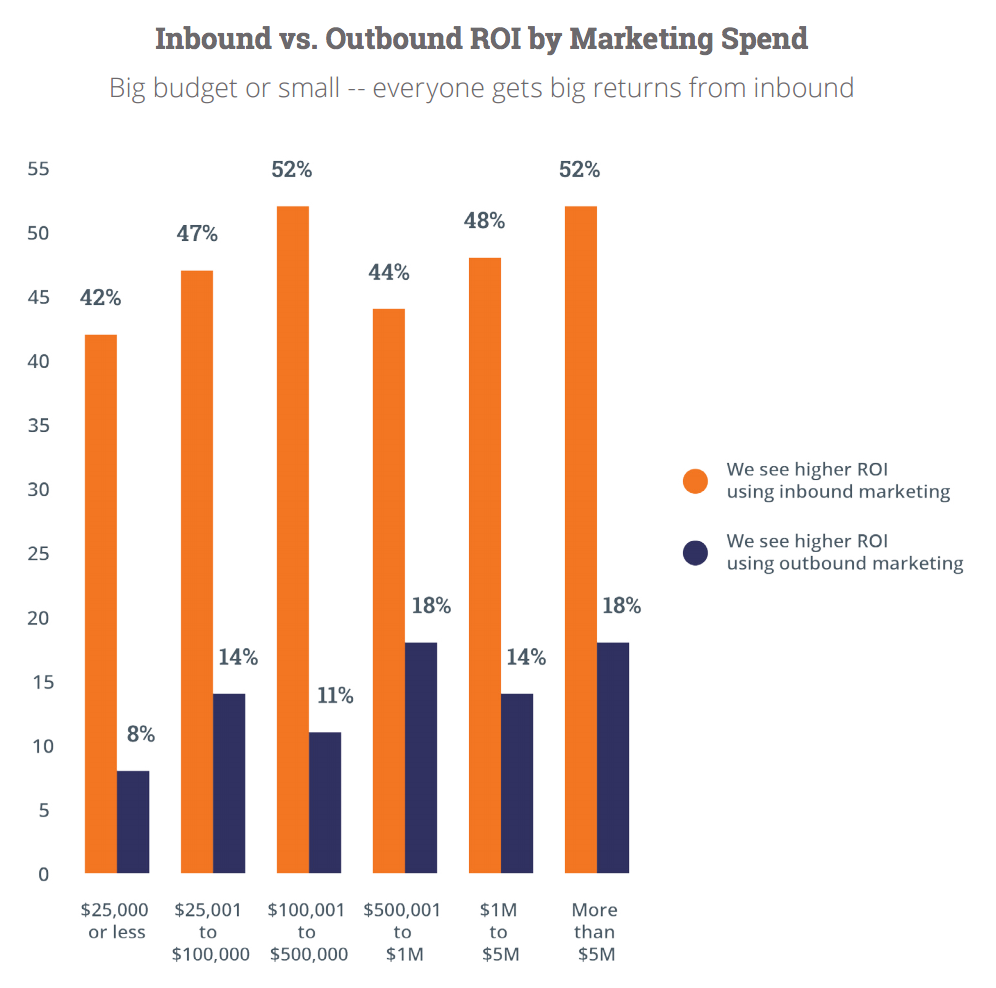 Image Source: State of Inbound 
Budget Statistics:
Once you've proved that ROI can be successful, you have leverage to negotiate for a higher marketing budget.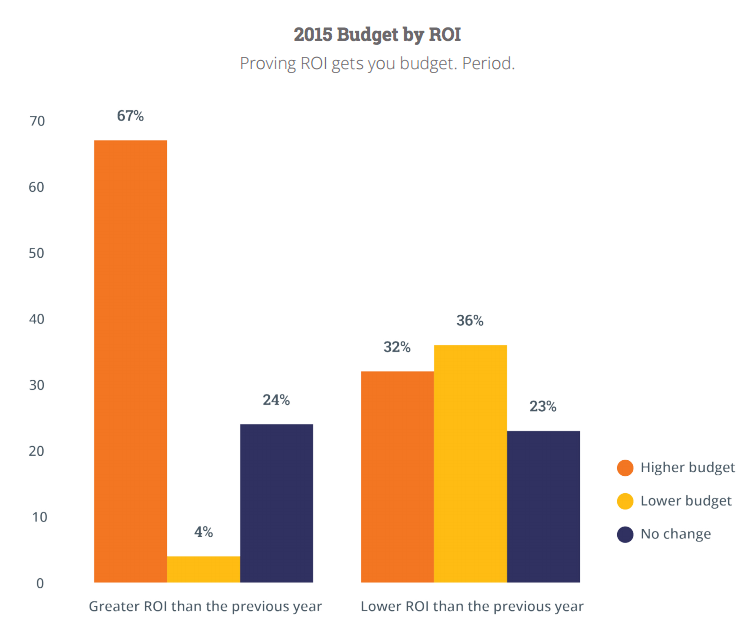 Image Source: Hubspot
Inbound and SEO:
Lead Generation:
Now that we've gone through some staggering ROI, budget, and SEO stats, it's time to really blow your boss' mind. All the effort a marketer puts into inbound marketing should have a direct, positive effect on your company's sales funnel, and, ultimately, on your bottom line.
In Summary:
Now that you have all the most compelling statistics to give to your boss, you should be able to successfully open their mind to see the benefits of following the inbound marketing methodology. 
Of course, before pitching management all these spectacular statistics (which only seem to increase every year — we're eagerly awaiting HubSpot's State of Inbound 2016), be sure to provide them with a little background on what inbound marketing is. 
Here's the short-and-sweet version: Inbound Marketing is a number of online marketing tactics that organically attract new visitors to a business' website, rather than seeking these visitors out through old methods like direct mail or cold calling. first hand, i.e. cold calling. At the root of all inbound marketing is quality content, be it web page content copy, blogs, whitepapers, emails, or social media.
These figures and statistics are meant to be a conversation starter between your boss and yourself. It is much easier to understand a concept when there are numbers involved. However, if you can convince your boss to start dipping a toe in the water, try blogging or a small email campaign. Prove that with this simple inbound marketing tactic your company website will benefit and result in an increased site traffic. This will be the easiest way for you to dip your toes in the inbound marketing train and give measurable results to your boss. 
There's nothing better than proving our success as marketers, and the C-suite loves it too.Now, go spread the word of inbound marketing and convince your boss that it is the future of marketing.