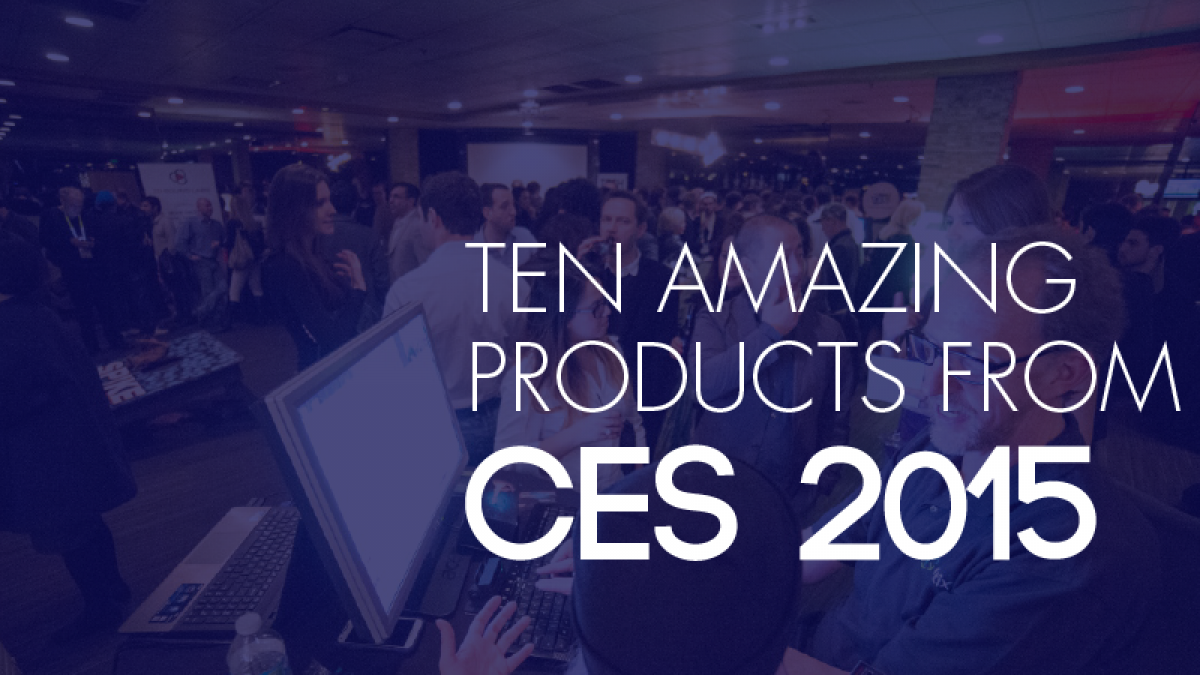 10 Amazing Products from CES 2015
If you are a technology professional or just a techie fan, then you know that the beginning of January heralds the yearly Consumer Electronics Show (CES) in Vegas. Amidst the casinos and shows, you can find the hottest and newest gadgets to grace the technology scene, and demo as many as you like. CES 2015 was no different, showcasing some of the most interesting as well as the wackiest electronic wizardry for this year.
1. 4K is in the House
Everyone will soon be clamoring for 4K Ultra HD TV's, but what good are they without any 4K materials to watch on them. This year's show had devices to capture the right stuff and streaming services to find more. One example is the Sony AX33 Handycam for $999.99, which is 20 percent lighter and 30 percent smaller than the previous version. It also has added features including SteadyShot optical image stabilizing, Wi-Fi connectivity, and 4K 100Mbps high-bitrate recording along with other features.
To watch your 4K videos, the LG 77-inch OLED is a good choice. Not yet available for purchase due to an unbelievable price tag of about $20K or more, this gigantic television is where home entertainment is headed. This super high-tech TV offers the best in image quality and on a curved surface that can also be viewed flat with a touch of a button. How cool is that!
2. Oh Baby, Baby
Families are opting for more high-tech gadgets to keep tabs on their tots, and CES 2015 had many versions of baby tech. A popular item was the 4moms mamaRoo priced from $239.99, which is a baby seat designed to sway and rock the infant in five different patterns. You can control the device with a smartphone app via Bluetooth or onboard panel while directing it to play white noise or music to lull baby to sleep. This device sounds like one that would be great for waiting rooms in doctor's offices, not just for kids but for parents too, or maybe in a hammock style.
Another cool device for parents is the TempTraq from Blue Spark Technologies to monitor vital statistics in their babies. If you need to check on your sick child and watch the temperature, this device will send alerts and collect information for the doctor.
3. Healthy Skin
We are familiar with Fitbit and other wearable fitness devices, but what about skin health? The Oku, highlighted as a personal skin scanning device, can be hooked up to your iPhone to determine how to keep your skin healthy and young-looking. This is a great device for all of those former beach bunnies out there.
4. Remembering Passwords
It is so easy to forget passwords for the numerous types of accounts that are available these days. One device designed to help alleviate this pain is the Nymi. At $149, this device is worn on the wrist like a bracelet or watch, and uses your body temperature to open password-locked accounts.
5. Making Your Home Smarter
Smart homes are popular themes these days, and although they may generate a bit of Big Brother paranoia, they sure make life easier. Several devices fell into that category such as the Google Nest program partnered with several manufacturers of home devices. Some products can switch to a quiet mode when you are home or turn on when you enter the building.
For faster clothes washing, the LG Twin Wash will do two loads at the same time using an upper front-loading door and a lower pull-out drawer door. You can monitor this machine on your smartphone, of course, to keep track of your loads of wash.
If you are more interested in a smarter kitchen, then you might want to explore the Samsung Flex Duo Dual Door Oven which will allow you to cook two things at one time at varying temperatures. You can open one section without upsetting the other, keeping food at the proper temperature.
6. Exercise the Fat Away
The Virtuix Omni VR is for gamers to lose that chair potato fat. You can move, run and walk inside your game while doing so on a treadmill simultaneously. It resembles a body cage, using a limited space and surrounding arms to put you in the game. Additional features are sensor-laden shoes and harness to keep you from falling on your face and produce more lifelike movement in the game.
7. Nyah, Nyah, Michael Knight
Mercedes-Benz showed off their interesting F 015 self-driving car at the show. With a radically designed exterior shape, and fascinating interior, you may see a version of Knight Rider sooner than you think. The inside includes 180-degree swivel seats for a lounge-type experience while your car takes you where you need to go.
8. Fly Away, Bird
For all of you outdoorsy types, the Bionic Bird is a fun device. With Bluetooth radio and smartphone controls, this device can be used outside for fun and frolic. It charges on a white plastic egg and costs $139.
9. In-Car Entertainment
No more snobbery from your car's entertainment system with the Parrot RNB 6. This device includes voice controls, maps, streaming and recording video and maintenance alerts. It supports both Apple CarPlay and Android Auto without any preference. You and your family members can connect to it from any phone you own and use it for hours of in-vehicle travel entertainment.
10. Saving Lives
For serious issues with anaphylactic allergies, for example, allergies to bee stings or foods, an EpiPen can save lives. Allergies can cause death due to rapid swelling of tissues that close off the breathing passages if, not countered immediately. The Veta EpiPen Case is a techie tool that may not be as widely used as a smartphone, but for those in need, it is a very cool device. The device, reasonably priced at $59, replaces your existing EpiPen case and when opened will let your family know when you are having an allergy incident. It pairs to a Bluetooth smartphone and will contact friends or 911 to get help to you quickly. This item will debut later this year.
What were some of your favorite CES products? Let me know in the comments.