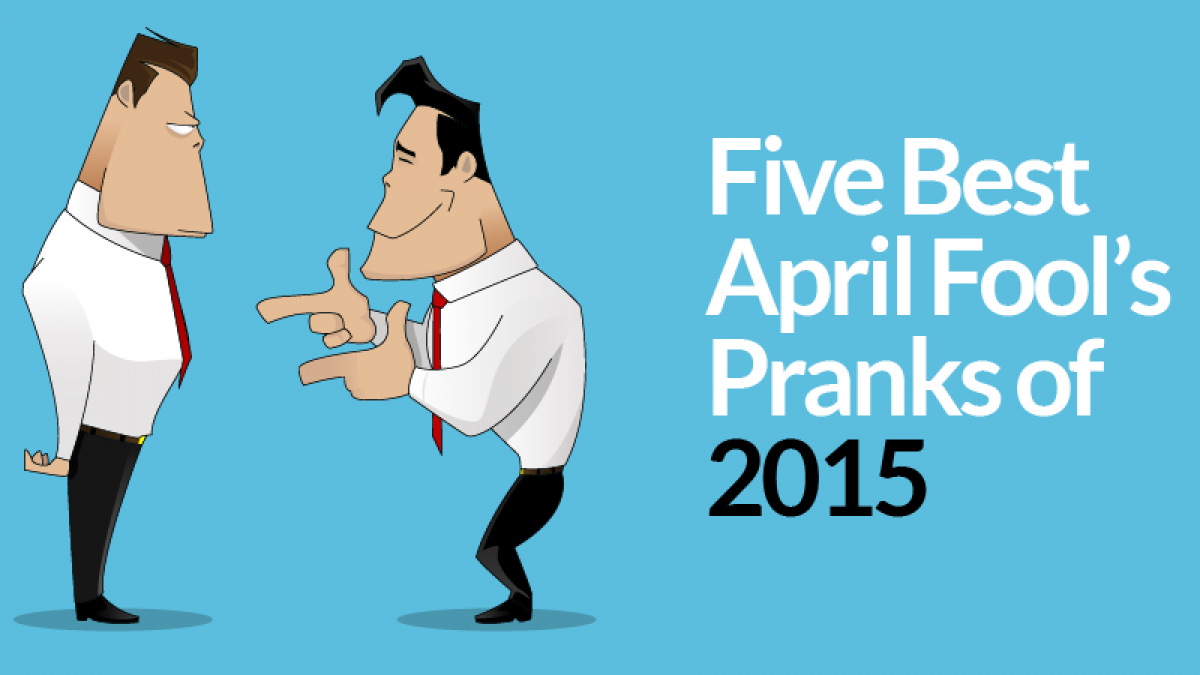 The Best Pranks from April Fool's 2015
Do you love April Fool's pranks? Do you live for the day you can do something hilarious to your co-workers and get away with it? Would you want to go on the record as having done something epic for that silliest of days? If that sounds like you, you'll really appreciate these great April Fool's pranks, fresh from 2015's April Fool's Day and played oh-so-well by some of the world's biggest companies (and smaller ones, too).
Selfies are so popular that some people were really fooled by this prank. According to Honda, the SUV would only snap selfies when parked, and had 10 different cameras to take pictures from a variety of angles. The HR-V Selfie Edition was unveiled at the New York Auto Show, and was a hit with pranksters and selfie-lovers alike. There was even a camera on the visor, Honda said, so teens wanting to take "duck face" shots could do so with ease. Someone should tell Honda that it's definitely not just teens who take those weird, fake-puckering shots.
The selfie feature was going to allegedly be offered on the upcoming HR-V 2016, which launches this quarter and costs around $20,000. Honda loves to play April Fool's pranks, and this isn't the first year the company has done something crazy to celebrate the day and attract the attention of potential customers and interested pranksters. The last two years have included a hair-cutting device (the "Honda Hair") that was built right into the car, and a DIY kit to build your own car instead of buying a "pre-assembled" one from Honda. Both of those "spinoff models" were launched on the first of April.
Samsung has two devices that have the "Edge" screens, but it hasn't really figured out anything interesting to do with them. For April Fool's Day this year, the company unveiled a "smart" kitchen knife that was Android powered and used the edge screen. That's something interesting to do with it, at least. The company even made an official announcement on what all the smart knife had to offer, like an ergonomic ceramic, waterproof knife, and a handle in either olive wood or mammoth tusk (user-replaceable and foldable, of course).
It can make calls and has a built-in camera, and there's even a sensor for human blood, in case you cut yourself. Finger-detection protection should help you avoid that. The algorithms and sensors built into the knife analyze your strength, grip, and dexterity, so the knife can be used to the best of its capabilities by any user. The best security feature comes into play when you accidentally make a call while chopping your dinner veggies. Just scan your fingerprint, swipe to put in the security pattern, type in your password (has to be 15 digits), and sing along to the song being played. It's randomly selected, for added protection!
Who wouldn't want an actual Google panda? Apparently, animal lovers everywhere are pretty bummed that it's not a real thing. The announcement of the panda came from Google Japan, which claimed the creation of a physical version of Google - in the shape of a panda, of course. The furry little creature can talk, and will answer anything you ask it, just like its search engine counterpart. Since it can recognize 50 languages, it could go to just about any country and still be useful. Too bad it's not real, because it's seriously cool.
It's round, happy-looking, and - frankly - just plain adorable. The shoe-button eyes and gentle expression of joy make it even more cuddly. It's arms will cling to the arm of its user, so you don't even have to carry it. Being so mobile, it can go wherever the user goes, and handle all kinds of searches and requests. It's shockproof, so you don't even need to panic if you drop it. It didn't fool too many people, but it did make a lot of people sad that it wasn't a real thing they could cuddle and question to their heart's content.
Want to play Pac-Man on your city's streets? Now you can! (Sort of). Google Maps has unveiled a feature that lets you turn just about anywhere into a Pac-Man maze of joy and excitement. You don't have to play in your hometown, either. You can navigate to all sorts of places on Google Maps, and then click the Pac-Man button in the corner of the screen. Presto! Your streets become a Pac-Man board, and the controls appear (use your keyboard's arrow keys). The game is the same, but the maze is very different.
You can even play on diagonal streets, so it's not always as much of a straight shot as you would get with a standard game of Pac-Man. But you still get the pellets, the ghosts, and the great sound effects that made Pac-Man such an icon in the video game world. Unlike a lot of April Fool's pranks that were only around for one day, you can still use this one. It's here to stay - at least until Google decides it isn't anymore. Get your game of Pac-Man in while you can. You never know what next April will bring.
Sir Richard Branson is at it again. He announced that he was moving his US operations - along with some of his UK ones - to Branson, MO. Is he just in love with his last name, or what? Not only is he moving there (supposedly, not really, hence the April Fool's Day timing), but he's also said that Virgin America will begin weekly, nonstop flights to Branson later this year. There is an airport in Branson, at least. It's privately owned and opened in 2009. Major carriers don't have regularly scheduled service there, for all sorts of reasons.
One of the biggest, most ridiculous issues is that Branson is only 60 miles from the Springfield-Branson National Airport, and all the big carriers just land there. It's not that far. You can just rent a car or take a bus to Branson. No need to fly in on anyone's airline. Virgin America didn't stop there, though. The airline also said that it might start service to Los Angeles, Dallas Love Field, and New York LaGuardia. Don't hold your breath on any of those flights, either. Just in case. Richard Branson and "publicity stunt" are pretty much synonymous anymore. Why should April Fool's Day change that?