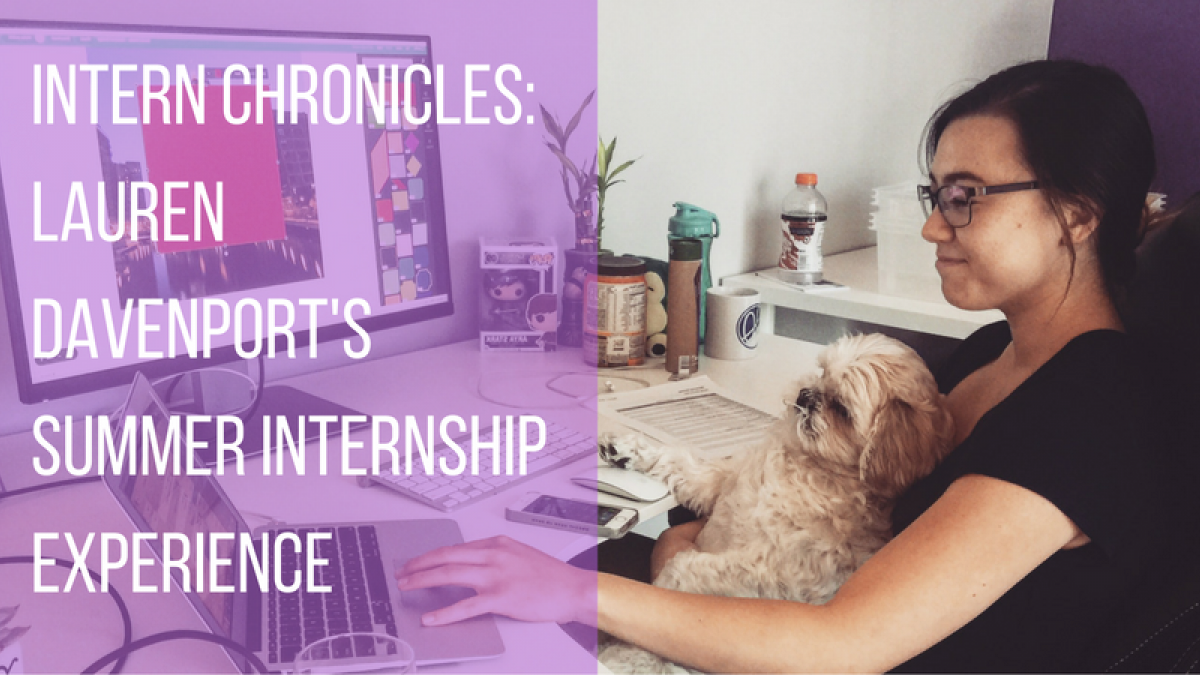 Intern Chronicles: Lauren Davenport's Summer Internship Experience
Although I haven't had much agency experience outside of LevelTen (zero to be exact), I'm still pretty positive that my internship was largely outside the ordinary. In other words, getting coffee was not part of my job description. Here is an overview of how my experience at LevelTen contributed to my skill sets, character, and most of all, my memories.
Exceeding Expectations
Initially, I just expected to gain agency insights, carry out your prototypical intern work, and hopefully pick up the tricks of the trade along the way. Actually, if you want me to be extra honest, I was mostly just excited about eating free food and playing with Parker, the office dog. Obviously, these are all things that I did. However, I still feel as though the experience I received surpassed even my highest expectations.
LevelTen's open-minded staff along with its highly inviting and collaborative culture enabled me to wear so many more hats than I had ever really dreamed of. This small web development and marketing agency developed me into a marketer, a blogger, a social media manager, a designer, a logistics planner, and even a bit of a site builder. These achievements are really nothing out of the ordinary for our incredible Digital Marketing Coordinator, Felipa. However, these opportunities are invaluable for a college intern whose friends are all busy doing nothing but an endless cycle of doing busy work and looking busy.
Building A Portfolio
Here at LevelTen, when you ask to take on a certain spectrum of responsibility, the leadership is usually more than willing to give you a shot. As an artistic individual, I asked if it would be possible to collide my love for creativity with marketing. In response, I got to design a cool new hero image for our Twitter and Facebook pages. I was also given access to all of our social media outlets with complete freedom to post as I sought fit.
Little did they know that this gave me the right to provide the public with some insight to the hilariously crazy things that go down here. For example, we now have two videos of Kendall Westbrook, our project coordinator, in what seems to be her natural habitat: the box. Other parts of our moving chronicles sections include both Kendall and Kyle Taylor wrapped oh-so-stylishly in a ravishment of electrical cords.
It turns out that people like how insanely awkward we can be, because with the right content and some hashtag research, our Instagram following and our average likes are 10X higher than before. Some of my other my social media accomplishments include getting retweeted by Dries Buytaert, the founder of Drupal, which potentially exposed our name to his 37.4K followers when I created a social animation.
After completing a project, I was able to write blogs on digital marketing subjects with a sense of expertise. My blog posts have a fairly decent scope of topics from a marketer's take on user experience to a comprehensive review on a renowned inbound marketing book to a guide for optimizing content for local landing pages. I am so grateful that the team embedded enough trust in me to contribute to their collection of thought-leading blogs.
Getting Sentimental
Throughout my internship, I received countless moments of mentorship and guidance from brainstorming and carrying out marketing strategies, to writing project proposals, constructing wireframes, implementing moving logistics, and even creating Pokemon animations. I'm going to miss:
Kristin Yang yelling "MOOOOOM" and threatening to roundhouse kick or fire everyone whenever she's stressed out.
Kyle's PokemonGo tips and inspiringly positive outlook on life even though he's on fire at all times.
Asking "where's Larry" whenever he disappears like the 6'1 (and a half) enigma that he is.
Fe-diva's hair flips, marketing advice, and sassy-with-a-smile comments.
Kendall stalking me on social media and making scarily accurate impressions of cats, pterodactyls, and the Dark Lord Satan. (Can you tell who the office weirdo is yet?)
The way Tom McCracken presents all of his new ideas with the introduction: "Something I think would be really cool is..."
I'm even going to miss John DeRudder's terrible, and I mean terrible, dad jokes.
With everything that I've gained throughout the experience, one of the best parts of the entire internship was getting the chance to develop meaningful relationships with the entire team. I can honestly say it was an absolute privilege to work with the members of LevelTen this summer. This team is made of some of the most genuine, driven, and dedicated bunch of geeks I have ever met. Thank you all for the opportunity.