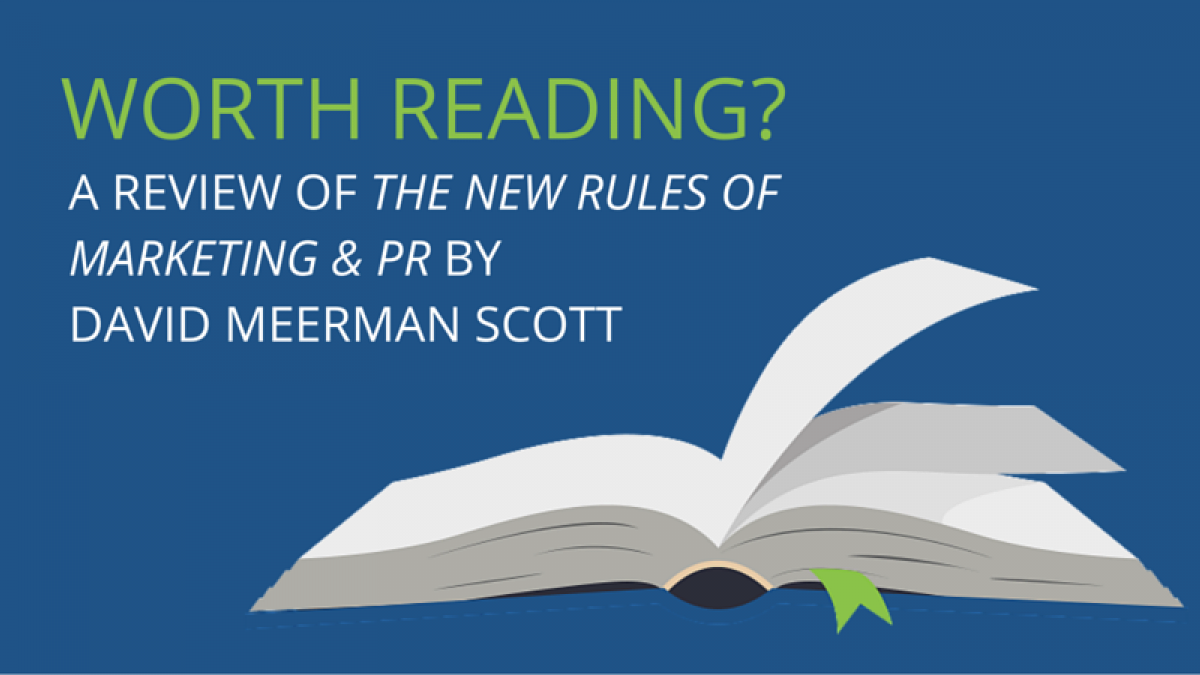 Worth Reading? A Review of The New Rules of Marketing & PR by David Meerman Scott
David Meerman Scott's book, The New Rules of Marketing & PR, lays out the transition of the marketing and public relations from traditional models to the new internet-driven way of life. In a nutshell, while marketing and PR used to be focused on advertising a name, now, those departments need to be focused on developing relationships.
First published in 2007, the book is currently in its fifth edition (published October 2015), has over 350,000 copies in print, and has been translated into over 25 languages. That's a pretty impressive reach for a book that started as a collection of blog posts, and was one of the first to recognize that the internet would fundamentally change how companies interact with their potential customers.
Throughout the book, Scott presents how business is changing through the web by giving hundreds of examples and a comprehensive overview on the evolution of communication. The bottom line: New Rules is pretty much required reading for anyone in the inbound marketing space. It may be a little overly long, but it's well-written, and if you want to immerse yourself in how the new "inbound" philosophy plays out in practice, this is a great book to do that.
The Transition from the Old to the New
Advertising
Traditional advertising still has its place for megabrands, like beer companies running TV commercials during football season. However, for the masses of other organizations, traditional advertising is just too broad and costly to be effective.
Gone are the days of marketers trying to find ways to interrupt consumers in the middle of their TV watching, their magazine reading, their driving down the highway, and other activities. These techniques will not work on the web. Consumers don't want to be interrupted anymore; they want to be shown something that will be useful to them.
Public Relations
PR is no longer about being in the "who knows who" club, writing up a press release, and praying that the media gods give you a second of exposure. Unless you are someone like the Queen of England, the media hardly cares about who you are. Fortunately, you no longer have to rely on the media to tell your message. The web has enabled companies to disperse their messages themselves.
Marketing
It's no longer about getting your name and offering out to the masses. Smart marketing is niche marketing. Focus on individual audience segments and target the long tail with content for their anticipated needs. Every business can have a valuable place in informing the market, the content just has to be put out there.
The Marriage of PR and Marketing
Offline, marketing, and PR are separate entities with separate agendas. However, on the web, they are virtually the same thing. They both work together to create and promote stellar content to drive buyers towards conversion.
Reaching Buyers
It is now companies' responsibility to gain credibility by acting as publishers of their own valuable content. Websites should not act as glorified brochures. They should engage the buyer and take a problem solving stance. Consumers want you to present issues they can relate with, and the keys to addressing them.
Social Media
Scott compares social media etiquette to that of a cocktail party. You search for valuable interactions and gain popularity by making and sustaining friendships, not by pushing your products on everyone you meet. Once you've already formed a relationship, then you can do some business with people who already like you.
Just remember to follow the Golden Rule of Social Networking: Share more than you sell. To be precise, 85% of your social network should involve sharing and engaging, 10% should be original content, and 5% or less should be company promotions.
Here is a breakdown on how some of the most important social networking sites can enhance your marketing:
Facebook helps your business gain exposure and engagement by creating sharable content. Other alternatives for engagement include Facebook Groups for specific subjects and fan pages for long-term engagements.
Google Plus boosts your search engine marketing. It pays off to have your Google+ posts among the top ranking results when someone Google's your business.
LinkedIn enables you to network with buyers, potential partners, and others in your field. Continue building your marketing strategy by conducting competitor analyses, establishing yourself as a thought leader, and being authentic.
Twitter can help you take advantage of the opportunity to build stronger personal relationships, and respond in real-time through live sharing and tweeting. You can also monitor what others say about you through apps like HootSuite.
Blogs
Begin by establishing your target. Make sure your topic is something you are genuinely passionate about. If you're not interested in your own writing, then your readers will feel the same way. Make it something worth sharing.
In order to connect with your audience, your blog posts should:
Provide solutions to problems
Build credibility by stirring up conversation
Add personality and authenticity to your brand
Remember to be patient. If you're new to blogging, chances are you're not going to receive a response at first, and that's ok. Focus on making exceptional content, and the rest will follow. You just have to be discoverable is all. You can do this by creating links to your blog, posting regularly, and commenting on other people's blogs in the same category.
Audio and Video
An effective way to market through video is to simply create something so interesting that when people find it, they do the rest of your promotions for you by sharing your stories and ideas. This concept, along with the idea that free content sells, is also the underlying platform for going viral. Actually, heeding this advice is practical for really any marketing content.
Creating Your Marketing & PR Plan with The New Rules
 Before you construct your plan, here's what you should establish:
Your organization's goals should always be the foundation from which all marketing and PR strategies emerge, whether they are generating more revenue, adding new customers, keeping existing customers, or raising money for charities.
Your customer personas must be established for every target segment in order to market to their specific needs. Find out their goals, their problems, their go-to sources of media, the wording and imagery that appeals to them, and the best way to reach them.
The terms your buyers are searching for should be made clear to your marketers so they can create content that your buyers will find.
Once you have a clear set of your organization's goals and your buyer personas, you can get into the more nitty-gritty parts of your marketing and PR plan:
Develop content that appeals to your customer personas, establishes expertise, and showcases why you are the choice for them.
Build your company's personality to help your company engage with your audience, stay memorable, and guide other areas such as design.
Achieve conversions such as donations, purchases, or subscriptions.
Measure your results. These can include people who have shown interest in your digital endeavors, downloads, mentions from outside bloggers, product inquiries, and sales.
Creating a Successful Website
Bringing Marketing into Your Sales Cycle
One of the best ways to increase your revenue is to realize that sales and marketing have the same objectives, and should therefore work together. Your website should immediately draw potential clients into the sales cycle, which can be done by demonstrating expertise in the industry. You can do this on your actual website or through an array of mediums such as white papers, e-books, email newsletters, webinars, infographics, slide presentations, blogs, audio and video.
Once you've developed trust with the client, you can start directing customers towards your offerings, while maintaining focus on the buyer's needs. This is where your website should offer a way to make inquiries on your products or services. It's also useful to provide an online demonstration on how your products are the solution to their problems. Then, close the deal with a compelling CTA.
The process isn't over, though. Even though you're no longer winning them over, you're keeping them on your team. Ongoing relationship management is key for continual success.
Search Engine Marketing
Unlike interruption-based advertising, search engine marketing includes content that potential buyers are actually searching for. Your strategy for search engine marketing should mirror your marketing and PR strategy with the new rules.
Helpful Search Engine Marketing Tips:
Optimize for long-tail, specific terms that people would actually search for. Scott compares search engine marketing to fishing: the more lines you have in the water, the more fish you'll catch.
The landing page as a whole should provide your visitor with an understanding of your brand's personality, while its content should be written from the buyer's stance. It should have positive testimonials and multiple clear call-to-actions. Build an outstanding web landing page with specific and informative content that drives action.
Try to optimize old content instead of deleting it. You never know how valuable your content really can be, so when possible, enhance your content, don't trash it.
Final Thoughts
I would recommend The New Rules of Marketing and PR to any marketer, entrepreneur, or company seeking to communicate directly with customers, increase an online presence, or compel customers to convert. My supervisor recommended it to me as "the Holy Bible of inbound marketing." This book is packed with useful and applicable methodologies and explanations, with a plethora of examples to see how it applies in the real world.
My only criticism is that the author tends to be slightly repetitive with his ideas. This book is not exactly an overnight read. As such, it's not exactly thrilling to read the same general concepts just applied in different areas. However, it's perfect if you're looking for a more immersive experience into the world of inbound marketing and how this philosophy plays out in practice.