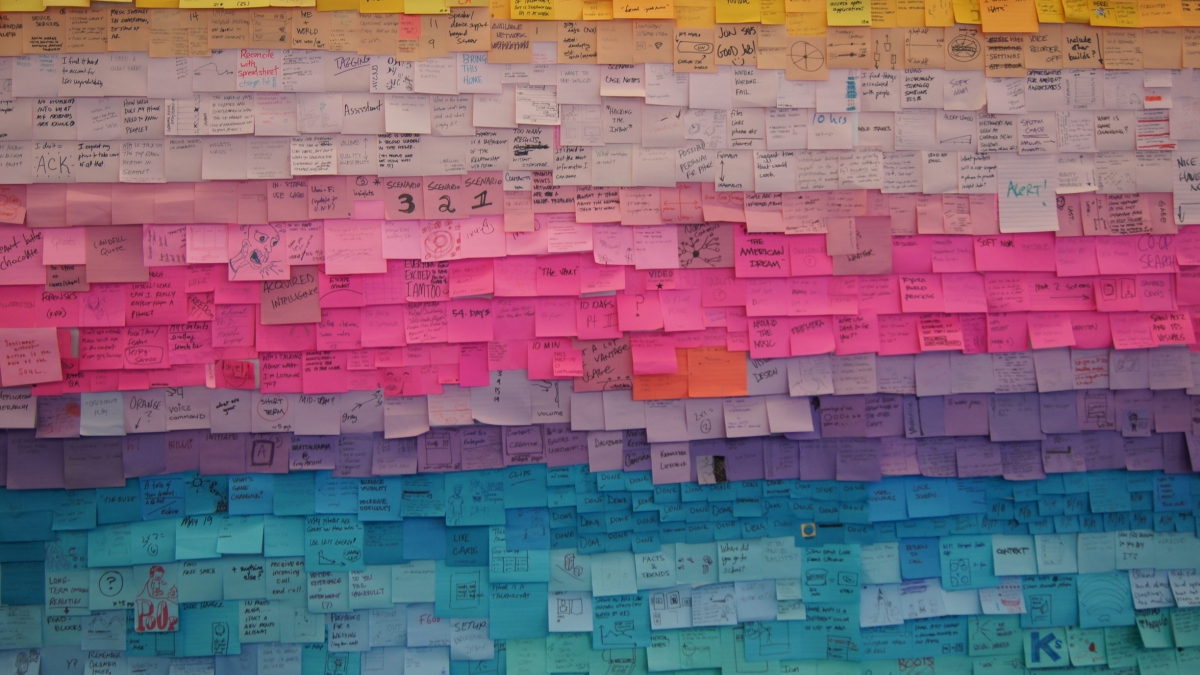 How to Create a Twitter List
So you've already gotten some of the basics of Twitter down such as who to follow, hashtags, replies, etc. Now you're ready to customize your account a little more. This is where things get exciting. Twitter is a fast paced, continuous feed of short messages from likely hundreds of people you care to hear from, but with people constantly sending out tweets and retweets, it's easy to miss news that could be important or useful to you. Twitter's "Lists" is a great tool to use when you don't want to miss tweets, but you also don't want to go to each person's profile to check for updates. Here's how you create a list in Twitter. 
1. Go to the cog wheel in the upper right hand corner and click on the "Lists" menu link.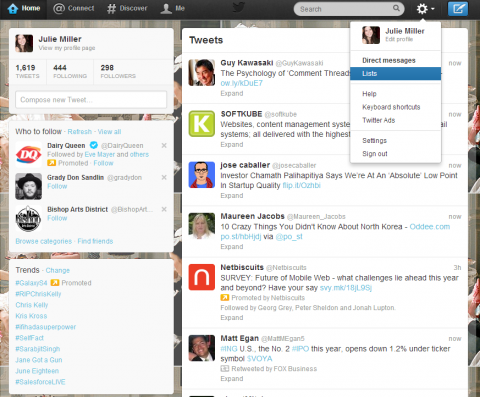 2. You'll be taken to your List home page. From here, click on the "Create List" button.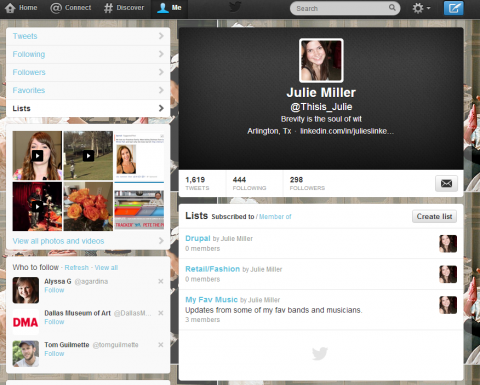 3. A box should pop up prompting you to fill in different fields.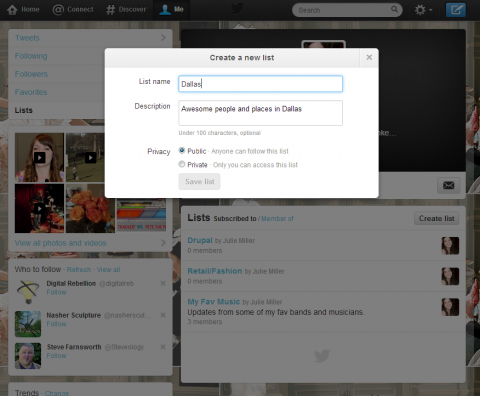 - List Name will be a term explaining what the different accounts in your list have in common. For instance, I have a list called "Dallas". 
-Description: a brief definition of what your list is about. For this example I put, "People and places in Dallas." 
-Privacy: You can make your list public or private. If it's public, people can see your list and even follow it as well. 
4. Once you save the list, it is time to start adding people. You'll be prompted to a search box where you can search by specific username, or topic. In this screenshot, I searched for "Dallas".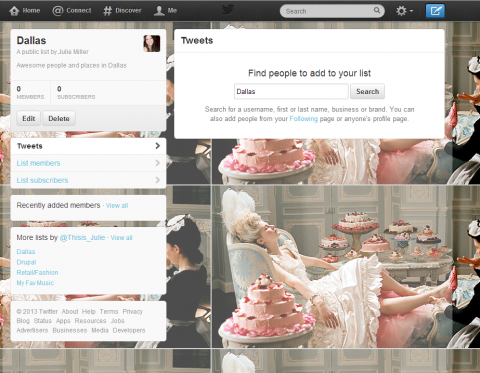 5. A list of user is pulled up pertaining to my search terms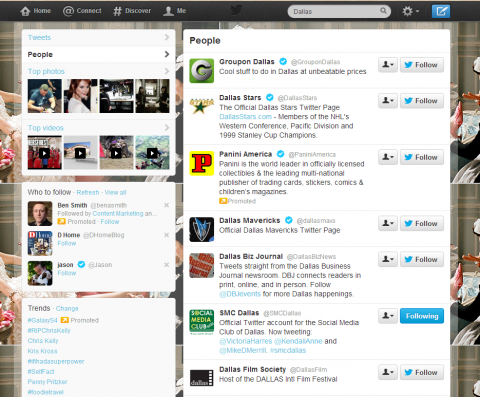 -Note that you can also add accounts to your list by looking at the list of people who you follow, or people who follow you. 
6. Click on the head icon next to the user's account to reveal a drop down menu. Click on "Add or remove from lists"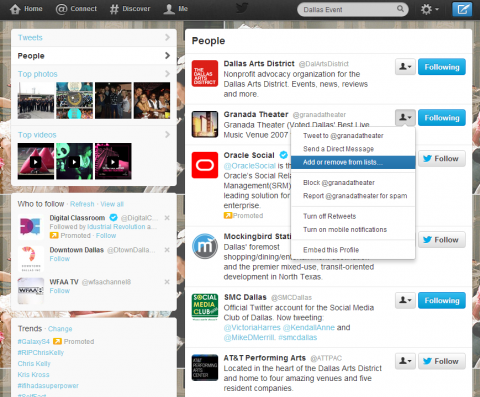 7. Next select to which list(s) you would like to add the user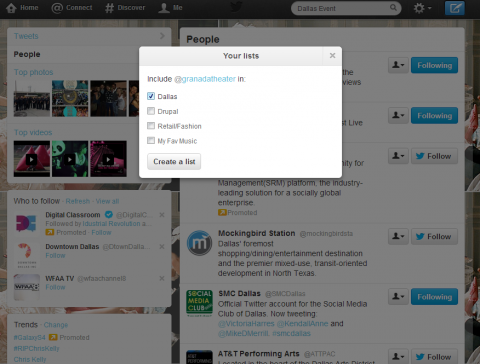 8. When you click on your list, you will be able to see a custom feed of updates from only users you have selected for that list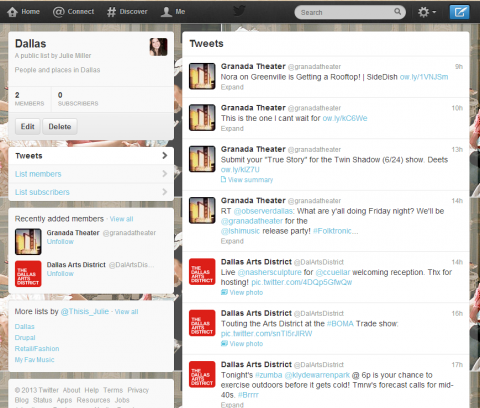 9. You can delete a list by going to the list feed and clicking on the delete button in the left corner under the list title and description.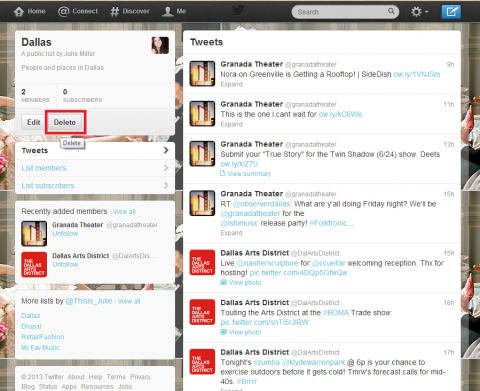 10. On your list homepage, beside seeing lists you are subscribed to, you can also see lists in whic you are a member. This can be a useful way to understand how your online presence translates within the Twitter community.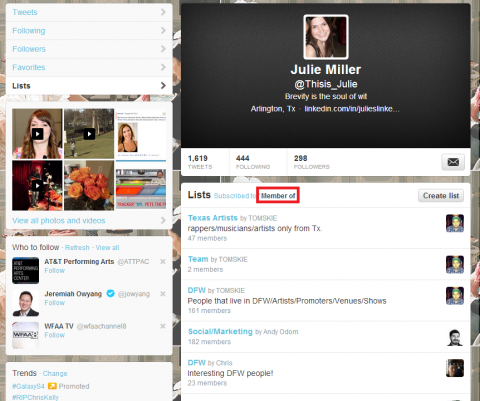 What's the most random list you are a part of on Twitter? Let us know in the comments!
Image Credit: tedeytan